On July 23, AYANEO CEO Arthur made a live stream, featuring not only the high-end top-tier large screen 7840U handheld, AYANEO KUN, but also the highly anticipated AYANEO SLIDE. The live stream showcased more product information and progress updates, fulfilling the expectations of gamers.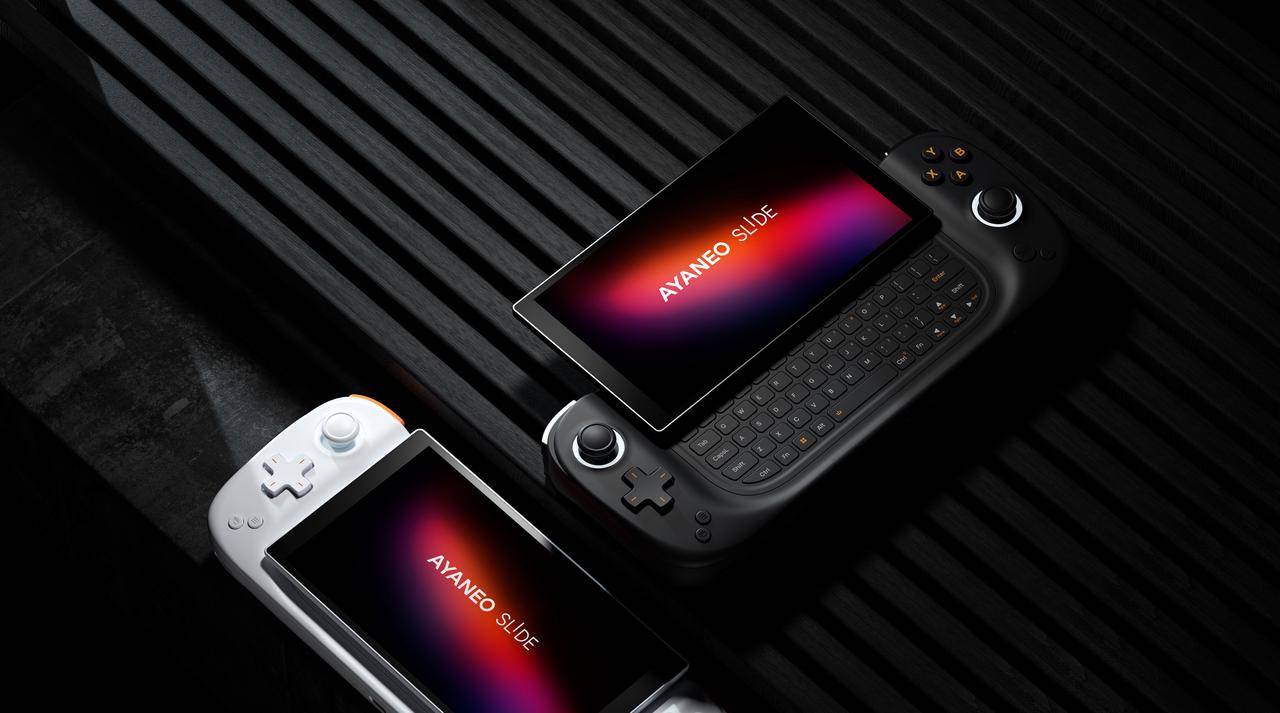 AYANEO SLIDE - A truly crafted AMD 7840U handheld with slide design
AYANEO SLIDE adopts a classic slide full-keyboard design that pays tribute to nostalgic feelings, incorporating innovative optimizations for slide and full-keyboard experiences. It offers multiple industry-leading firsts, delivering an innovative slide full-keyboard handheld experience to gamers.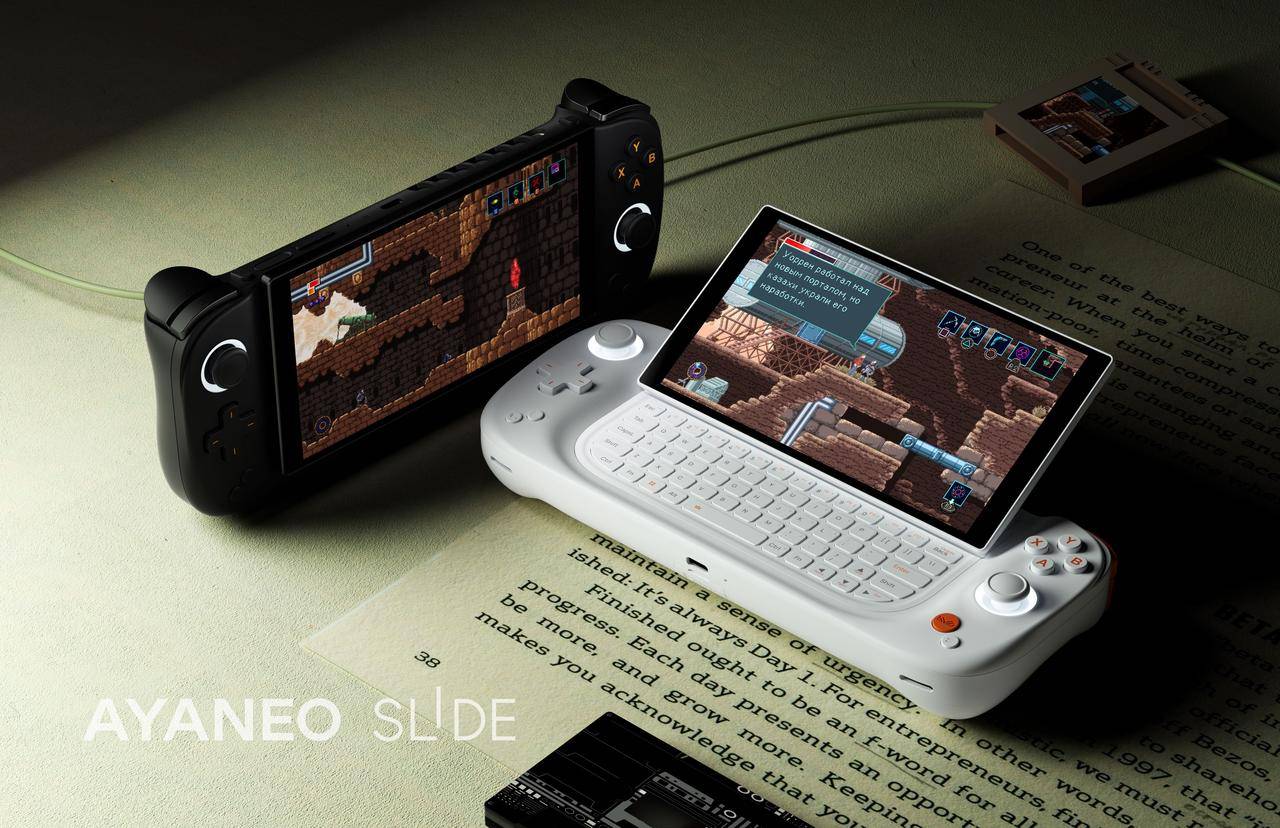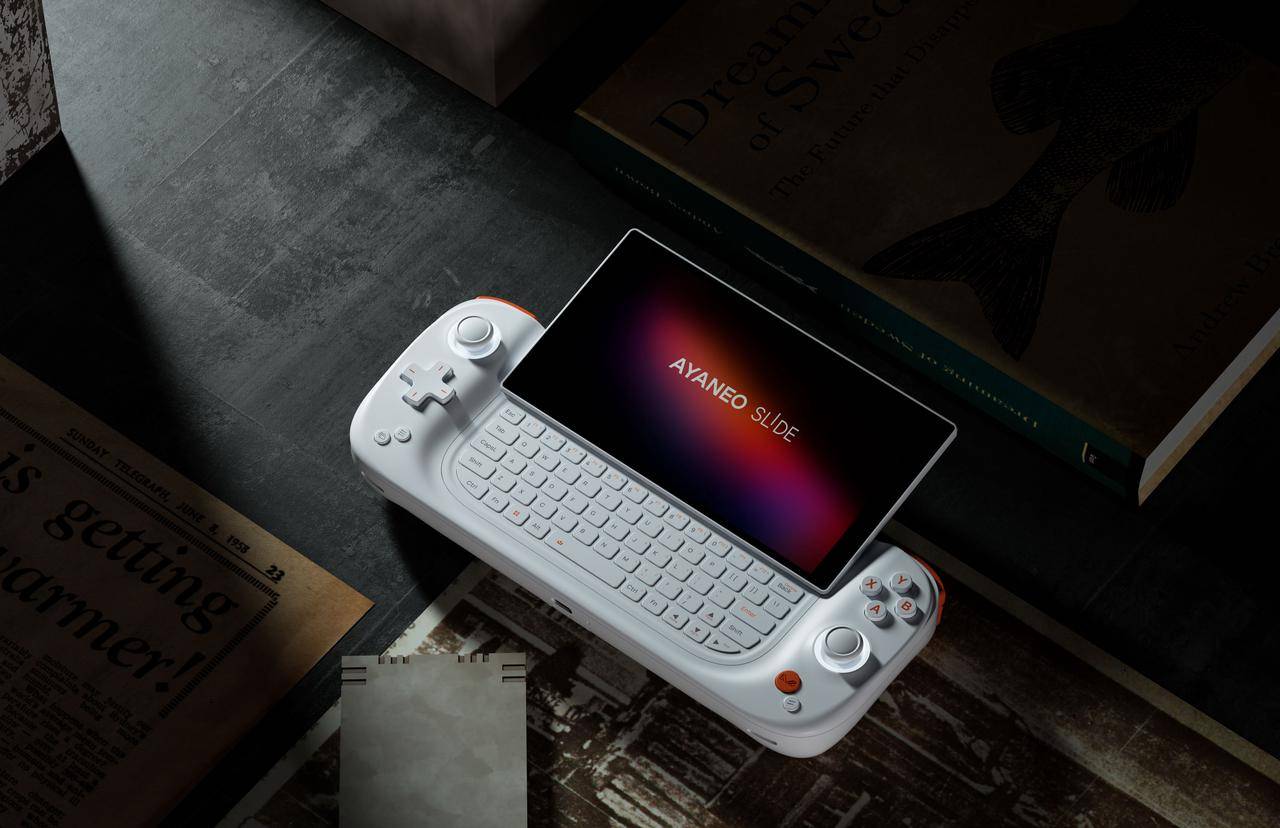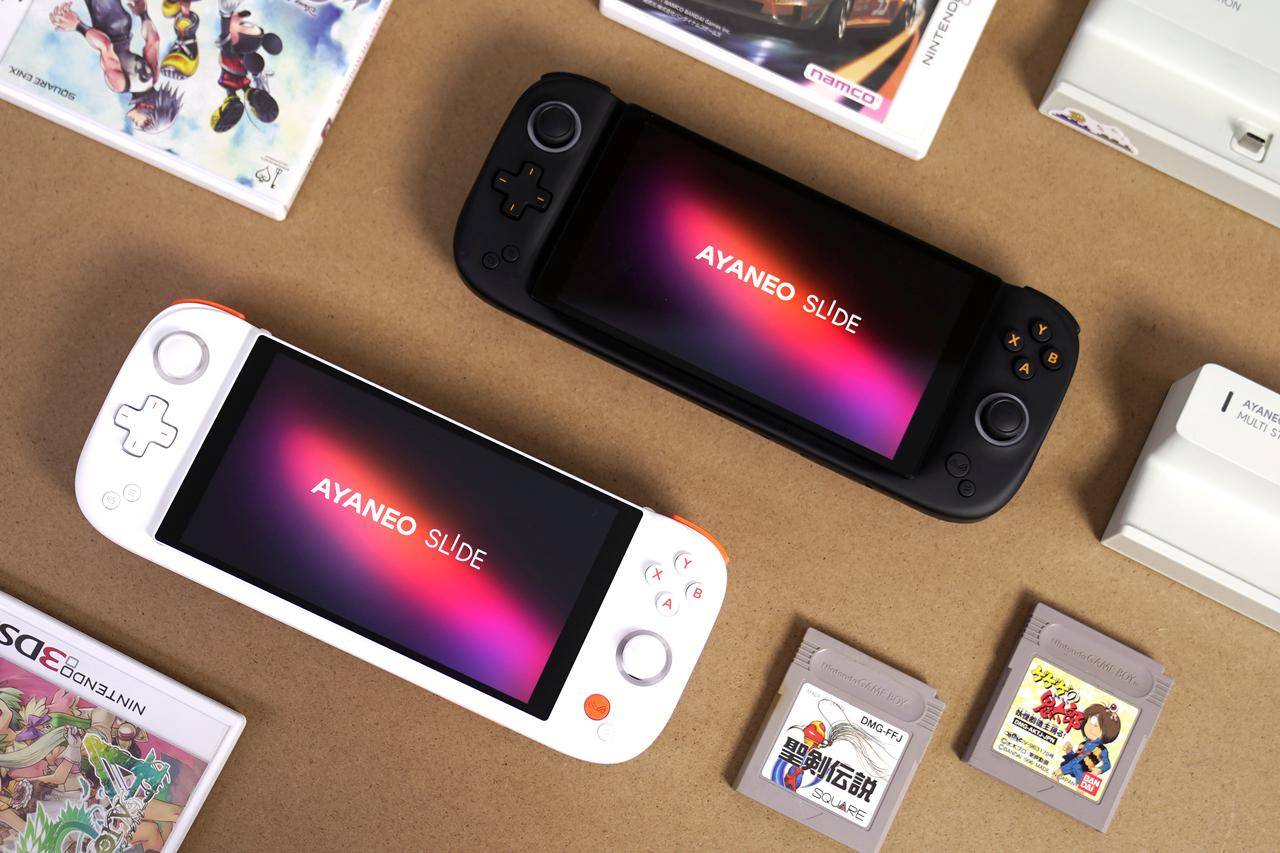 Innovative Slide Full-keyboard
AYANEO SLIDE takes the slide design to a new level with multiple adjustments and optimizations to the traditional slide structure. It becomes the first Windows handheld to feature an adjustable screen angle, providing an unparalleled user experience in gaming, multimedia entertainment, and typing, setting it apart from other slide Windows handhelds.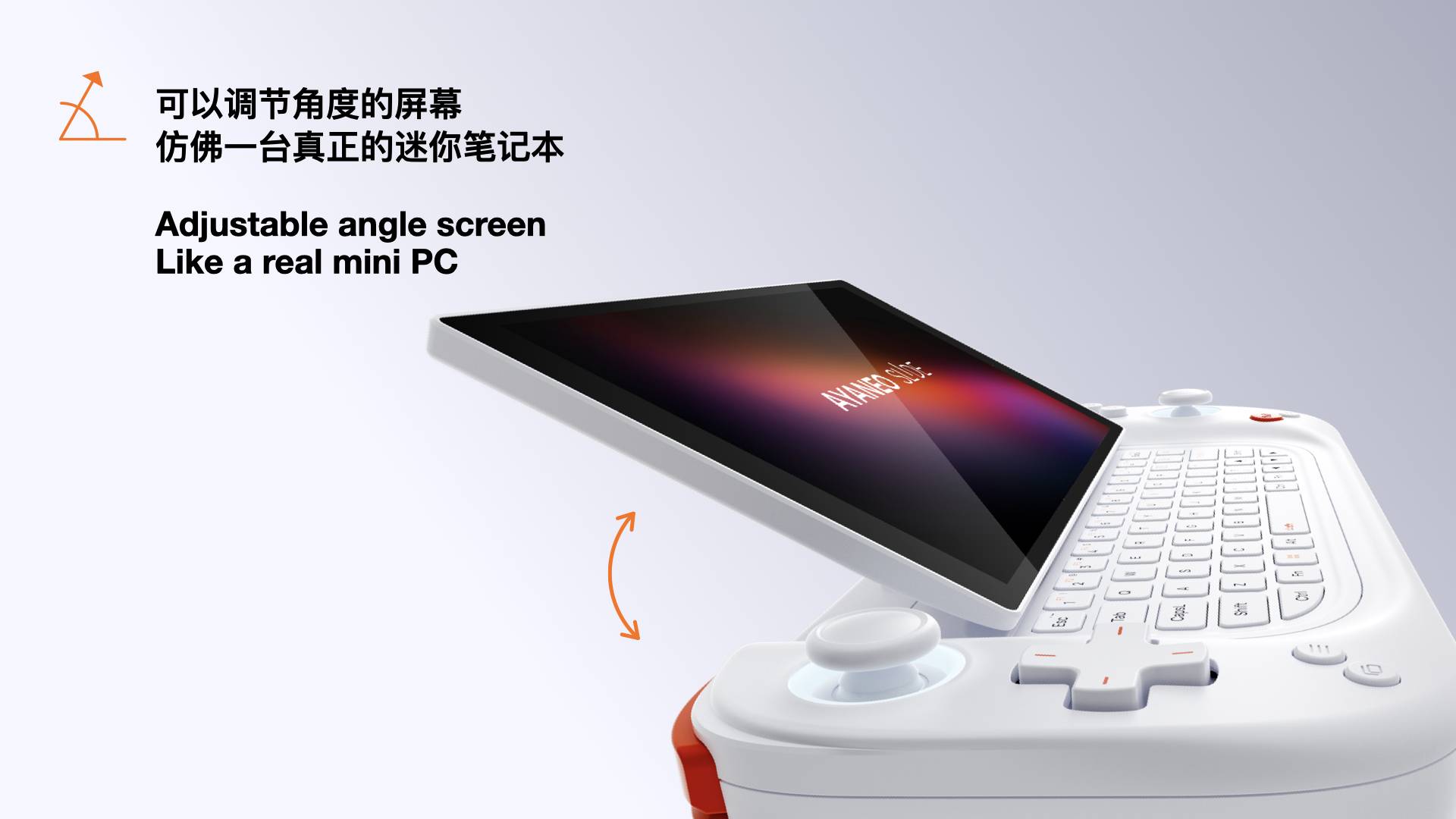 With an adjustable angle screen and meticulously crafted infinite adjustment slider, gamers will enjoy an unprecedented smooth slide experience, making it even function as a "stress-relieving artifact."
Ergonomic slide design
AYANEO has always emphasized the grip experience of handheld devices, and each device incorporates ergonomic design, including the AYANEO SLIDE.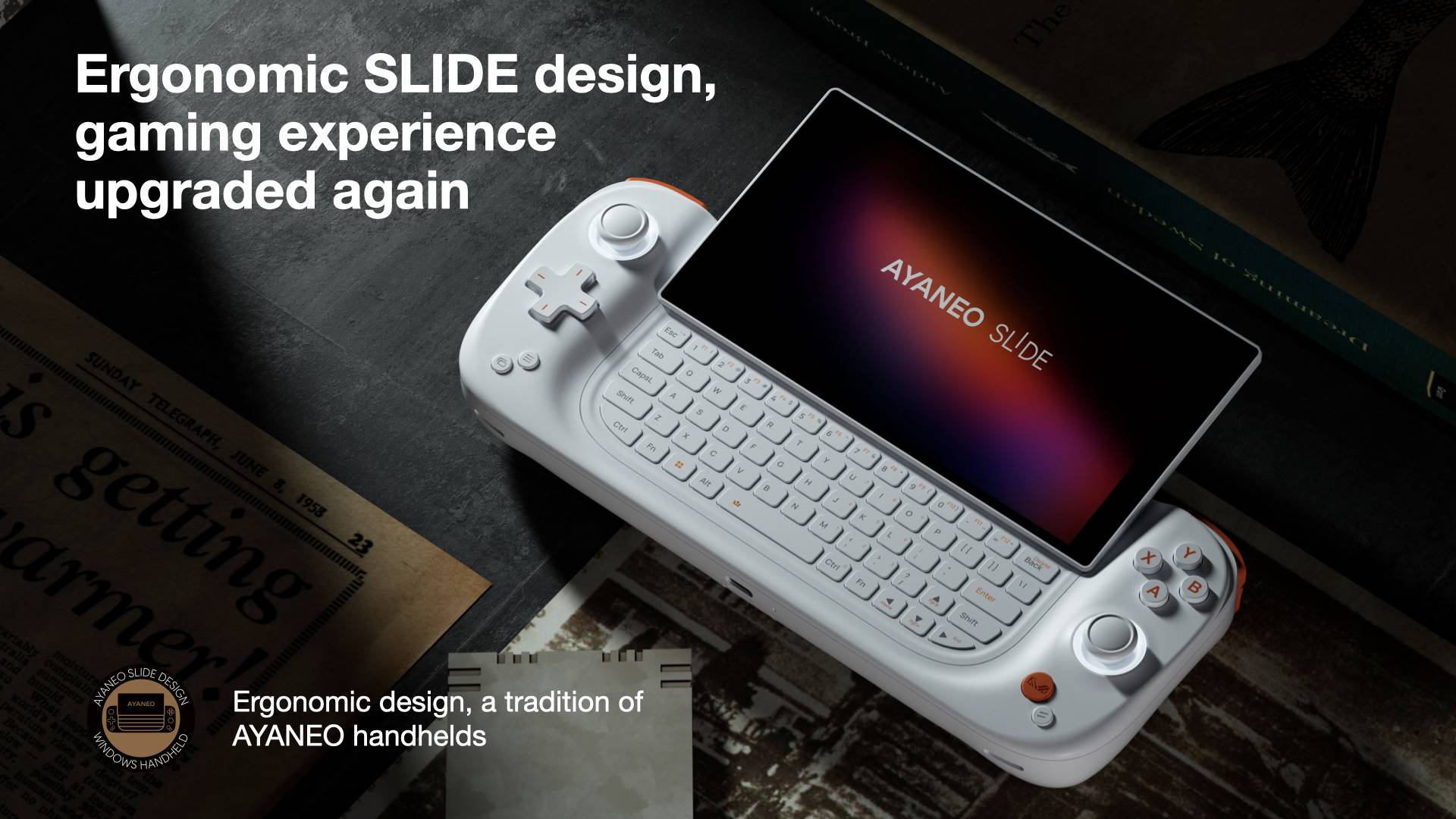 The streamlined design covers the AYANEO SLIDE, creating a unique ergonomic grip that perfectly fits the hand from all angles. It is currently the most comfortable sliding Windows handheld device in terms of grip experience among similar products.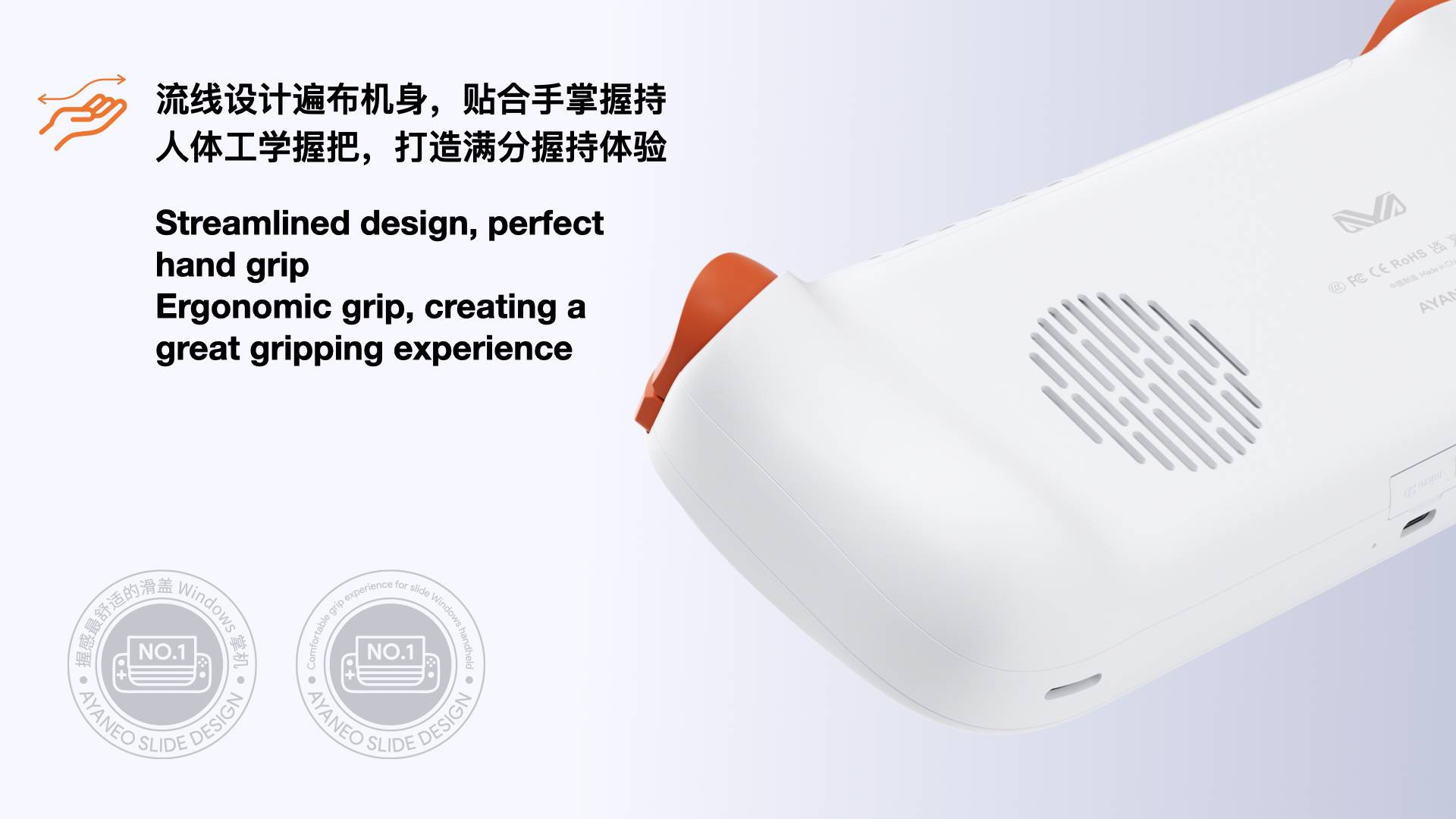 In addition, the keyboard height has undergone repeated fine-tuning and optimization to achieve a seamless transition with the joysticks and gamepad buttons, ensuring an immersive experience without interference.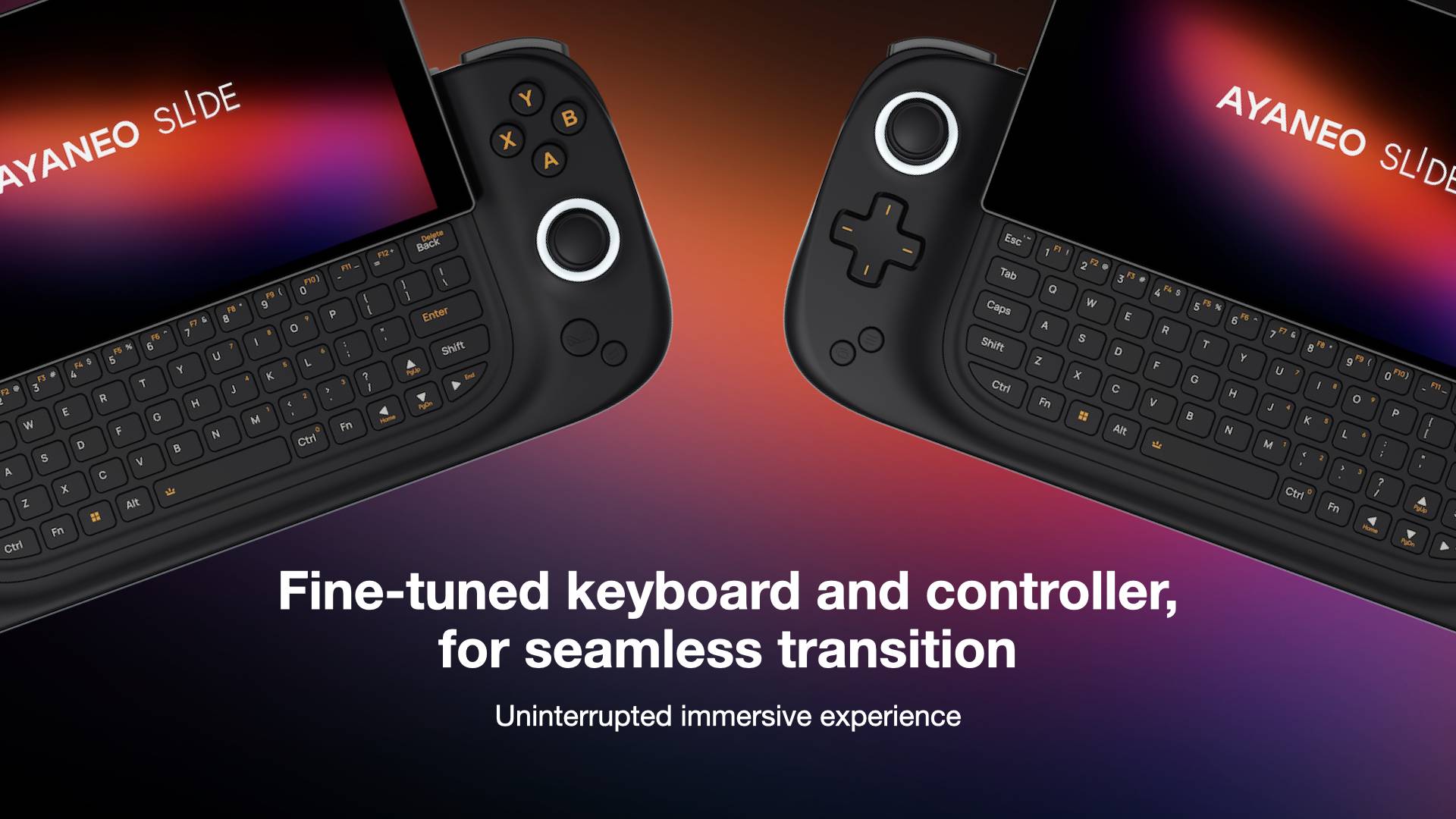 At every detail that matters to the experience, AYANEO SLIDE takes thoughtful consideration and makes corresponding optimizations, providing gamers with a refreshing slide handheld experience.
Full-keyboard experience comparable to standard keyboard
AYANEO SLIDE is equipped with a hidden QWERTY full keyboard featuring a standard key layout. It also includes Fn function keys, covering common functions found on regular keyboards, such as a numeric keypad and commonly used office shortcuts. This makes it the most comprehensive full keyboard Windows handheld in terms of functionality.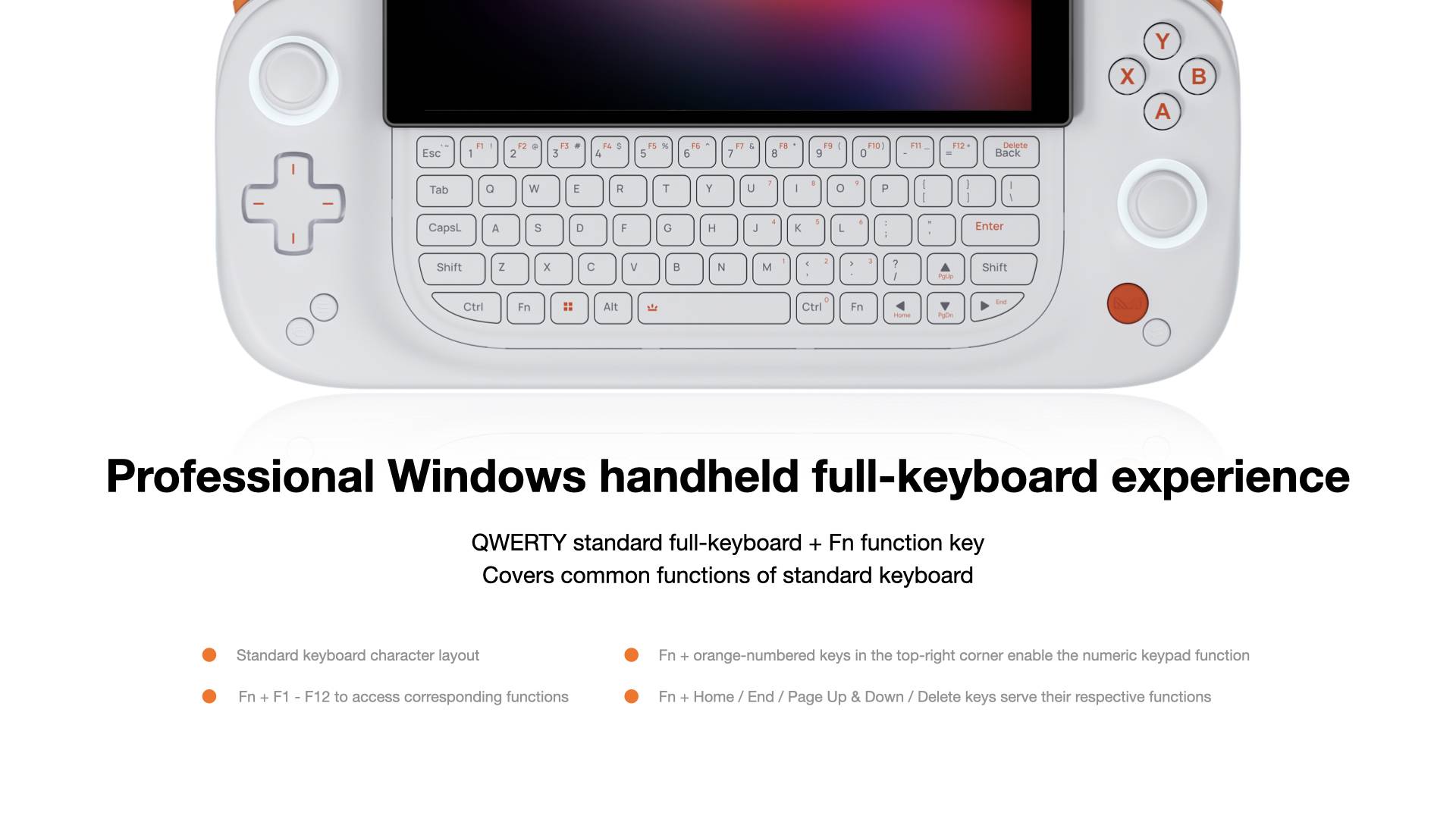 The keyboard adopts matel dome keys with a high-quality material surface, providing gamers with a light, responsive, and durable typing experience.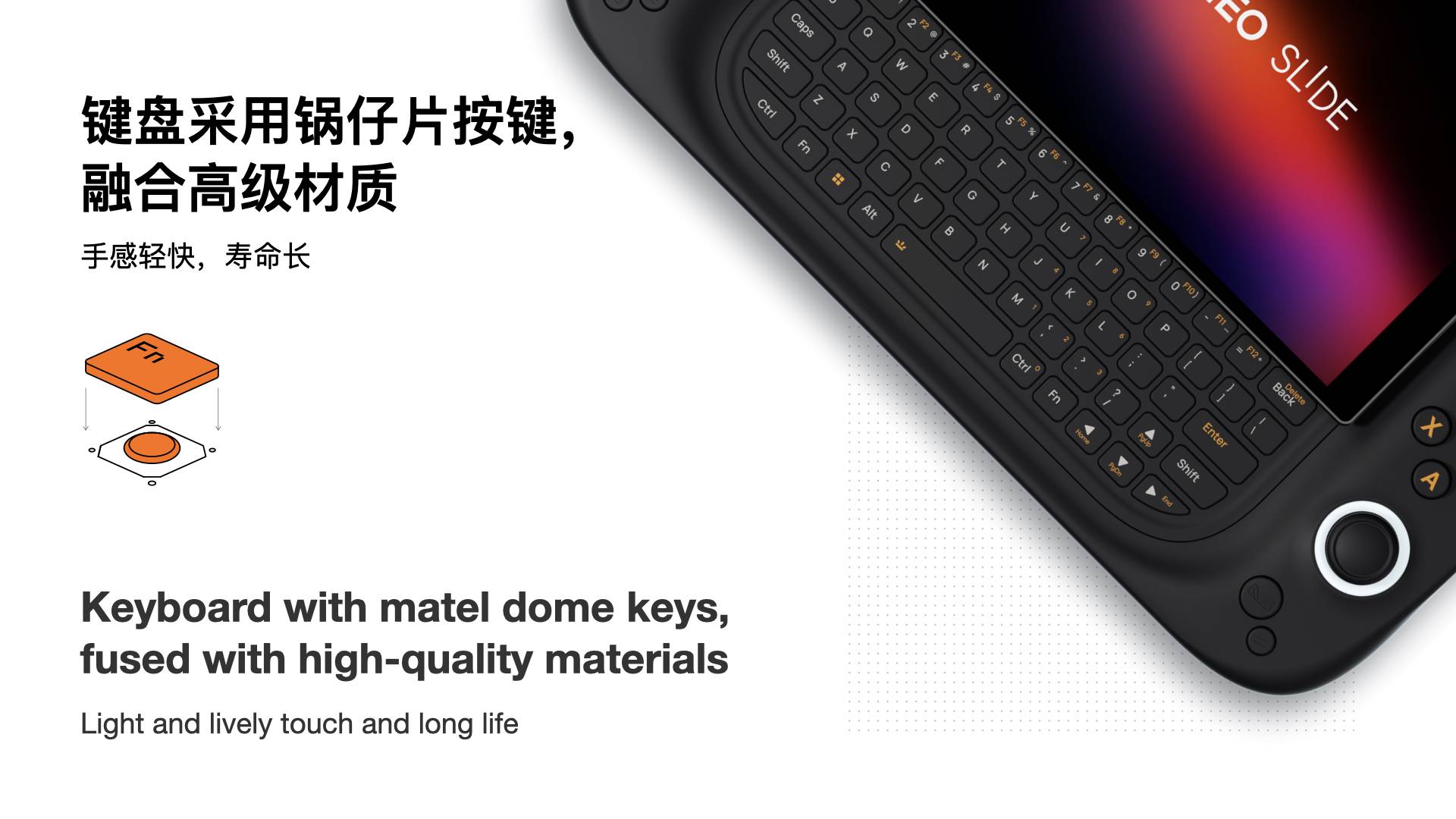 Moreover, AYANEO SLIDE is the industry's first slide Windows gaming console to support RGB backlighting on the keyboard. Compared to traditional white backlighting, RGB lighting is more visually appealing and adds a professional esports atmosphere.
AYANEO SLIDE has undergone comprehensive optimizations for the keyboard experience, making it the most Windows system-friendly gaming handheld console.
Powerful performance unleashed in slide Windows handheld
AYANEO SLIDE, as a flagship slide Windows handheld, unquestionably features the latest AMD Ryzen™ 7 7840U flagship processor.
Unlike other slide Windows handhelds, AYANEO SLIDE achieves a new breakthrough even with its slide structure, boasting unparalleled performance capabilities. It is a rare slide Windows handheld with such powerful performance.
Advanced heat dissipation system designed for SLIDE
The addition of the slide structure poses a challenge to the already limited space inside the device. We made numerous adjustments to the internal stacking and heat dissipation structure of AYANEO SLIDE, ultimately creating a cutting-edge heat dissipation system that outperforms its peers.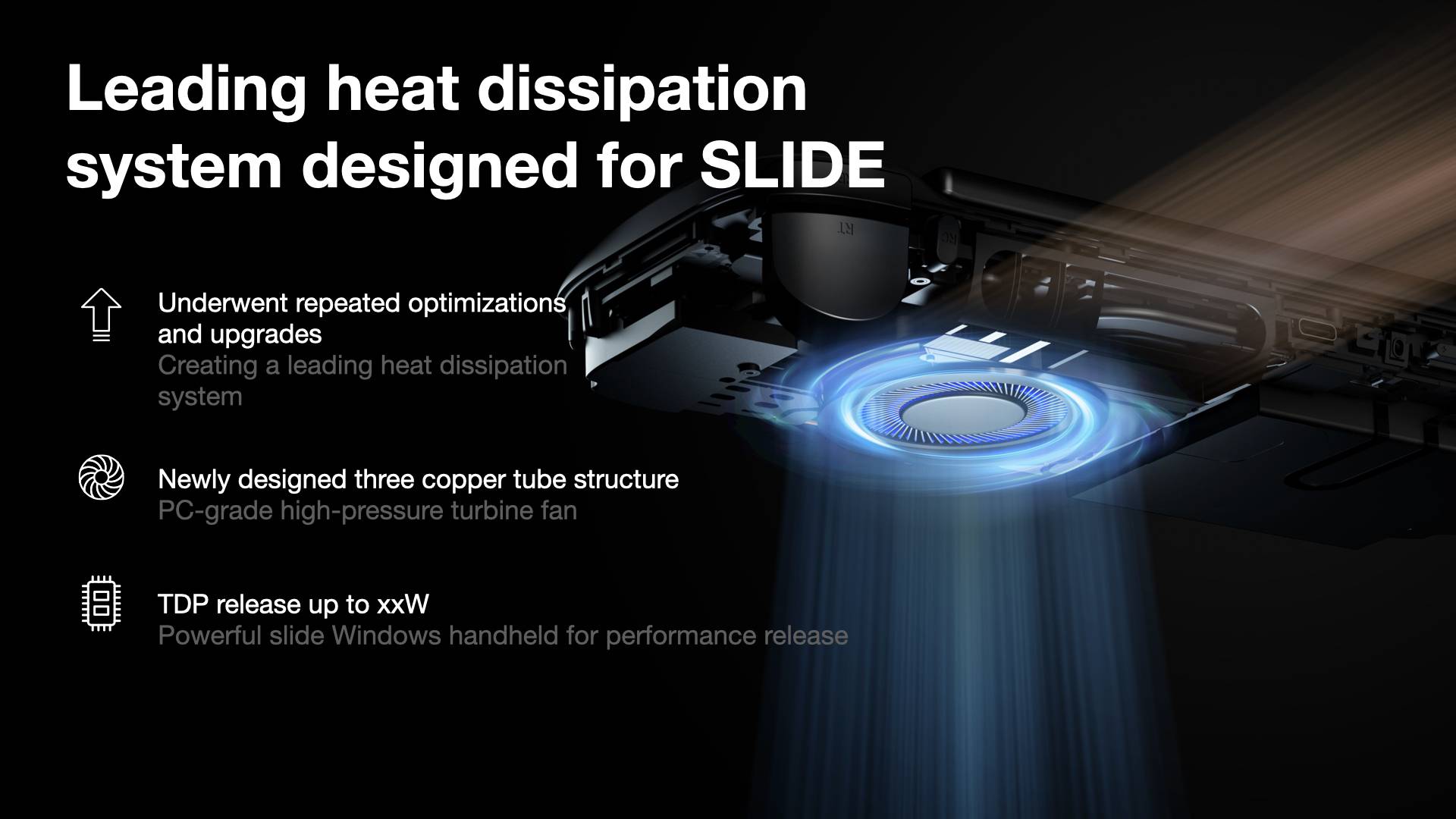 AYANEO SLIDE's heat dissipation system features a new three copper tube design combined with a PC-grade high-pressure turbo fan, providing significantly improved heat exchange efficiency for the SLIDE. It boasts an astonishing TDP release capacity, making it one of the most powerful slide Windows handhelds.
Still the leading screen quality among slide Windows handhelds
With a 6" 1080P high-brightness wide-color gamut IPS floating screen, AYANEO SLIDE excels in fundamental qualities and color representation, possibly being the best screen among 6" Windows handhelds.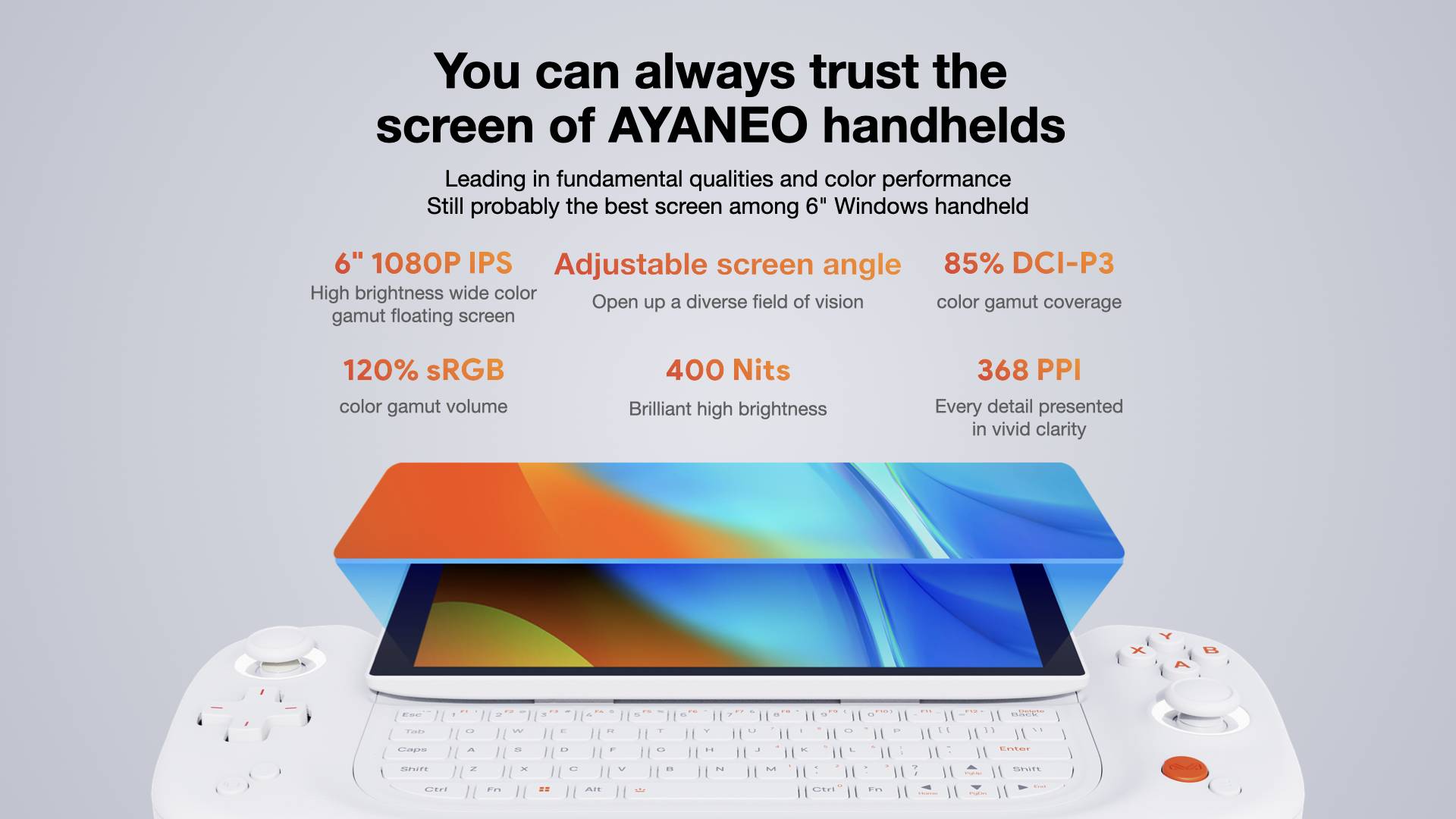 Industry-leading control experience
AYANEO SLIDE continues to feature AYANEO's industry-leading Master controller, along with the first-ever inclusion of the hall sensing joystick and hall trigger. This golden combination ensures a flexible and seamless gaming experience, making it a standout among slide Windows handhelds.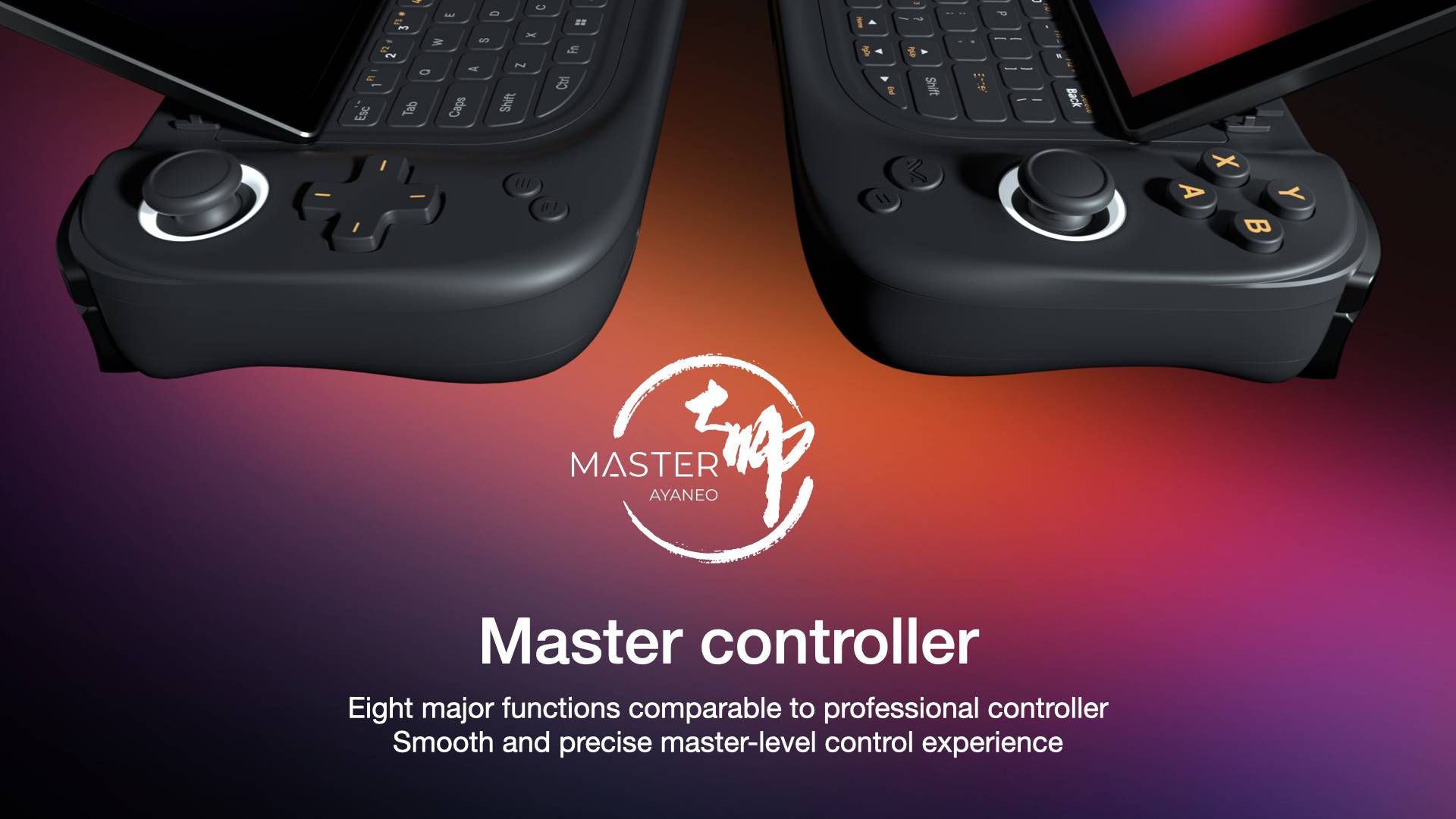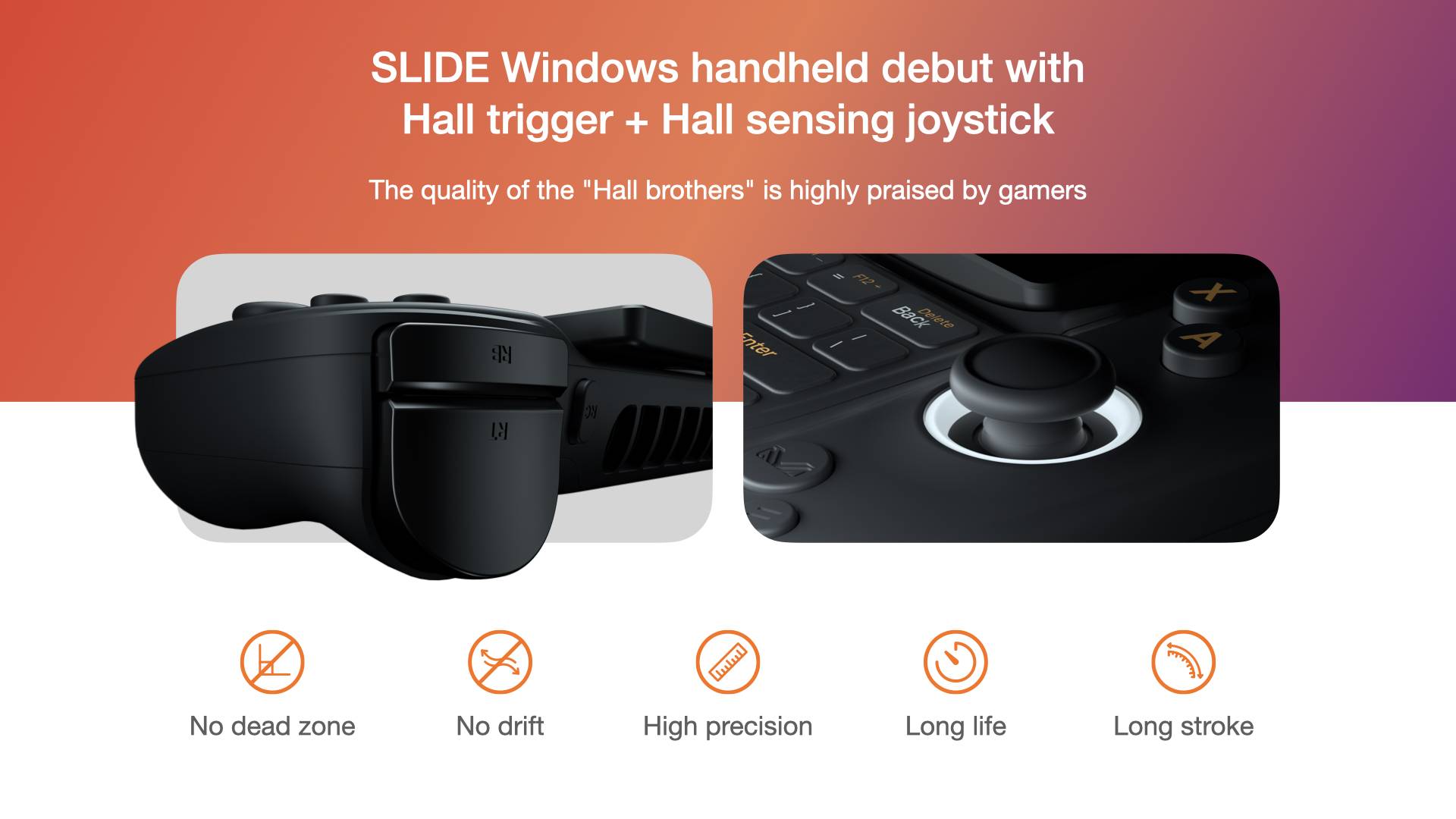 Additionally, AYANEO SLIDE's hall sensing joystick continues to support RGB lighting effects, creating an immersive esports atmosphere when combined with the RGB keyboard. It stands out as one of the few slide Windows handhelds that offer RGB breathing light effects for the joystick.
X-axis linear motor + six-axis gyroscope
AYANEO SLIDE continues the traditional strengths of AYANEO handhelds by including both the X-axis linear motor and the six-axis gyroscope. In AYASpace 2, gamers has the freedom to adjust the vibration intensity and gyroscope function settings according to their preferences.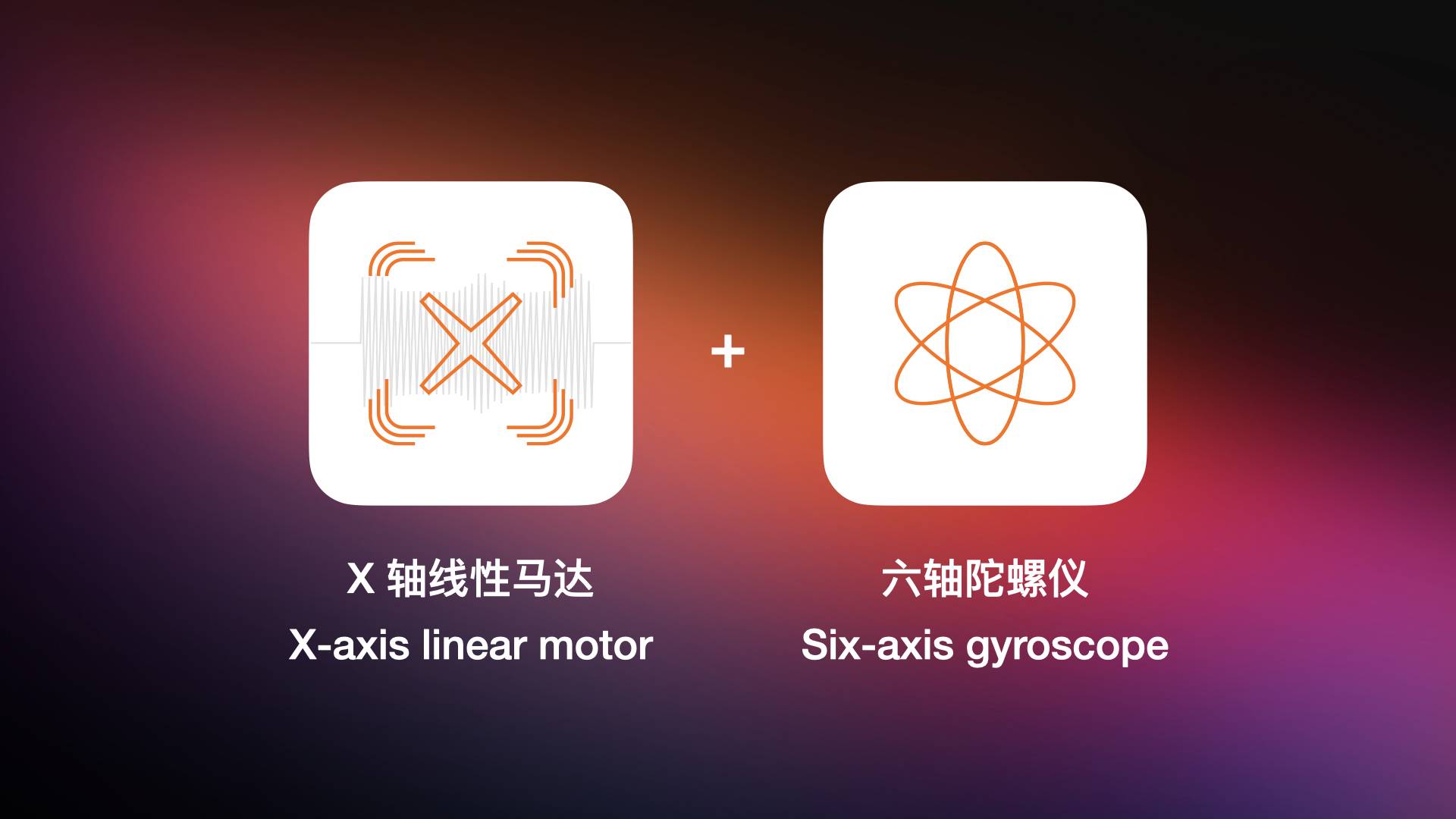 The X-axis linear motor brings multidimensional and delicate tactile feedback, and when combined with the gyroscope, it unlocks limitless fun with motion controls, allowing players to immerse themselves in the gaming experience.
AYANEO Hyper Sound stereo dual-speakers
AYANEO SLIDE continues to use the custom sound solution from AYANEO, featuring a high-power dual-channel cavity with AYANEO's intelligent power amplifier technology, creating the AYANEO Hyper Sound stereo dual-speakers setup, fully reproducing the breathtaking sound effects of intense battles.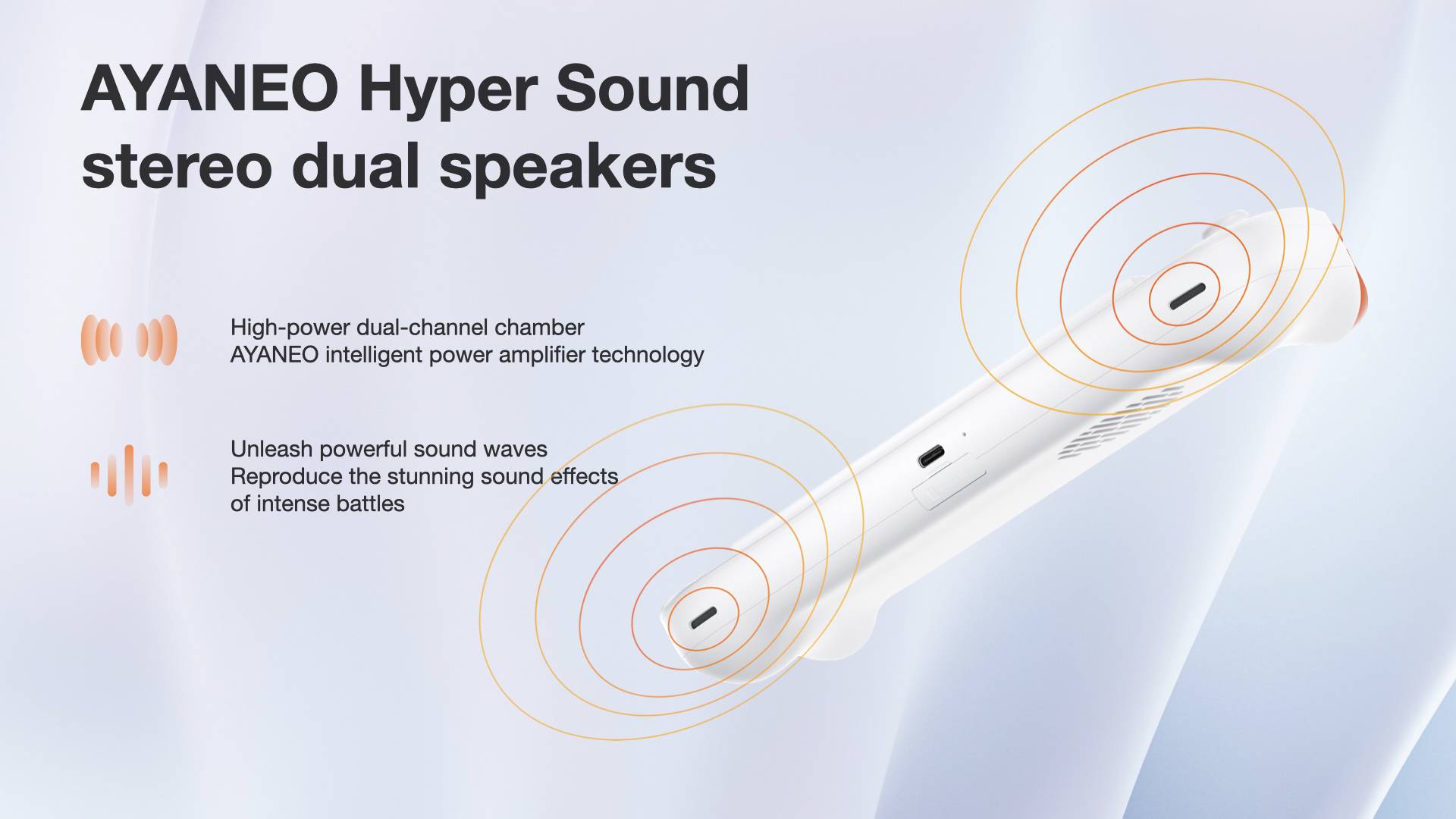 Freedom of expansion without threshold
The AYANEO SLIDE remains fully expandable with 2 full-featured USB4 Type-C ports, standard M.2 2280 PCIe 4.0 SSD, and SD 7.0 level high-speed TF card slot, making it more like a mini PC.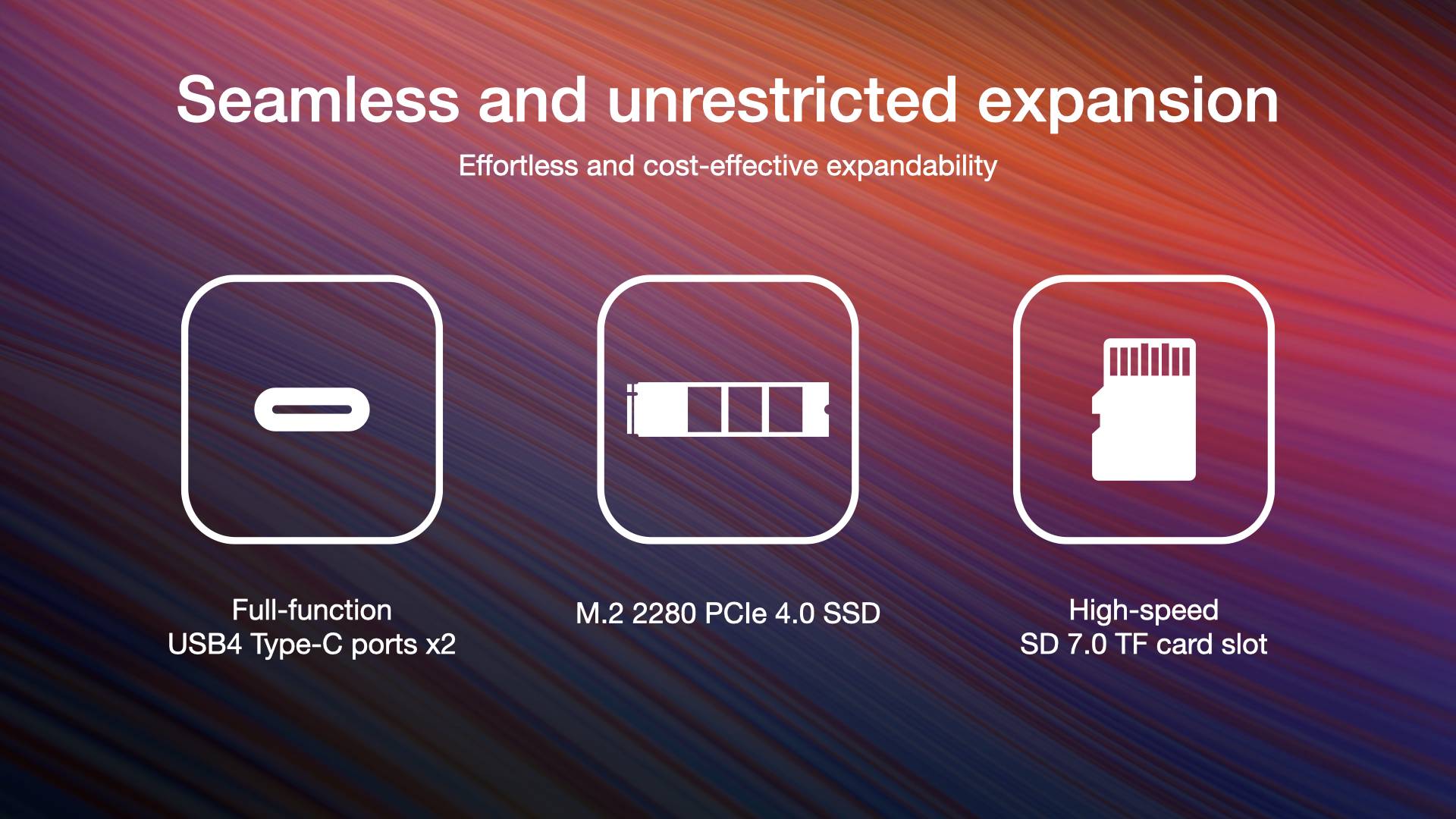 AYASpace 2 Optimized Keyboard Experience
AYANEO SLIDE comes with the new AYASpace 2, which provides players with a fully upgraded visual interaction experience and rich functionality.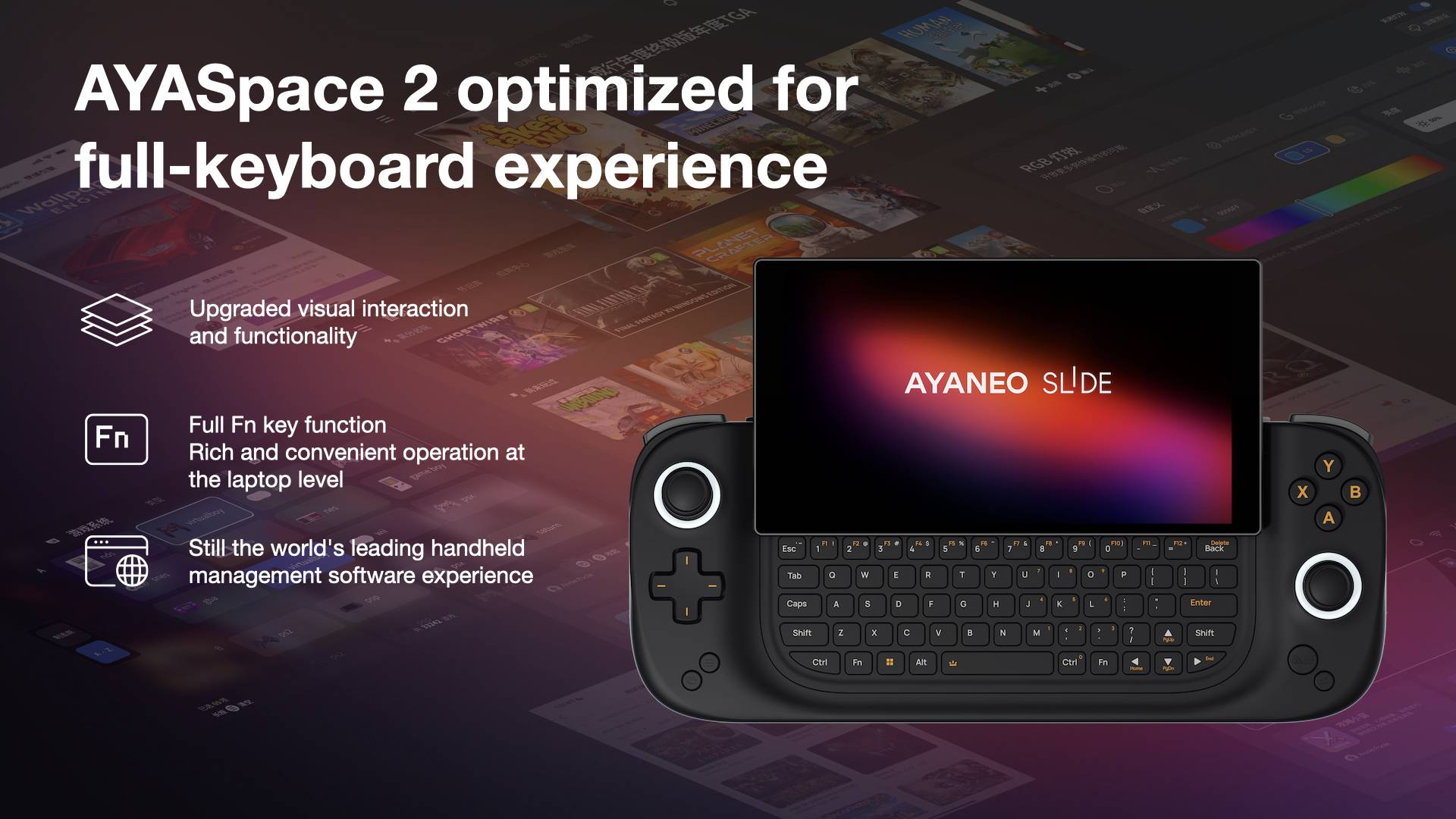 As a full-keyboard Windows handheld, AYASpace 2 offers a rich set of settings and full Fn key functionality for PC-quality convenience.
AYANEO SLIDE - The best of the best in sliding Windows handhelds
AYANEO SLIDE pays homage to the classics and combines industry-leading product concepts to subvert the traditional slide handheld experience, and is an innovative product that carries retro feelings and enterprising spirit.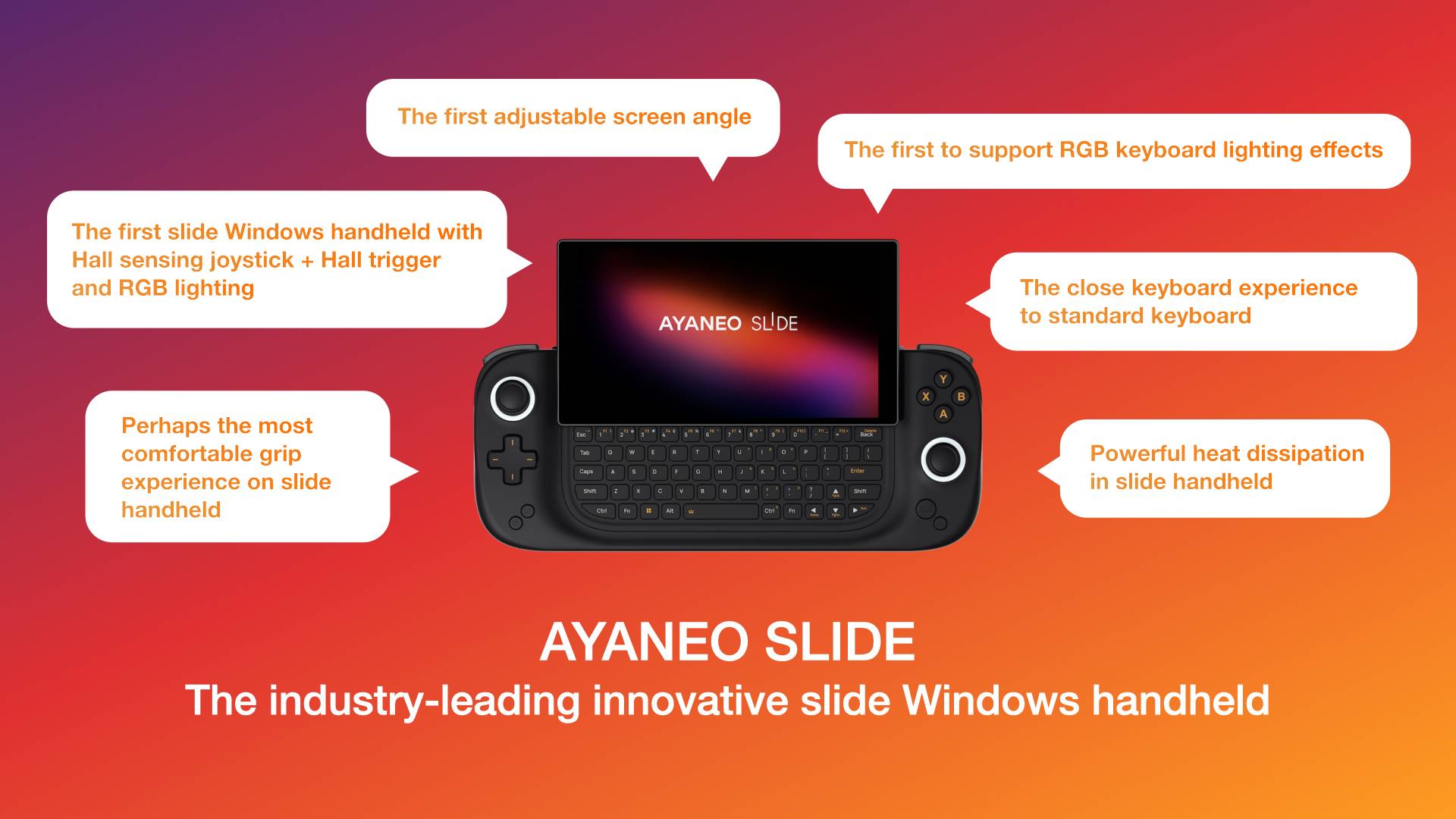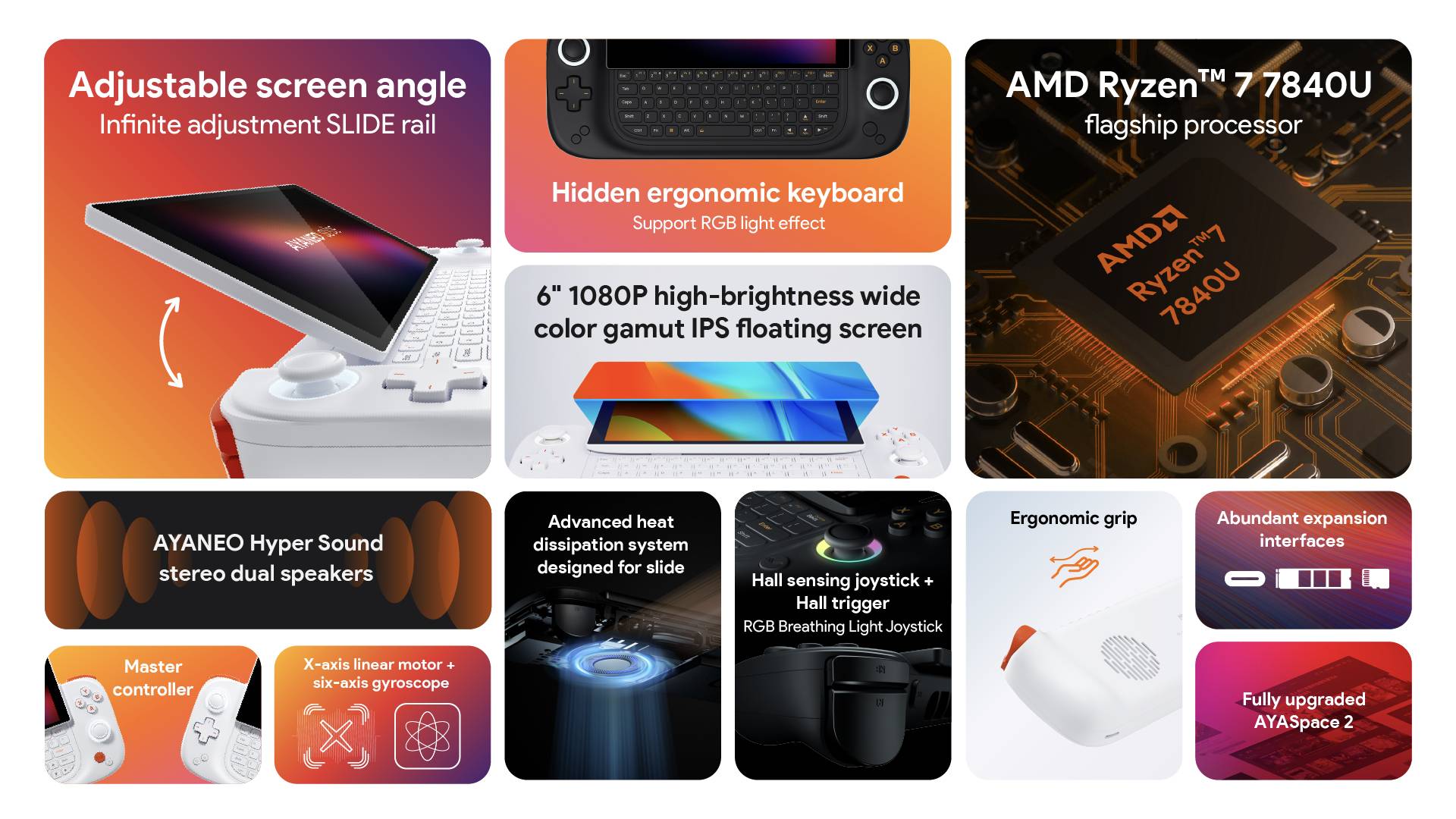 Full-keyboard Slide Handheld, Coming Soon
The AYANEO SLIDE has already been tuned several times and will be a great experience for many gamers who want to see a slide Windows handheld. Of course, we're saving the surprises for the official launch event.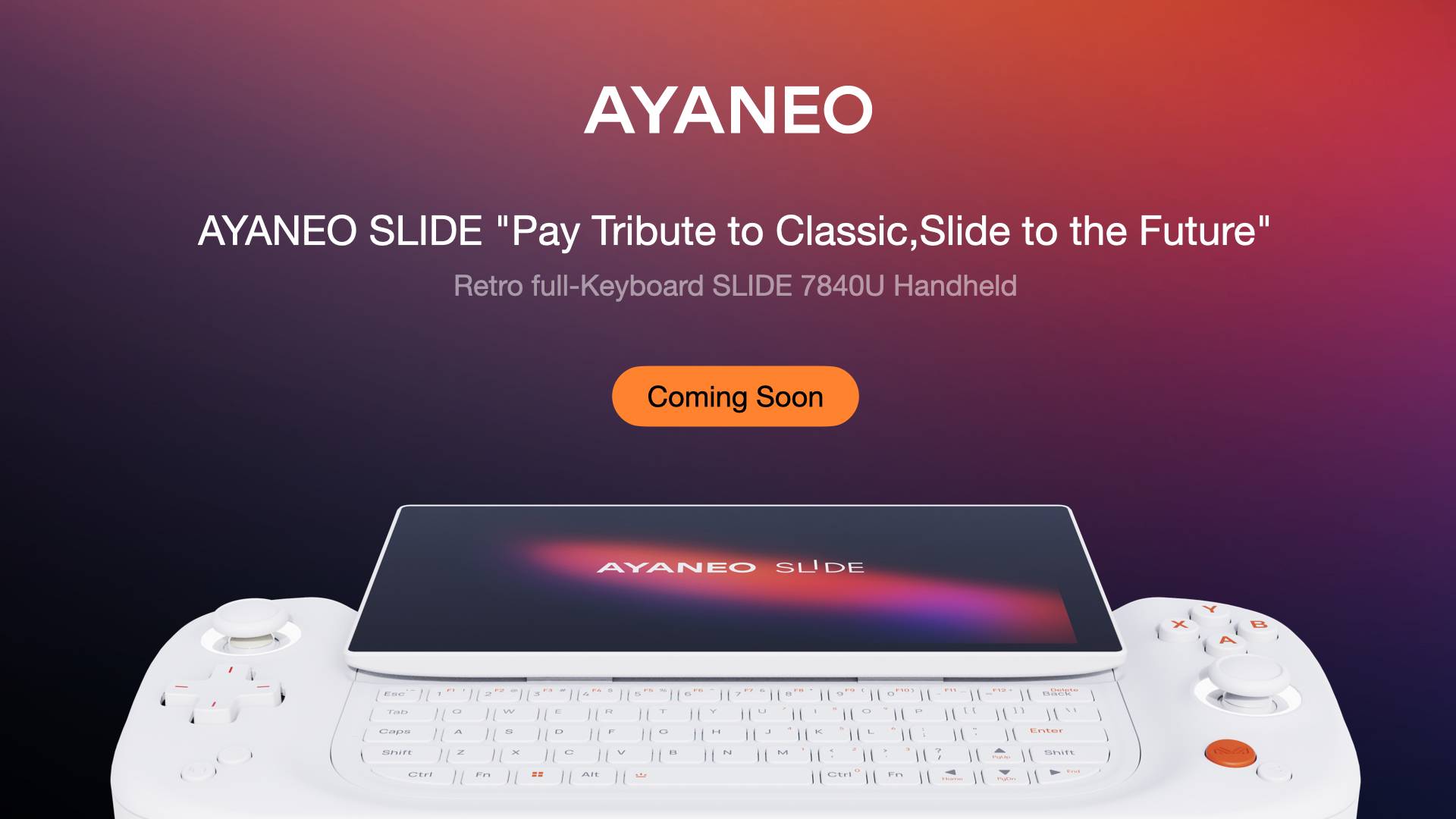 Good things take time. The preparations for the AYANEO SLIDE are well underway, and the surprise pre-order campaign and official launch event are well underway, so stay tuned as we bring this unique slide Windows handheld to gamers who have been waiting for it for a long time.