On August 29th, AYANEO officially released the new high-end large-screen 7840U handheld AYANEO KUN, bringing many gamers a breakthrough from the traditional Windows handhelds with a high-end large-screen handheld.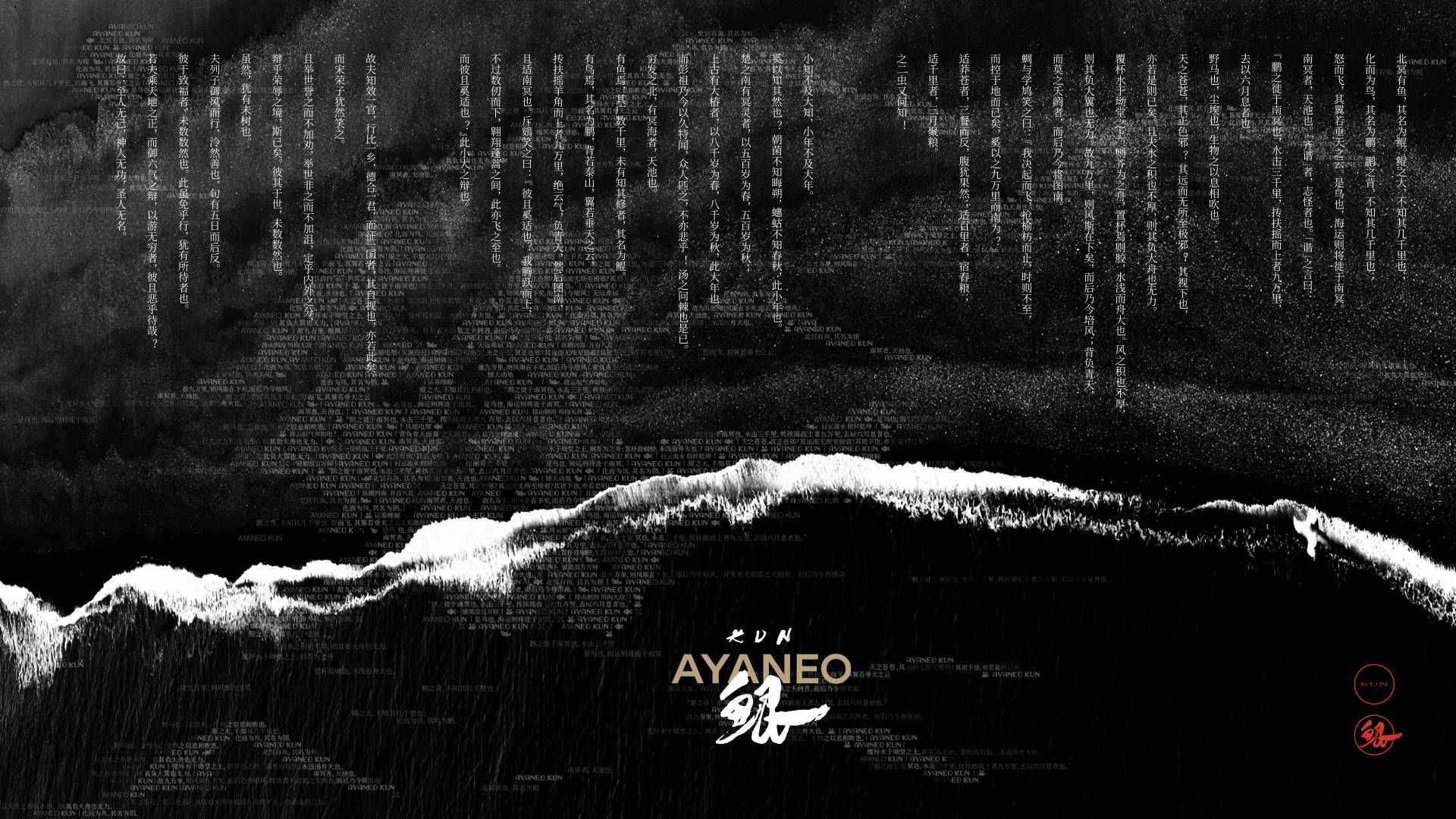 A handheld with large screen for "semi-mobile scenarios"
As the handheld gaming market has evolved to the present day, the definition of handheld gaming devices has undergone a profound transformation. AYANEO has always focused on uncovering the nuanced demands of the handheld gaming market. Therefore, while choosing to return to the essence of handheld gaming and create the lightweight and powerful AYANEO AIR 1S, AYANEO has also broken through the traditional definition of handhelds, giving birth to the KUN, a large-screen handheld.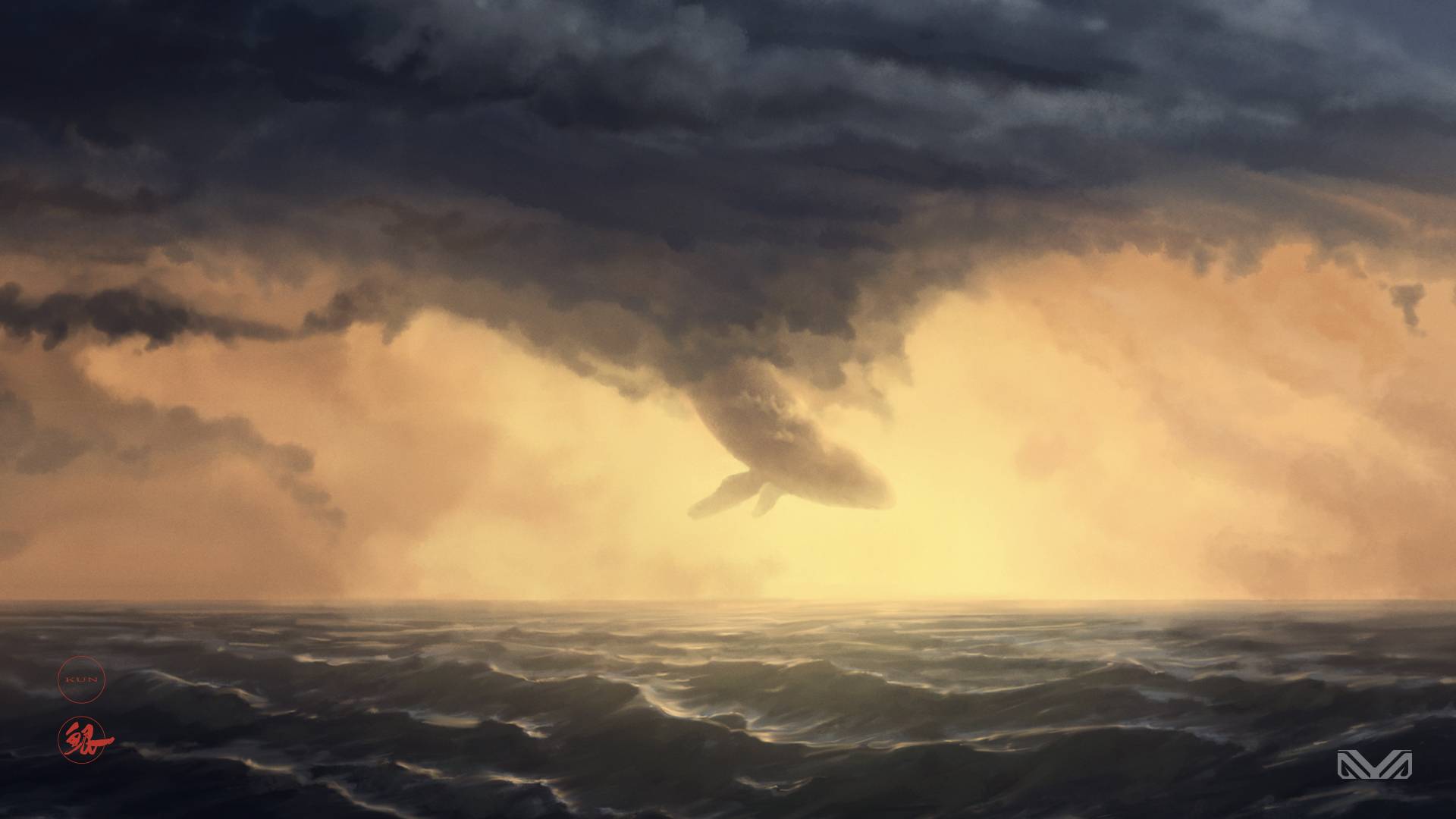 The birth of KUN is also closely tied to the ever-changing landscape of gaming and entertainment. The ability to play games anytime, anywhere has gradually become a sought-after experience for the masses. With the rise of Windows handheld gaming, many players are finally able to enjoy the excitement of playing AAA games on the go.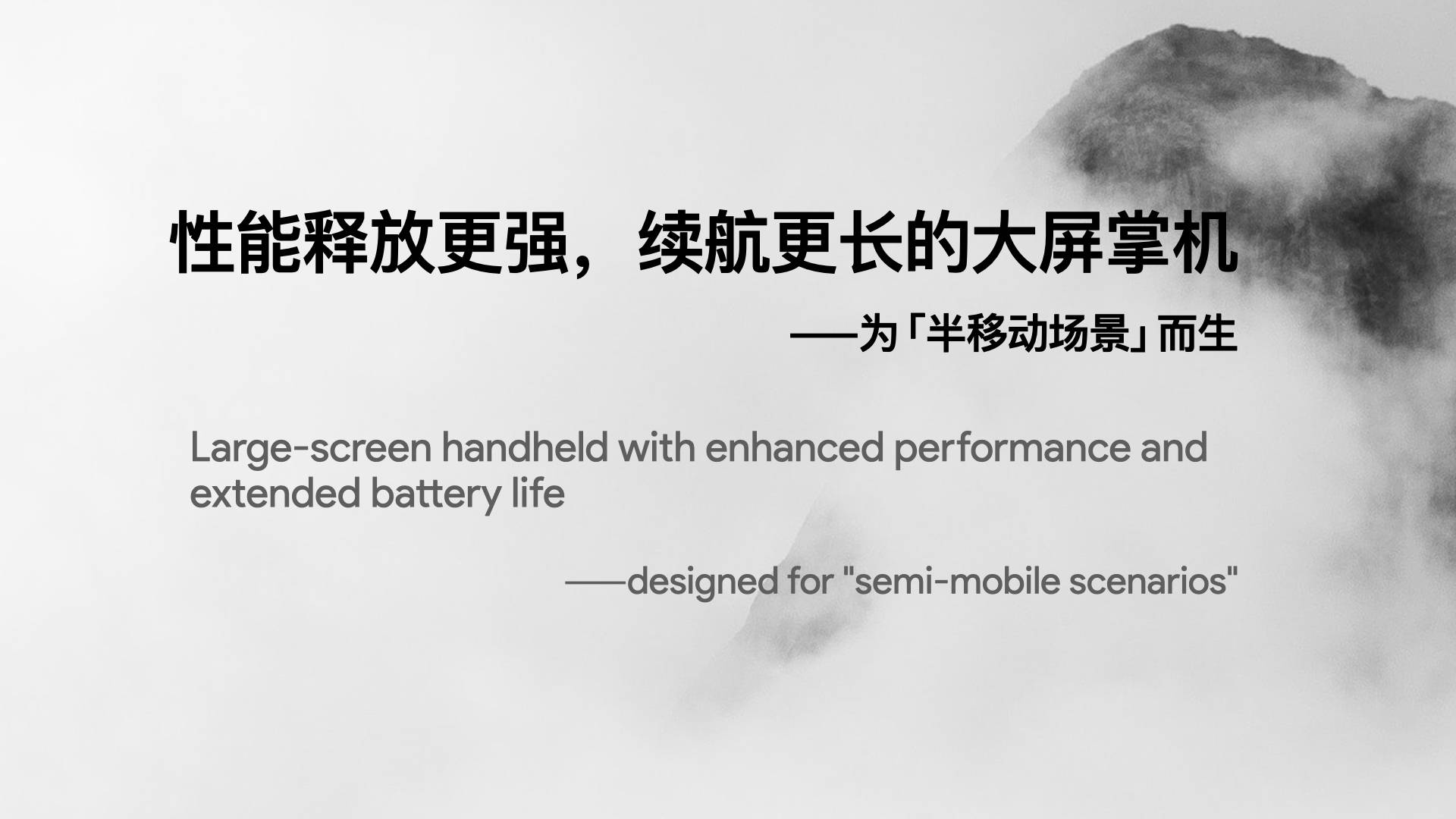 Scenarios where players can conveniently access power sources, such as in their living room on the sofa, by the bedside in the bedroom, or while camping, often lead to higher expectations for graphics and gaming performance. We define these types of scenarios as "semi-mobile environments".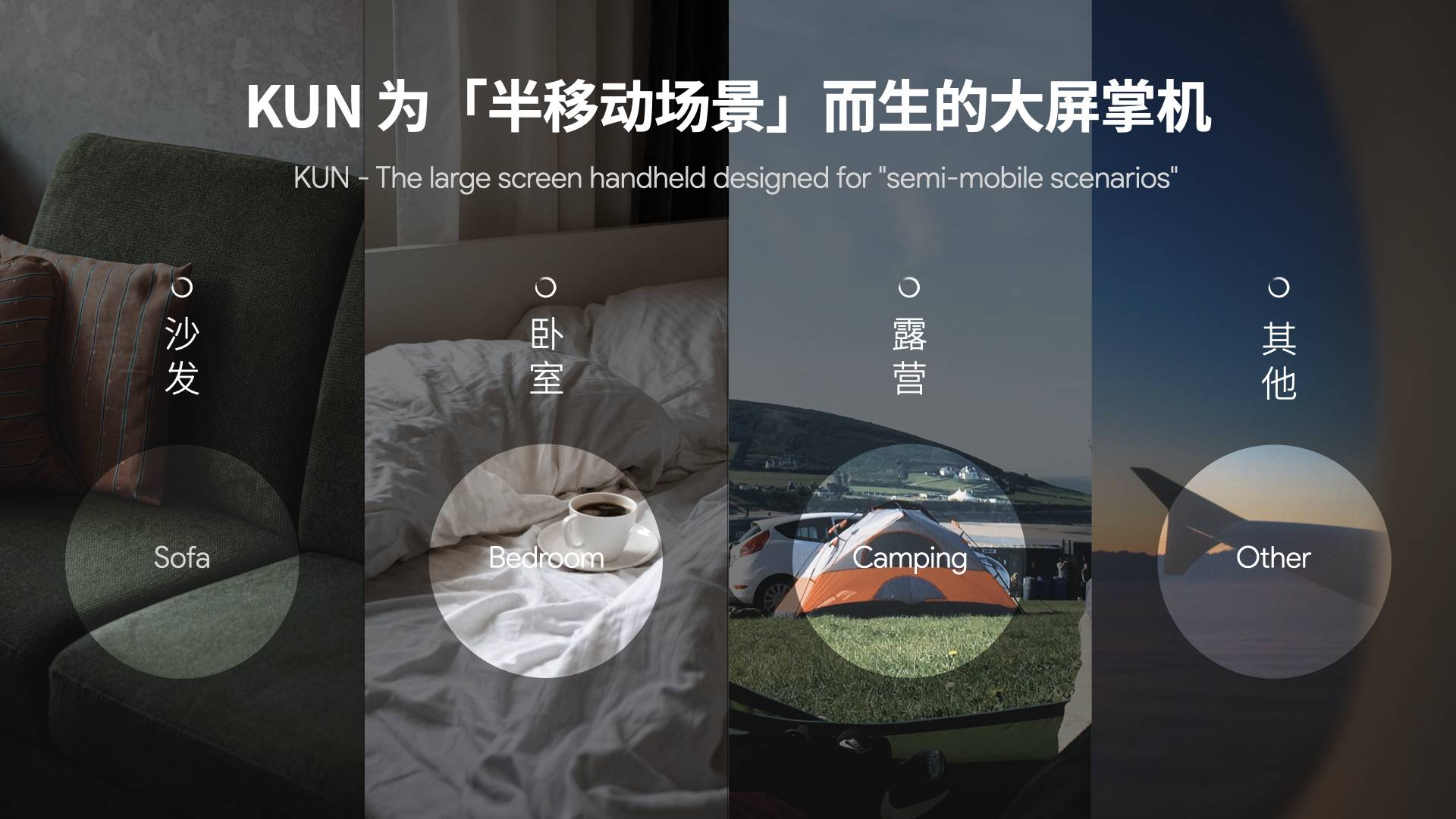 A large-screen handheld console with higher performance and longer battery life can meet the needs of players in "semi-mobile environments". AYANEO KUN is precisely crafted with an innovative product concept, offering a genuinely premium experience in the realm of large-screen Windows handheld. It brings an unprecedented experience of a large-screen handheld.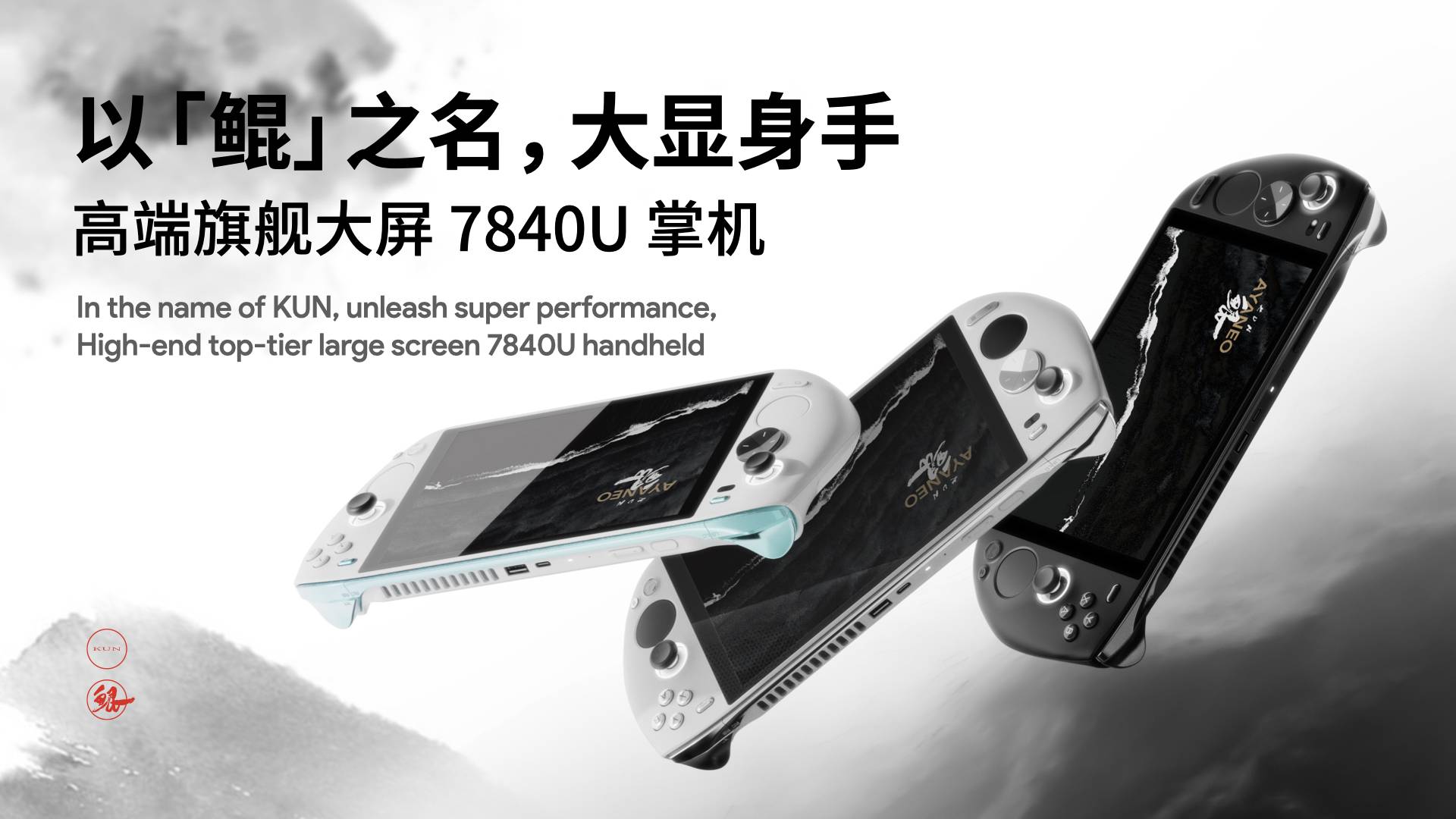 8.4" 1600P high brightness screen
AYANEO KUN is positioned as a large-screen handheld. After comprehensive analysis of factors such as grip comfort, design, visual experience, and meticulous selection, the high-quality 8.4" 1600P screen currently in use was ultimately chosen.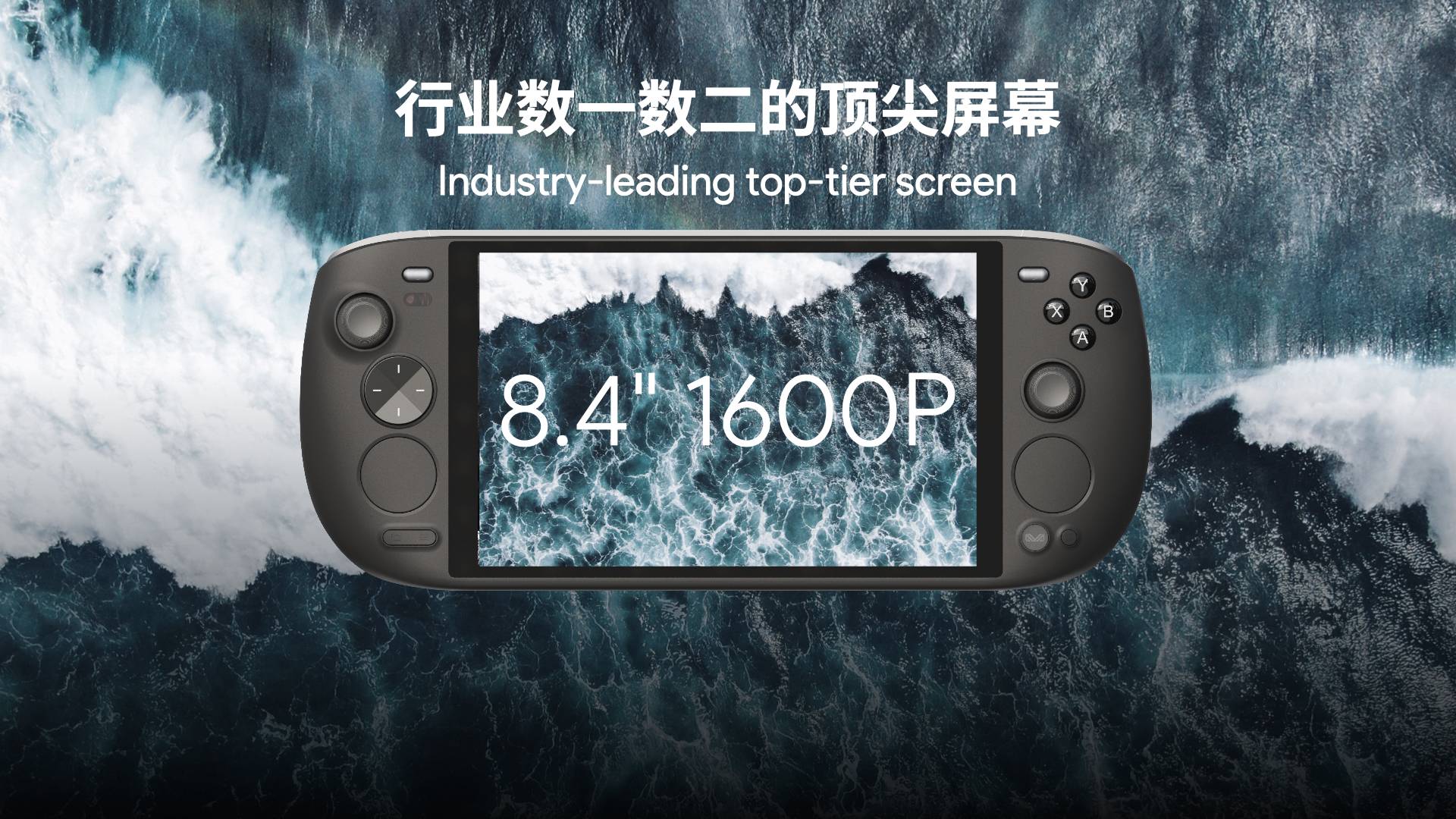 AYANEO KUN continues our high standard for screens, maintaining industry-leading color gamut data. Additionally, it boasts a remarkable screen brightness of over 500 nits, a feature not found in similar products. This outstanding brightness performance ensures excellent readability and gaming experience even in outdoor scenarios like camping, perfectly catering to the diverse demands of various semi-mobile usage scenarios.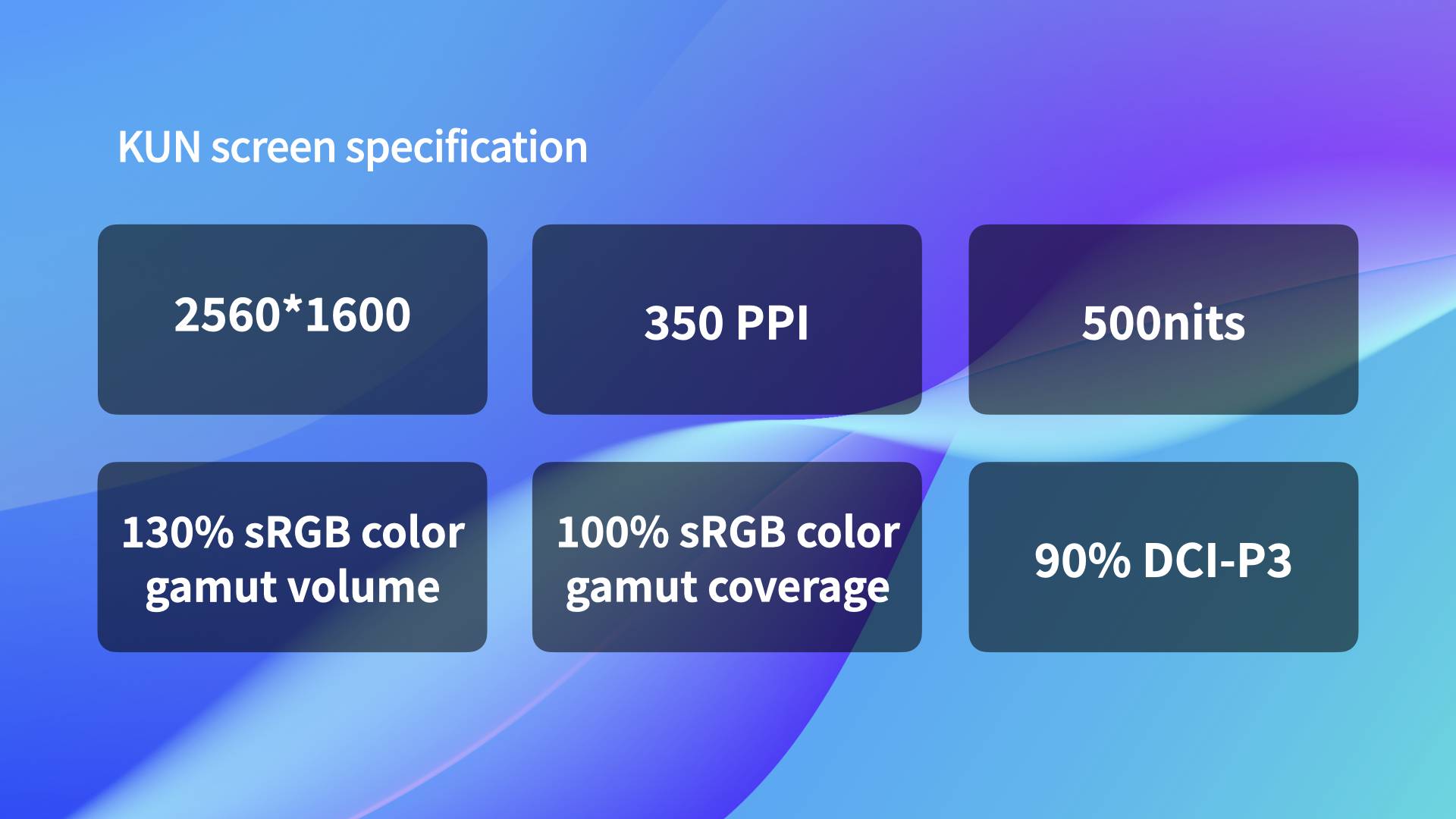 During everyday usage, AYANEO KUN offers an ultra-clear and stunning visual experience. With its powerful performance, KUN can run AAA games at 1600P resolution. Players seeking high-frame gaming experiences can set the resolution to 800P. Since 800P is a scaled equivalent of 1600P, this configuration allows for both a high-frame gaming experience and a satisfactory display quality.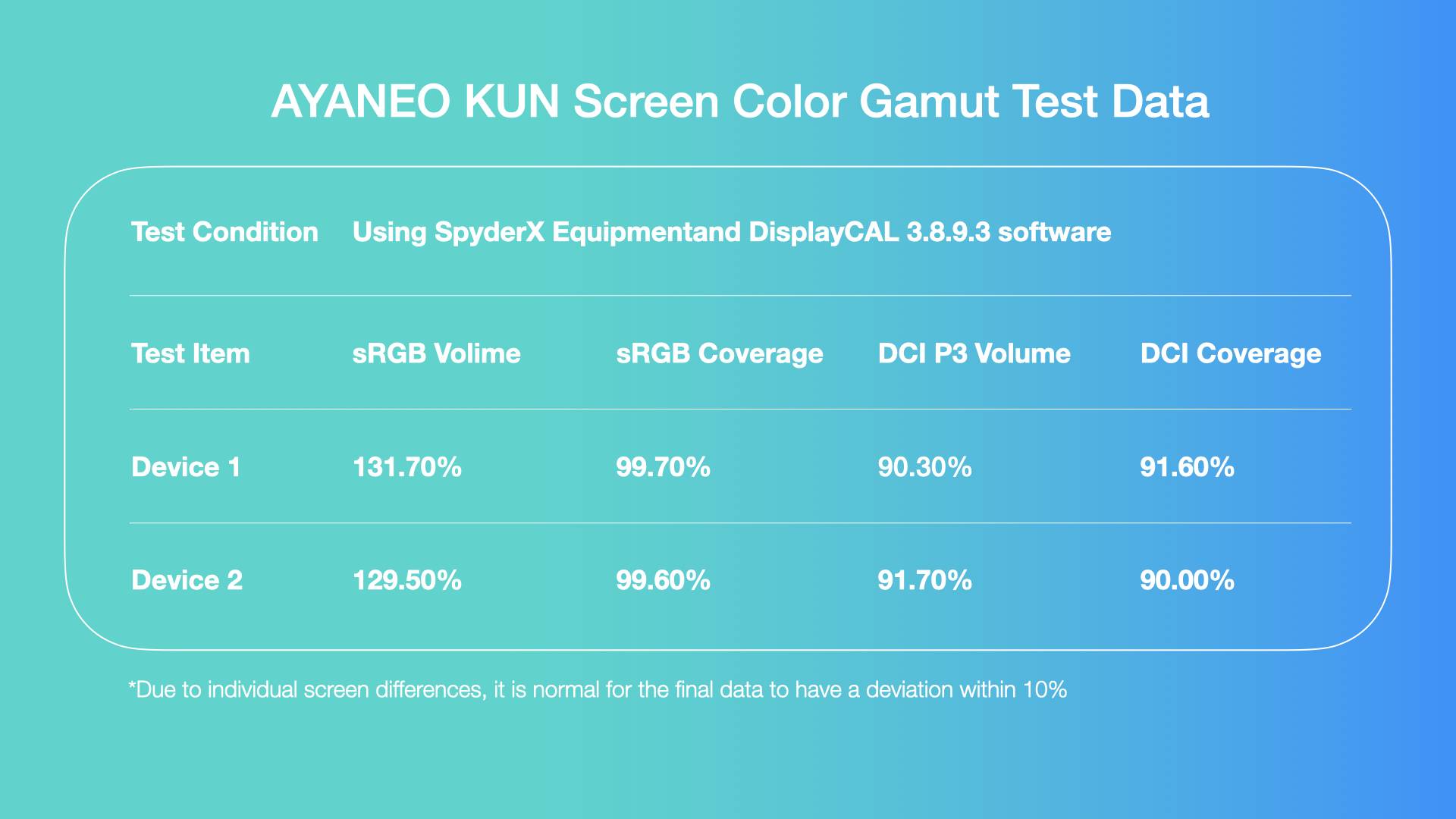 With perhaps the best-performing screen of any handheld over 8", the AYANEO KUN continues to bring gamers a leading screen experience.
Optimized feel for large-screen handheld
AYANEO KUN adheres to the design aesthetics that AYANEO values and presents a sleek design that traditional large-screen handhelds lack. Additionally, the AYANEO team has tailored optimizations for KUN's appearance and tactile experience, creating an all-encompassing enhancement for the large-screen handheld experience.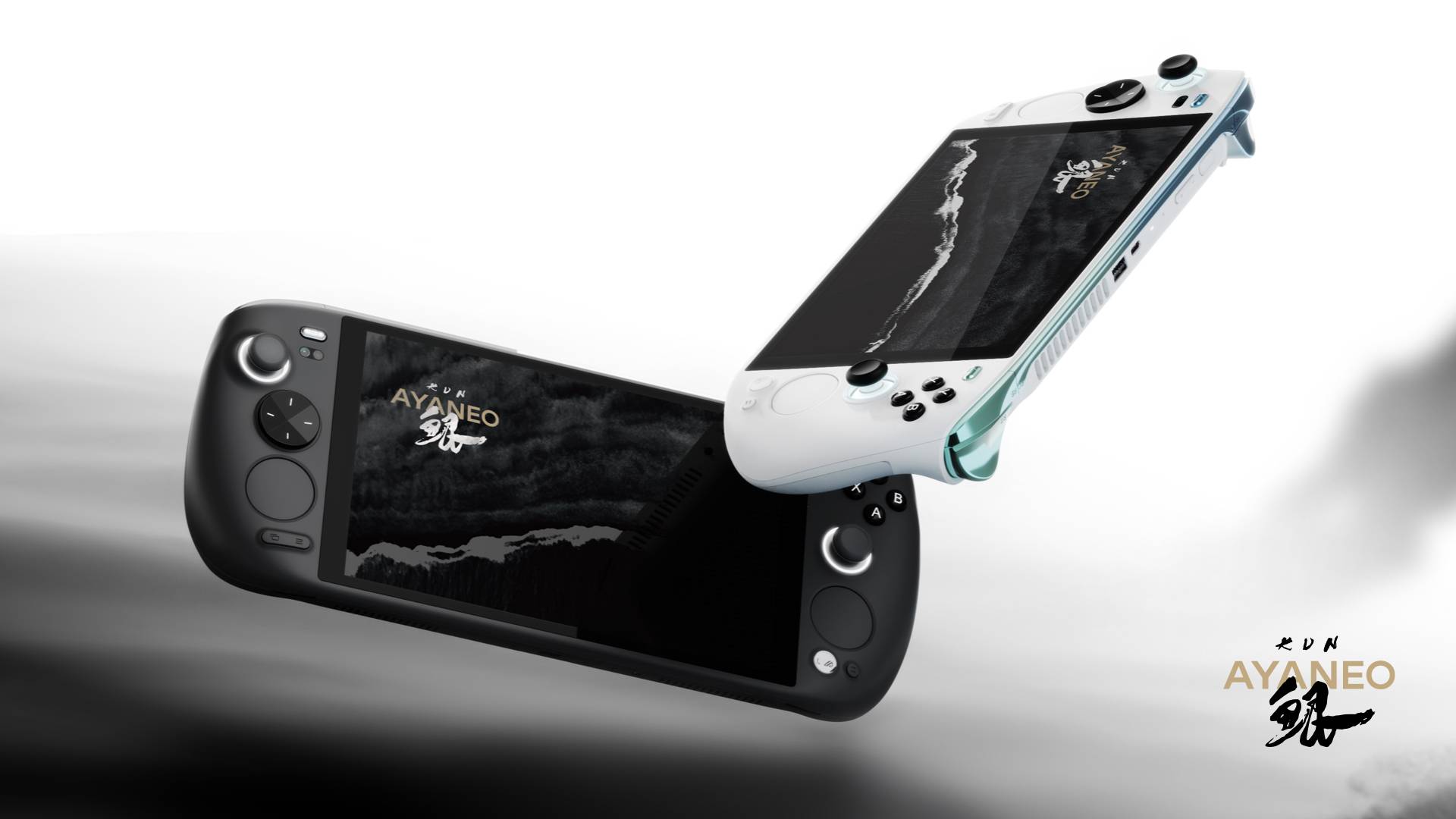 In terms of color schemes, AYANEO KUN offers three elegant options: the minimalist and pure "White Silk", the sleek and refined "Black Feather", and the dazzling and galactic "Silver Wing". These color choices infuse the large-screen handheld with a unique artistic flair.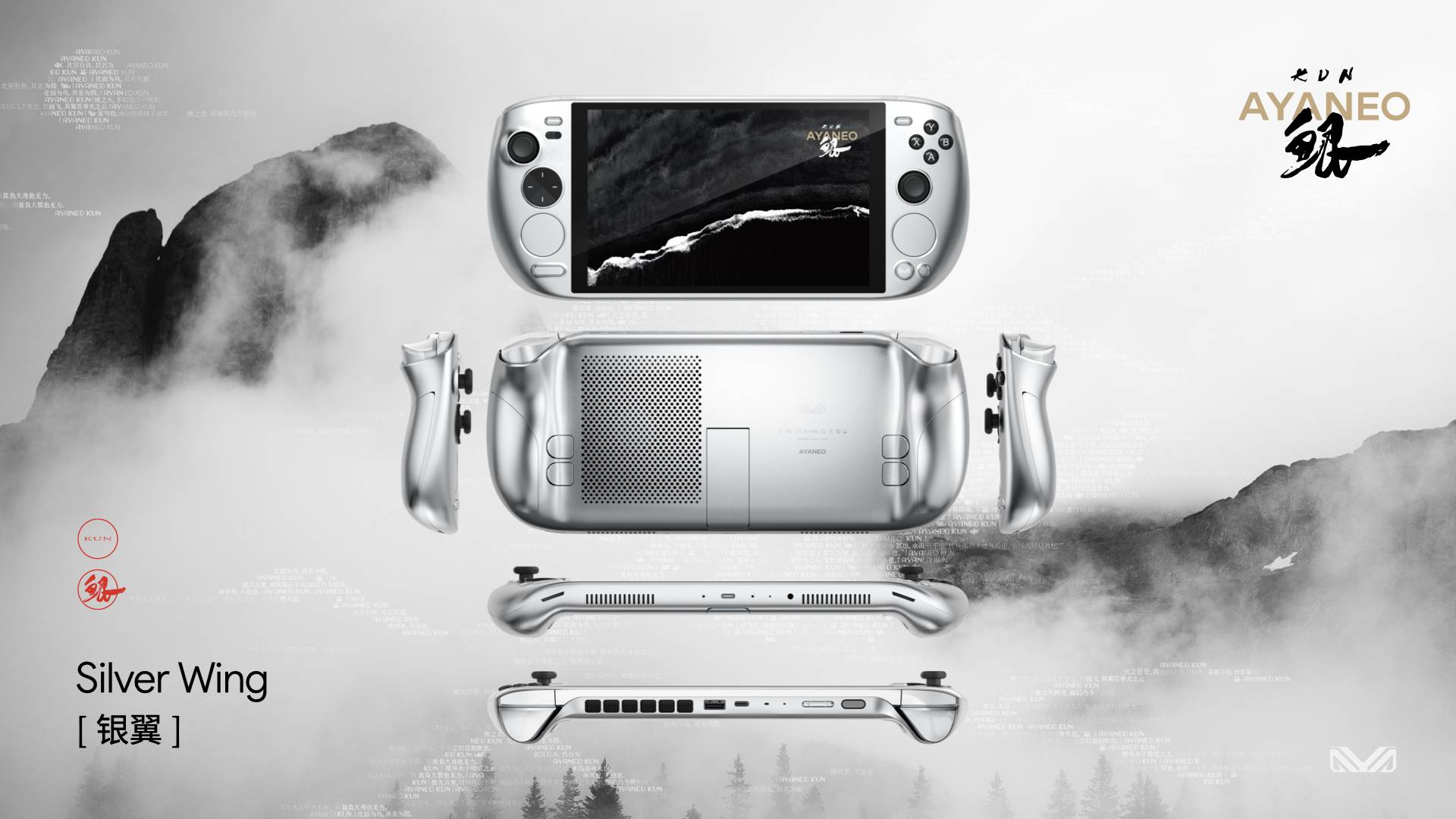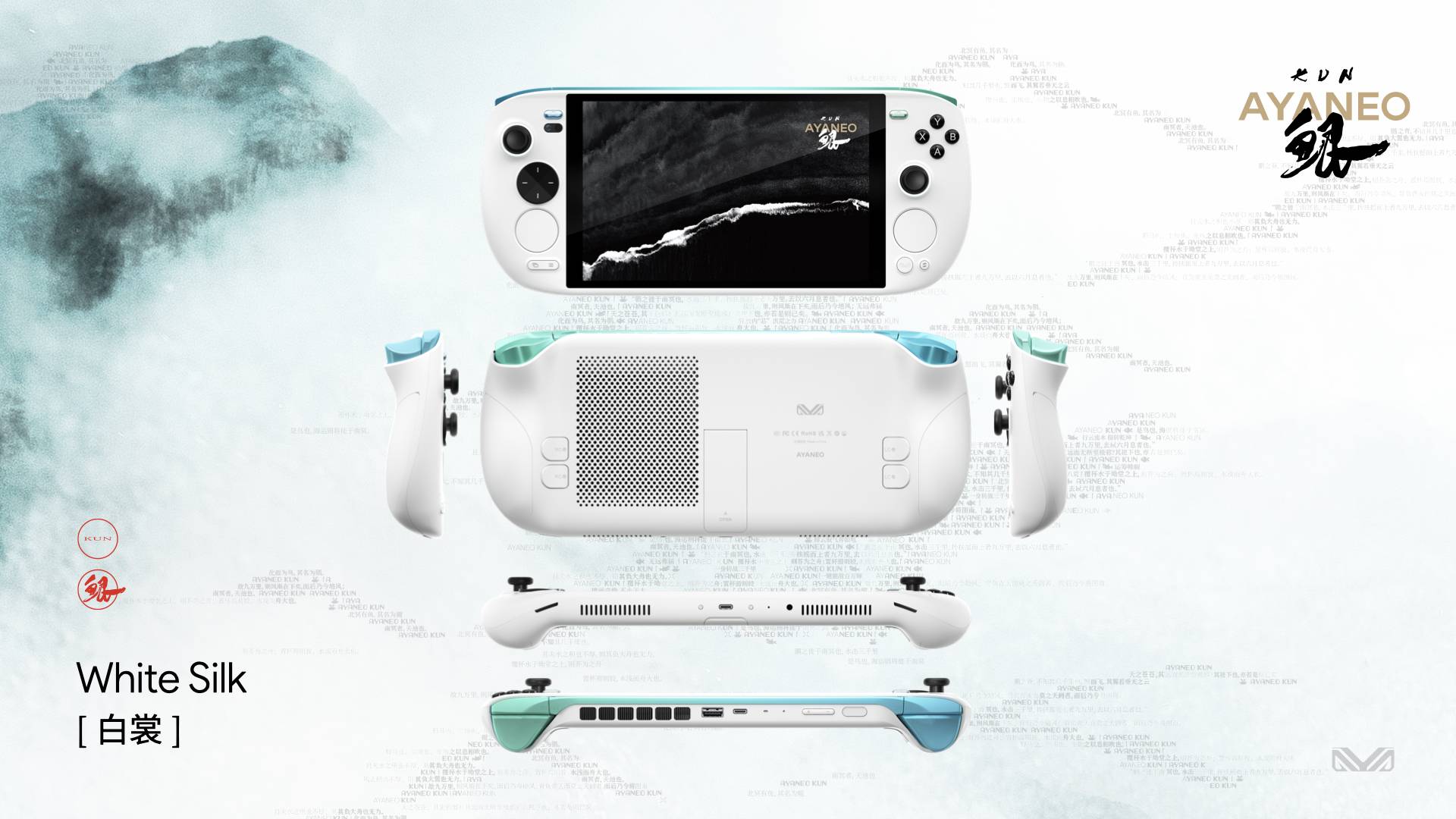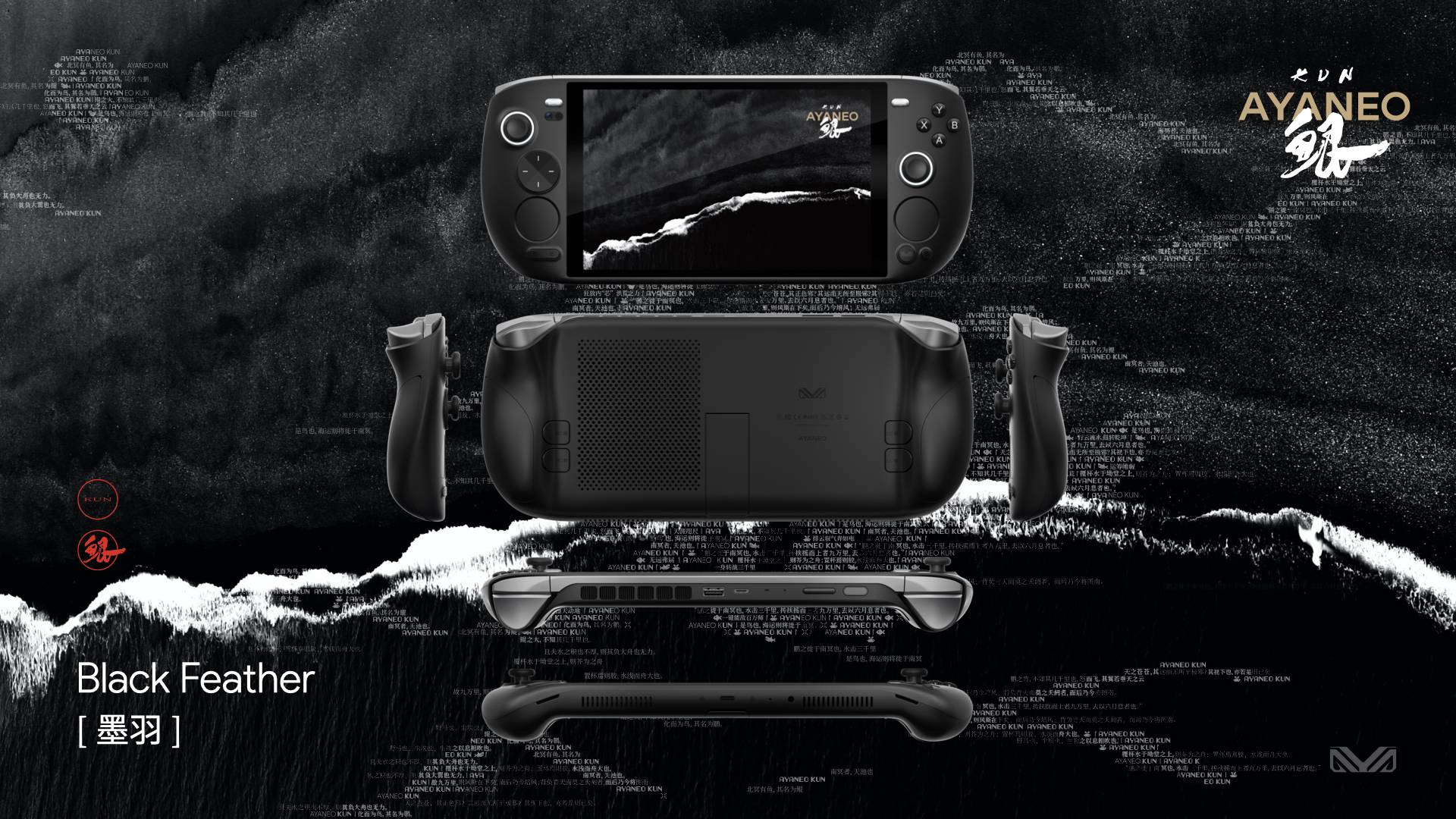 In terms of overall design, AYANEO KUN extensively employs a design featuring large-angle curves that extend from the front of the device to the grips on the back. The front curves seamlessly fit the palm when held, providing a comfortable and ergonomic grip.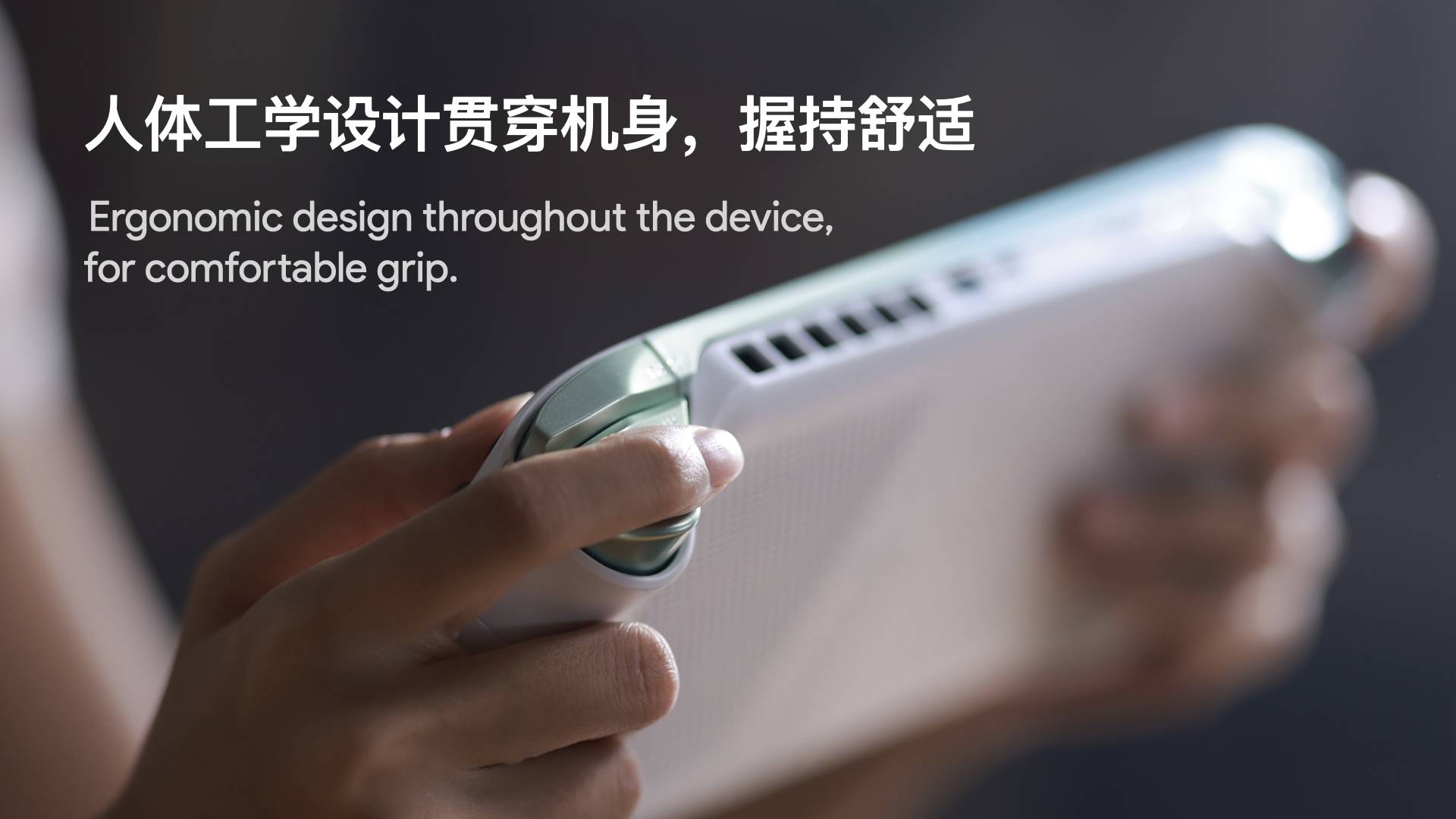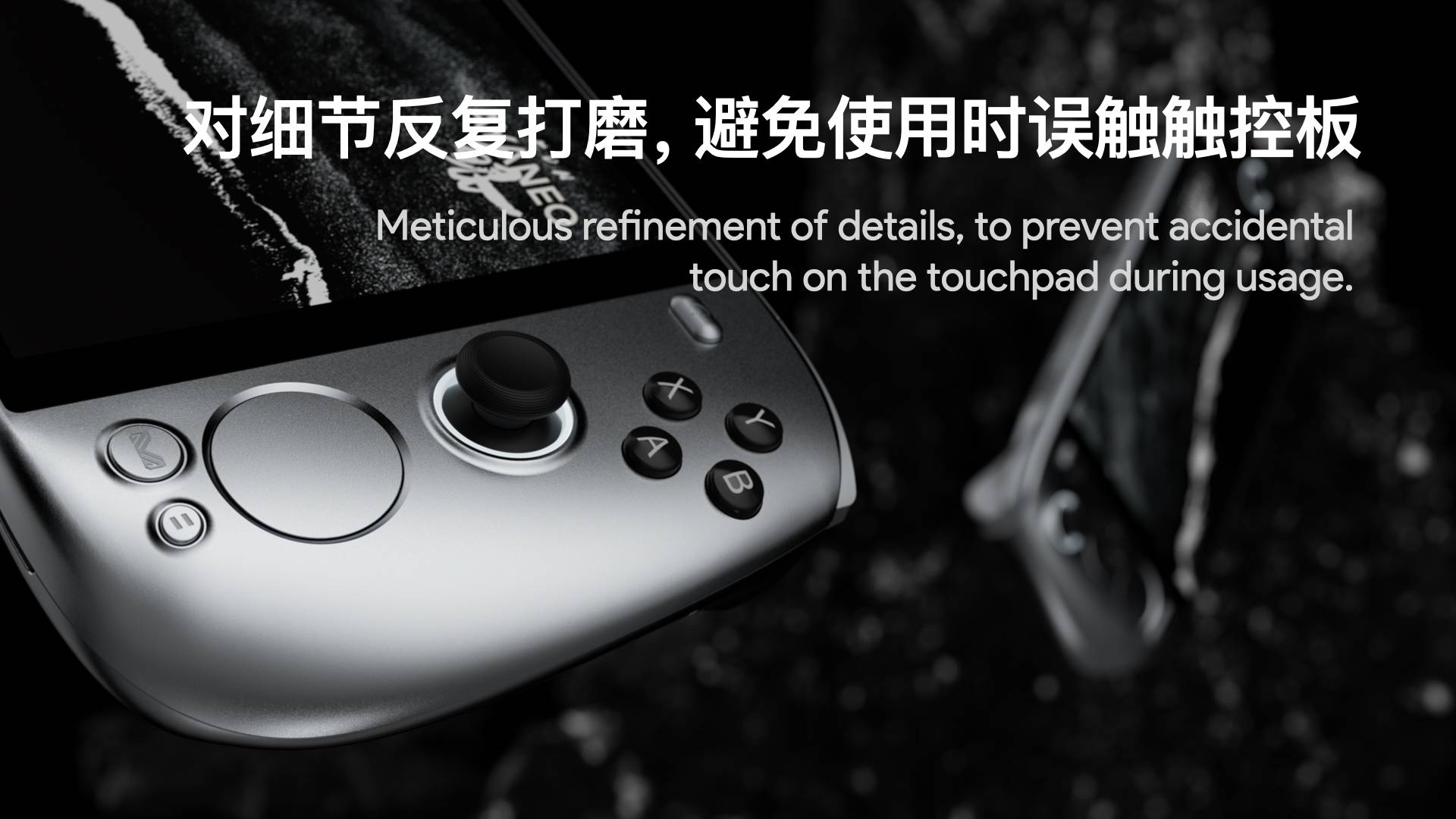 Furthermore, to ensure consistency in design language and user experience, the curvature angle of the front grip area has undergone meticulous refinement. The touchpads on both sides feature a subtle curved surface that extends seamlessly to the curved grip area. This design not only maintains aesthetics but also prevents unintended touches on the touchpads while holding the device.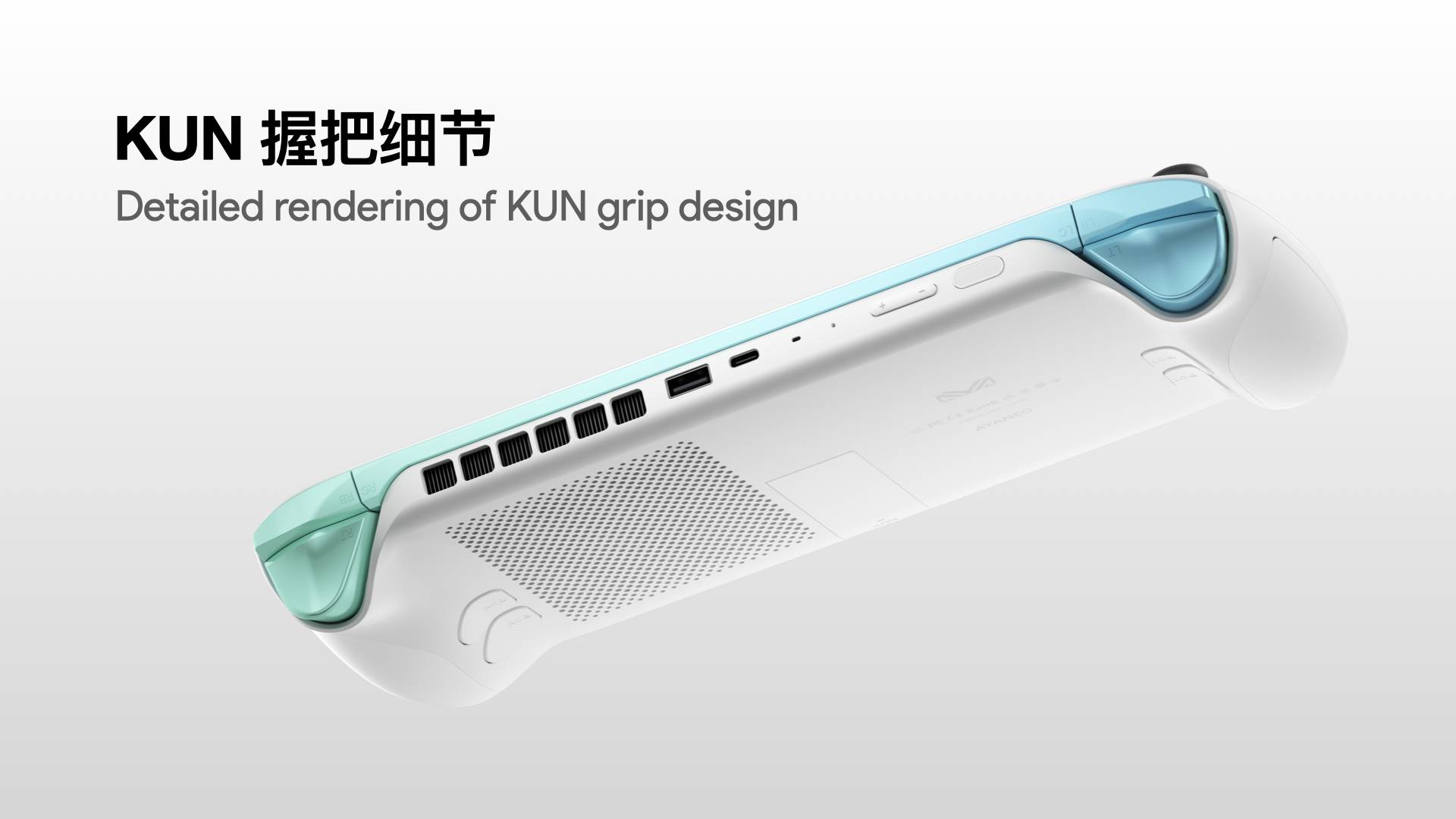 AYANEO KUN features a brand-new grip design reminiscent of traditional gaming controllers. It is equipped with a pair of ergonomic large arc-shaped grips, with increased protrusions that provide better hand palm conformity. This design aims to offer a grip sensation that closely resembles traditional gaming controllers, making it one of the most ergonomic large-screen handheld gaming devices available today.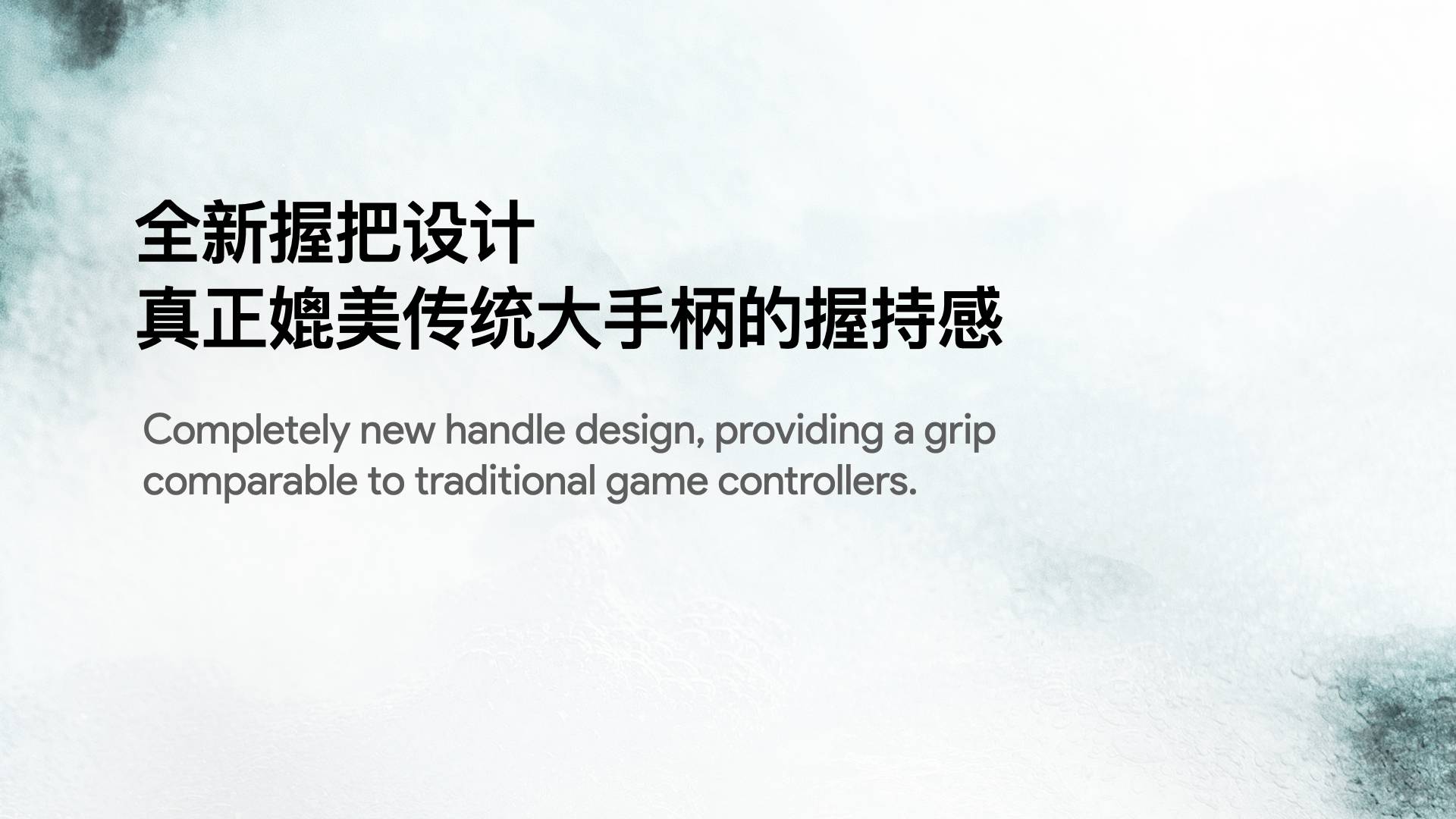 At the top of the grips, there is a small notch designed to easily remove the decorative piece placed on the grip. The rest of the screws on the device are concealed within the grips. With this design, only the bottom two exposed screws remain on the AYANEO KUN's body, maintaining the brand's consistent minimalist aesthetic.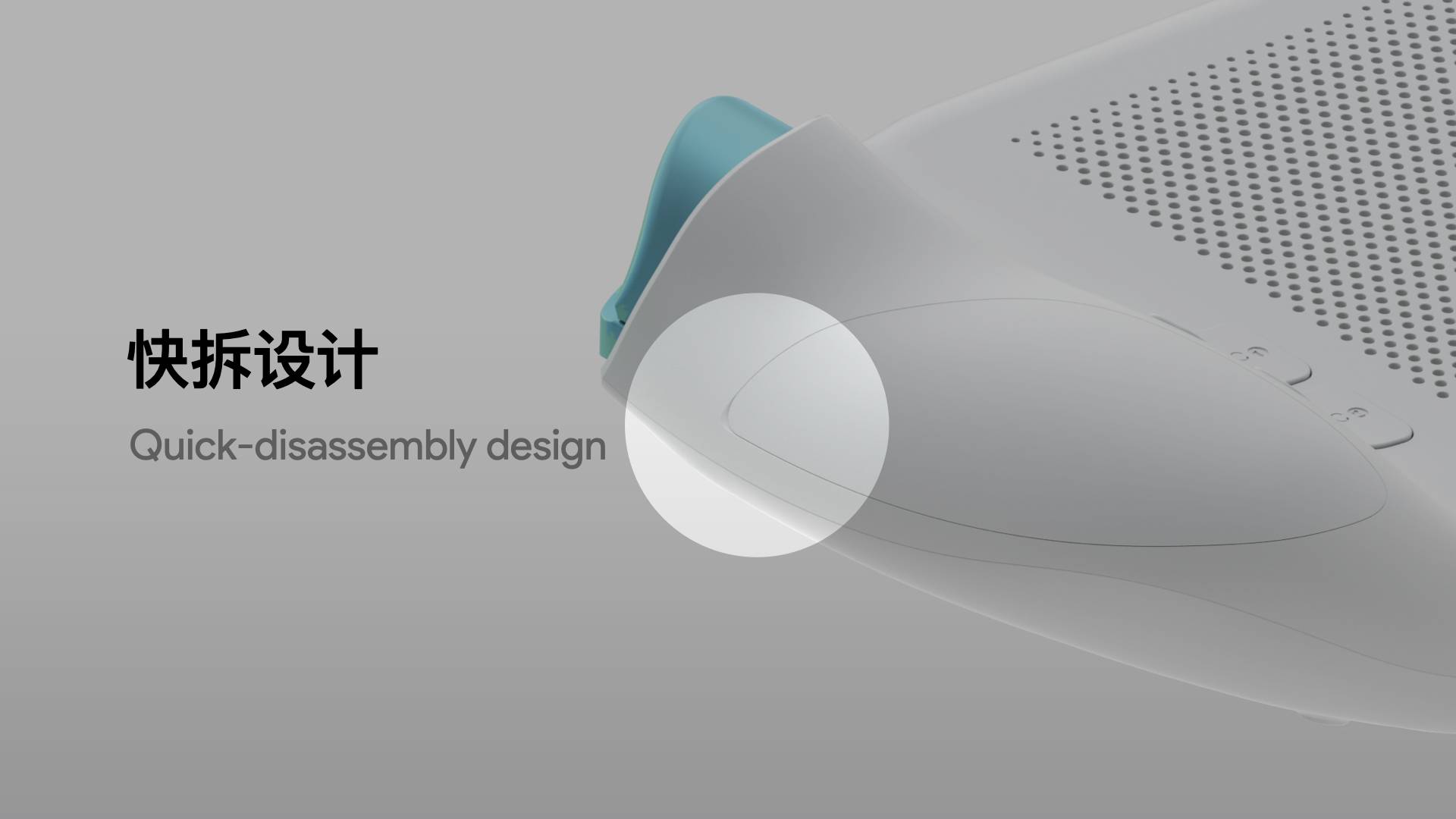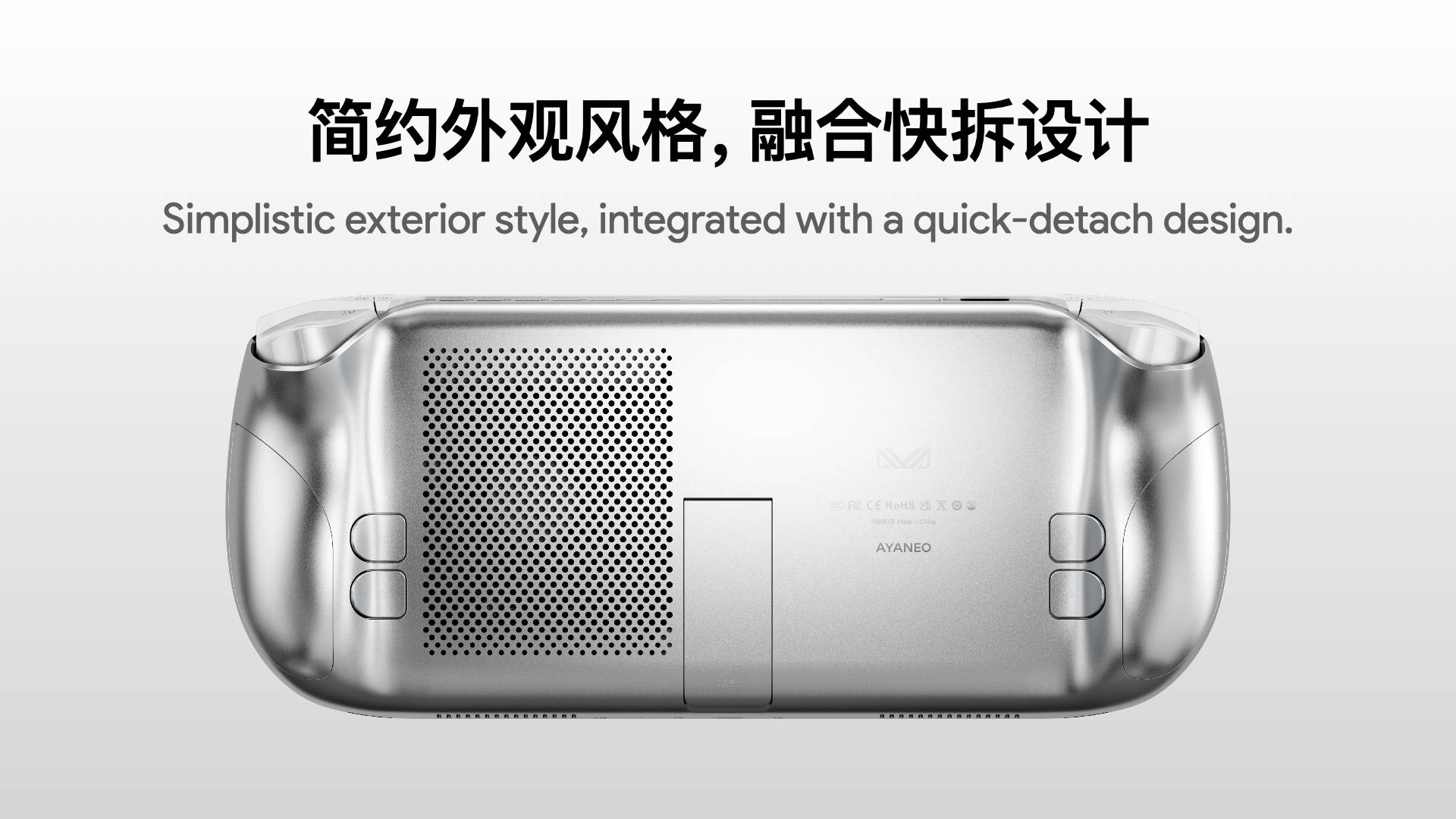 After considering various factors, the AYANEO team meticulously arranged the internal structure of the KUN body, ensuring a balanced distribution of weight throughout the device. This design provides a well-balanced grip, enhancing the overall handheld experience for users.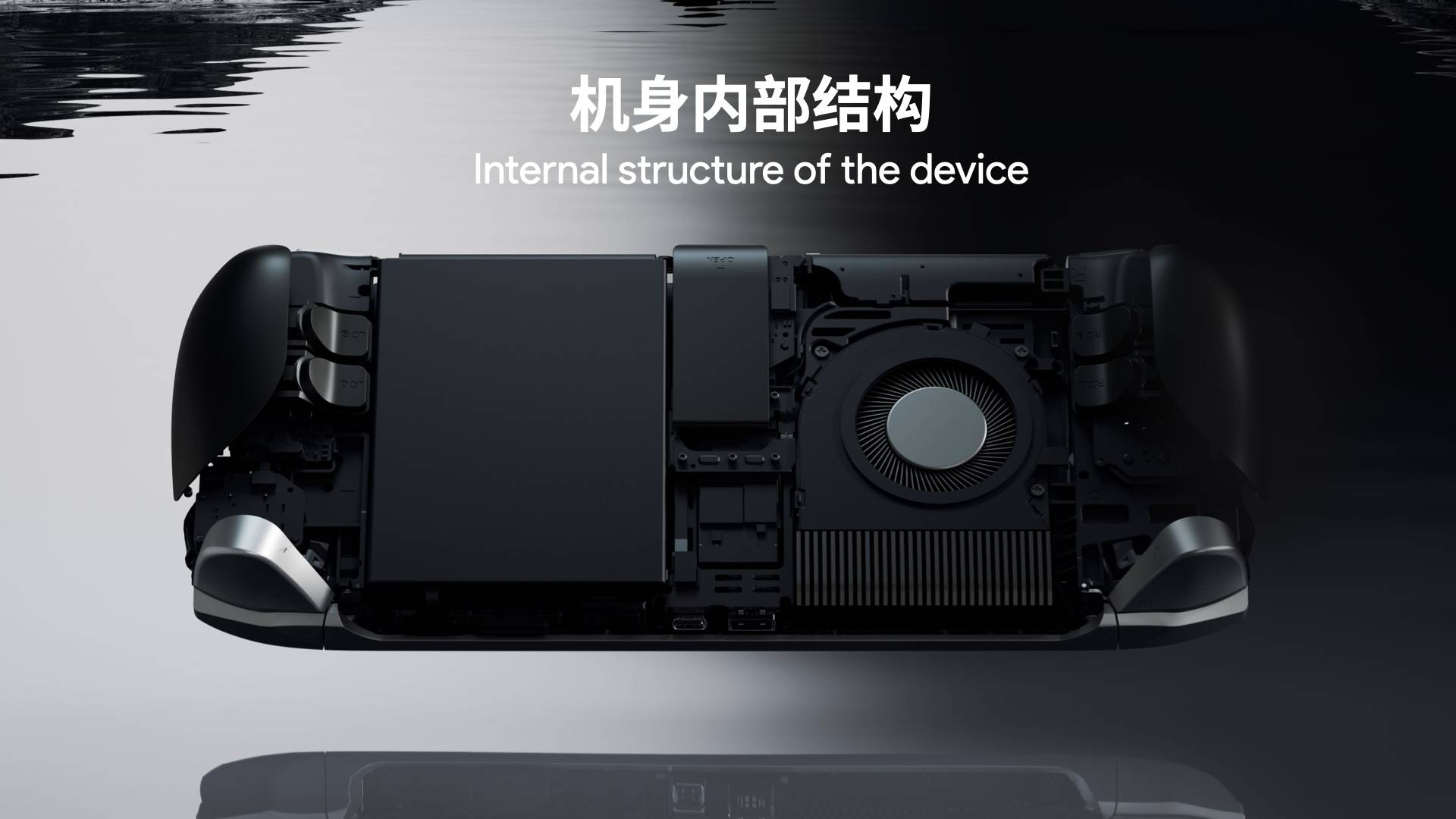 Considering the weight of 950g, which is not particularly light, AYANEO KUN has incorporated an adjustable folding stand on the back of the device. This stand allows players to prop the device up on a table at different angles, enabling hands-free gameplay and expanding its usability to various scenarios.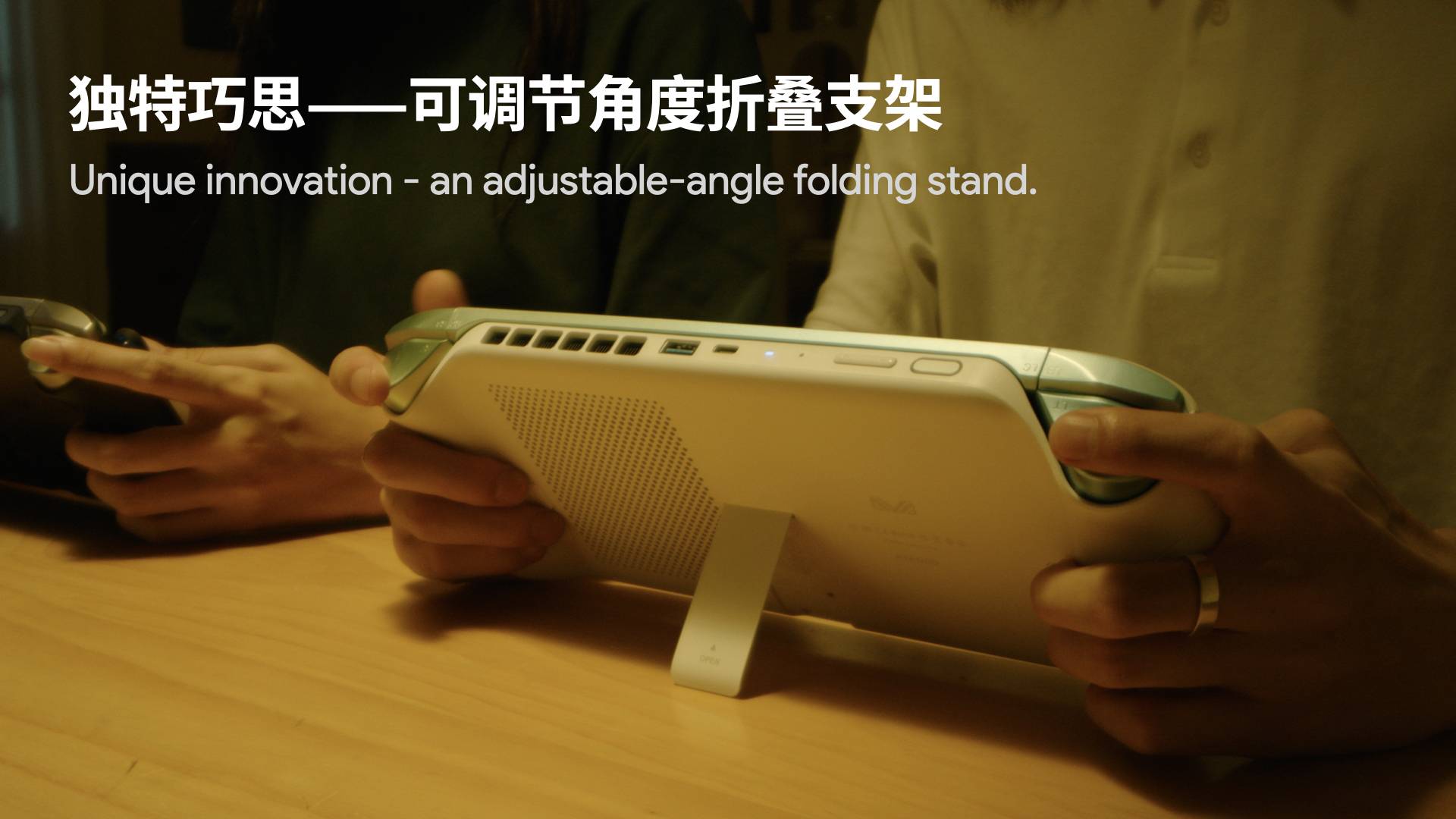 The folding stand is constructed from metal material and is designed to complement the device's color scheme. AYANEO has fine-tuned the torsion spring of the stand to ensure that opening and closing it are effortless tasks. The stand's strength and stability for normal usage are guaranteed. Additionally, due to the excellent thermal conductivity of metal, it also assists in heat dissipation for the internal components and the SSD area, making it a design that offers dual benefits.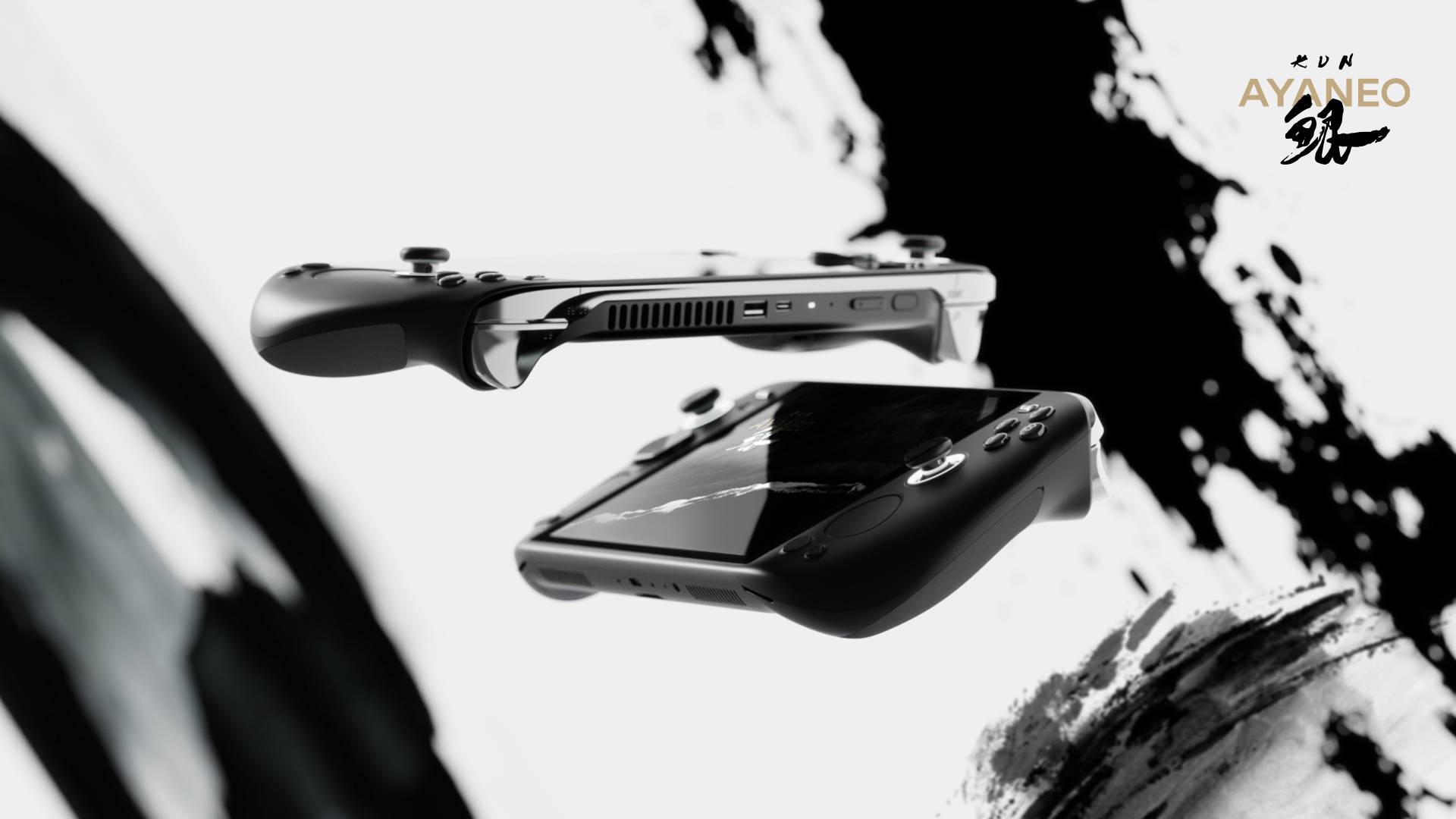 After innovative product concept and meticulous refinement, AYANEO KUN possesses an elegant and aesthetic design that is unprecedented in large-screen handheld consoles. It also boasts exceptional tactile sensation that sets it apart from many mainstream-sized handheld consoles.
PC-level Astonishing Performance
As a premium and top-tier large-screen handheld console, AYANEO KUN is equipped with the cutting-edge AMD Ryzen™ 7 7840U flagship processor, which is perfectly suited for Windows handheld devices.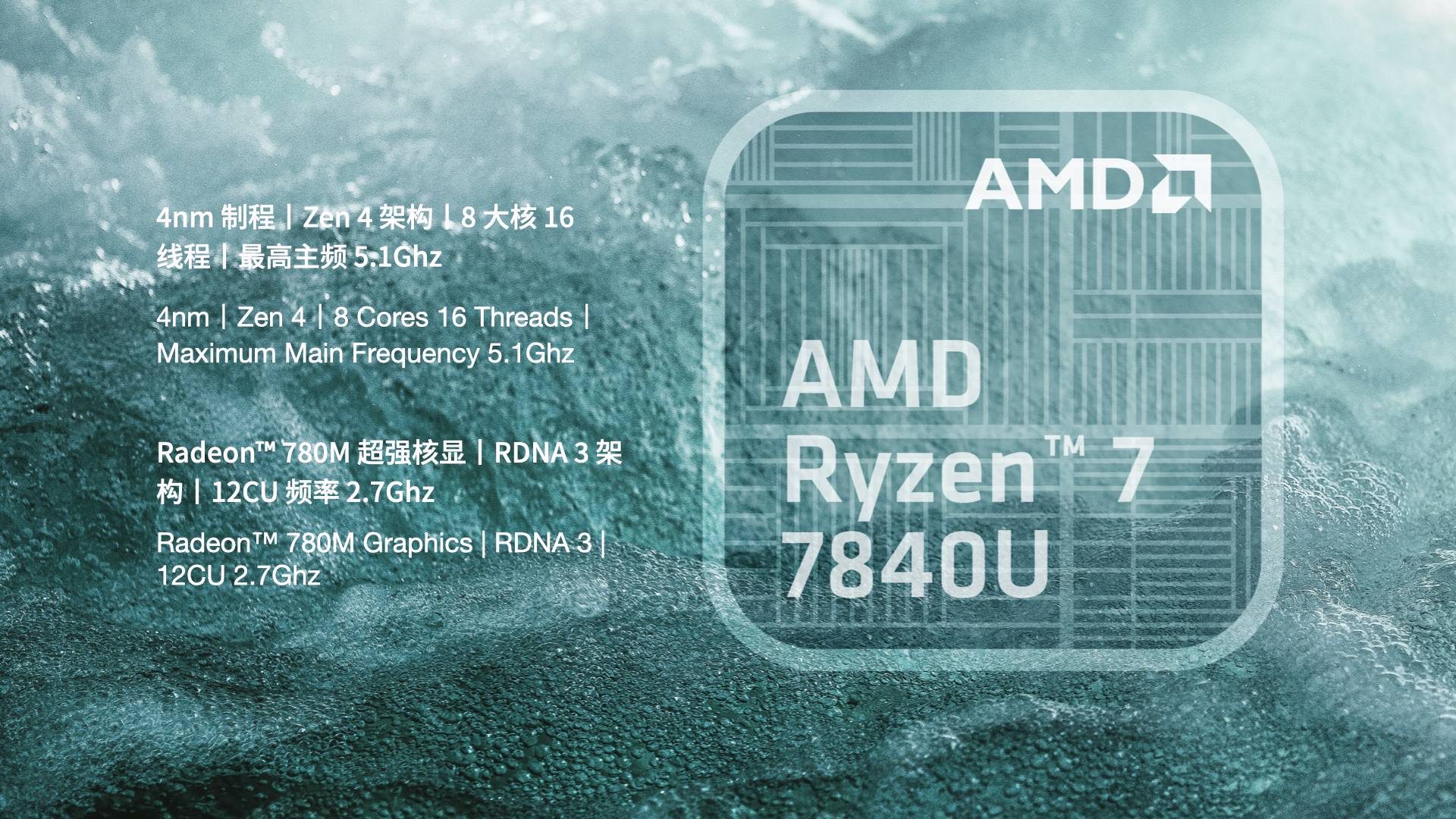 What's even more surprising is that AYANEO KUN boasts an astonishing 54W TDP sustained performance release capability, which is comparable to and even surpasses most mainstream laptops equipped with standard voltage processors. In the realm of Windows handheld devices, it stands as an extraordinary presence beyond the norm.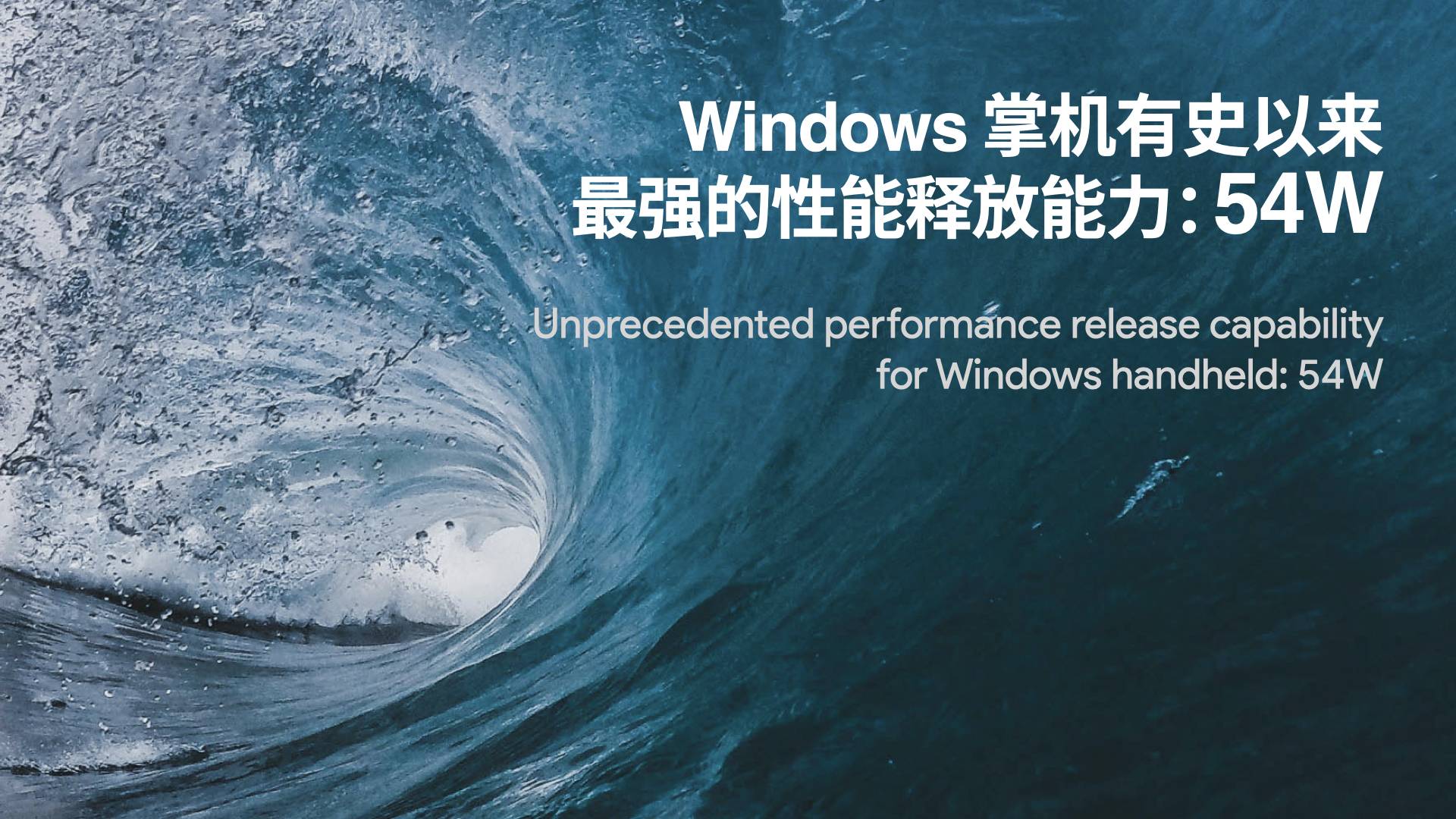 Thanks to its exceptional performance release capability, AYANEO KUN can smoothly run AAA games at a high-definition resolution of 1200P. This is a gaming experience that is difficult to achieve for typical Windows handheld devices under similar conditions.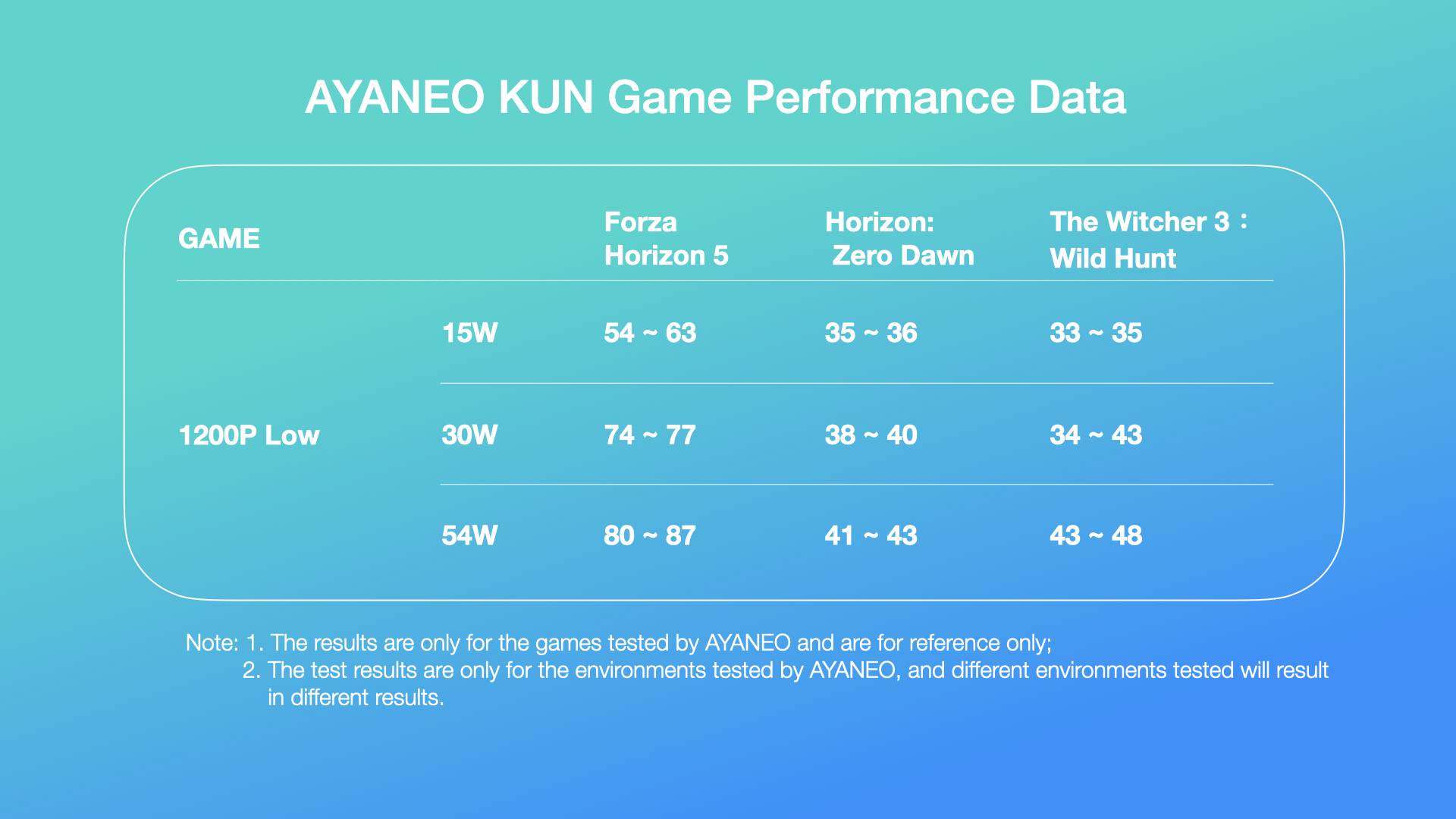 With the courage to achieve a sustained 54W TDP performance output, the confidence comes from the extraordinary "Kunpeng" cooling system. Taking advantage of the larger form factor, AYANEO KUN incorporates a larger area high-performance triple copper pipe cooling structure, significantly increasing the overall cooling surface area and scale, thus enhancing heat dissipation efficiency.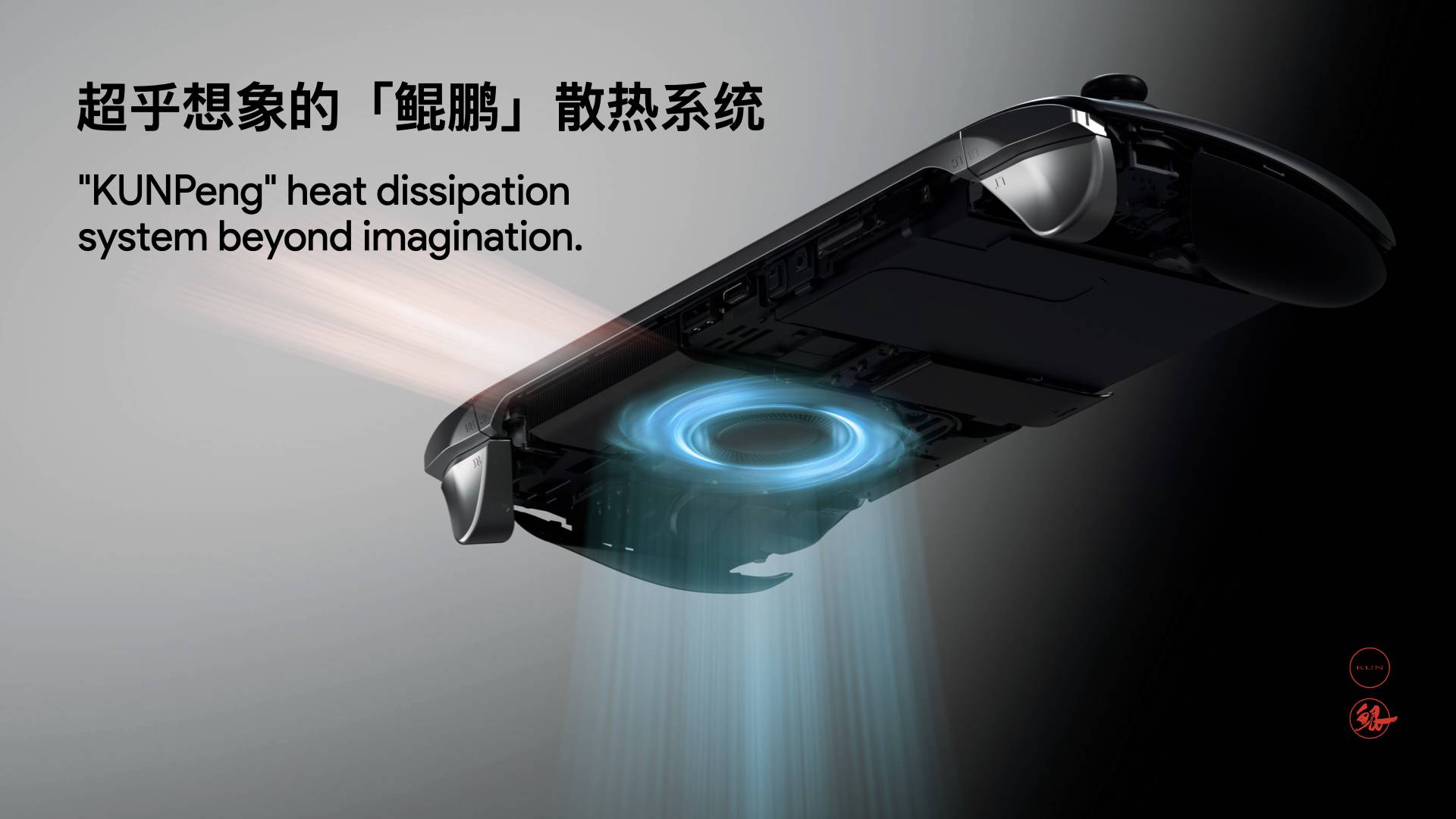 Furthermore, there's a large-sized high-pressure turbine fan in conjunction with significantly enlarged exhaust and intake vents. This combination achieves a substantial improvement in heat exchange efficiency for the entire system, resulting in a revolutionary cooling system that is unprecedented in the realm of Windows handheld devices.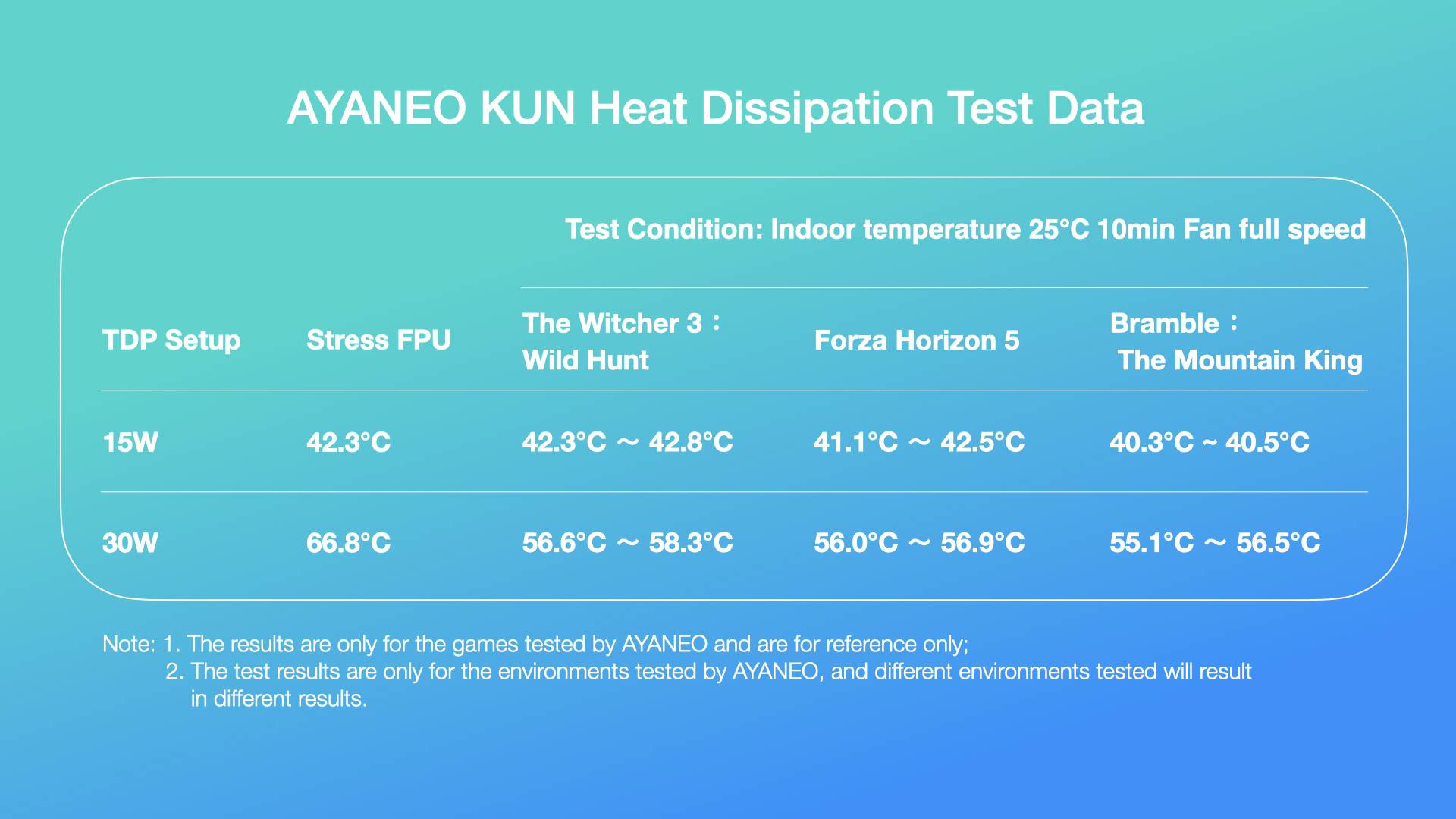 With the support of the "Kunpeng" cooling system, AYANEO KUN exhibits excellent cooling performance under conventional 15W and 30W TDP settings. It even achieves an astonishing 54W TDP, maintaining favorable temperature performance during more demanding scenarios such as simultaneous heavy CPU and GPU tasks as well as AAA game testing.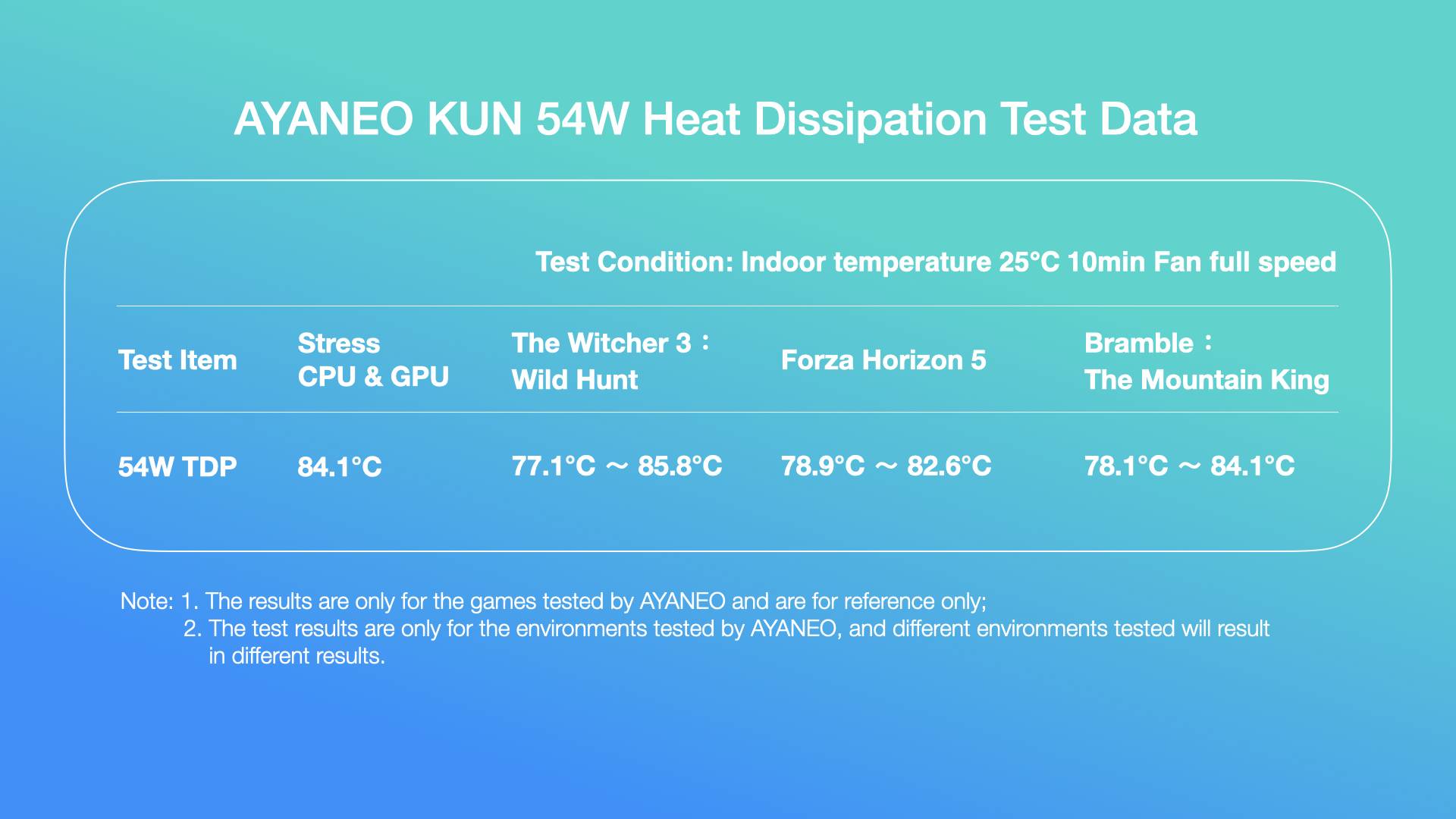 In extreme performance testing, AYANEO KUN maintained its performance at 54W TDP for a remarkable 49 minutes before experiencing any throttling. This clearly demonstrates the formidable capabilities of the cooling system, achieving a stable 54W performance level on a handheld device, a feat that has remained unprecedented in the realm of Windows handheld devices.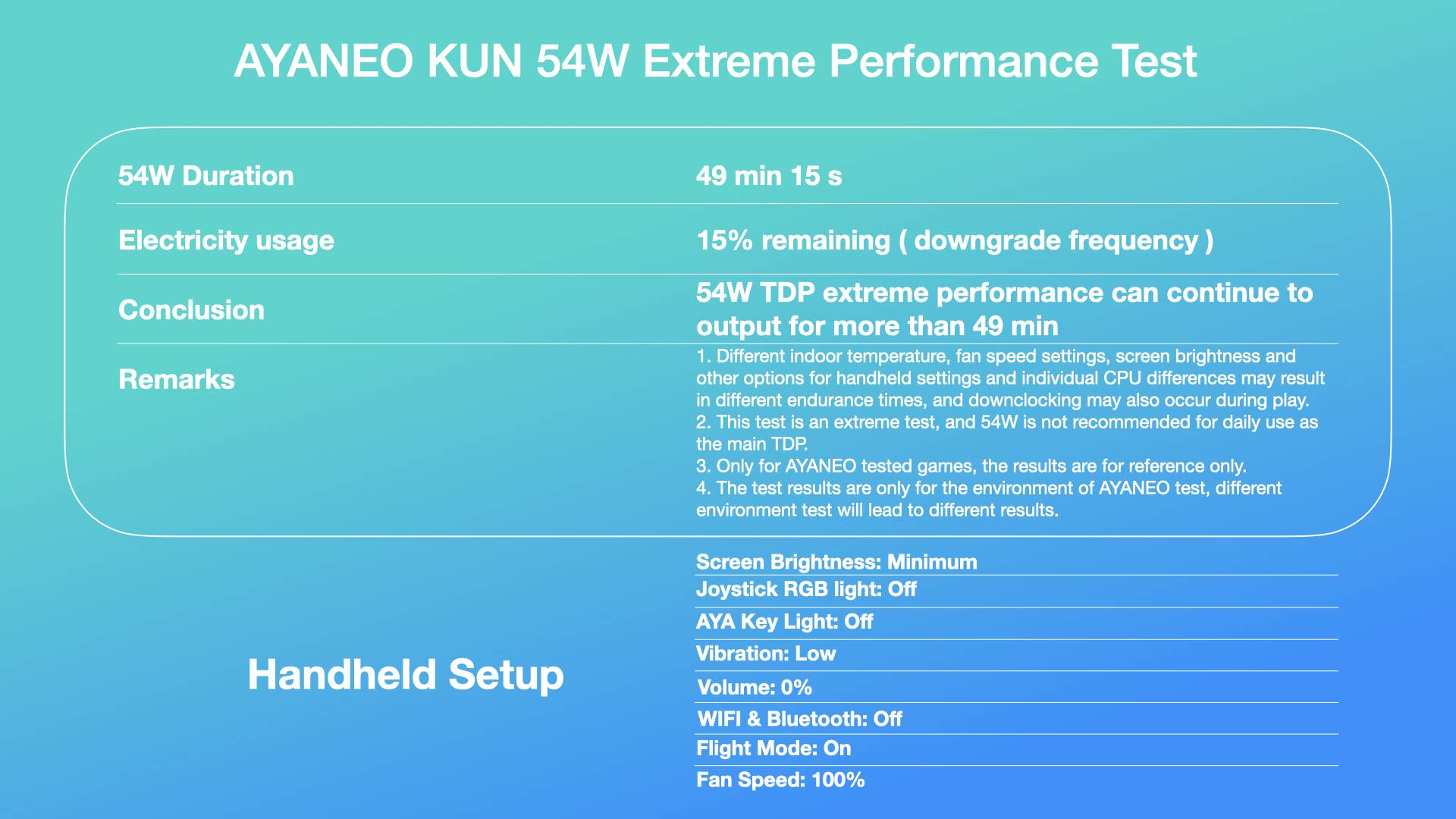 Unbelievable Long Battery Life
Once again, AYANEO KUN is equipped with an enormous 75Wh battery, thanks to its spacious body size. This marks the largest battery capacity ever seen in a Windows handheld device. For a large-screen handheld, battery life is a non-negotiable aspect.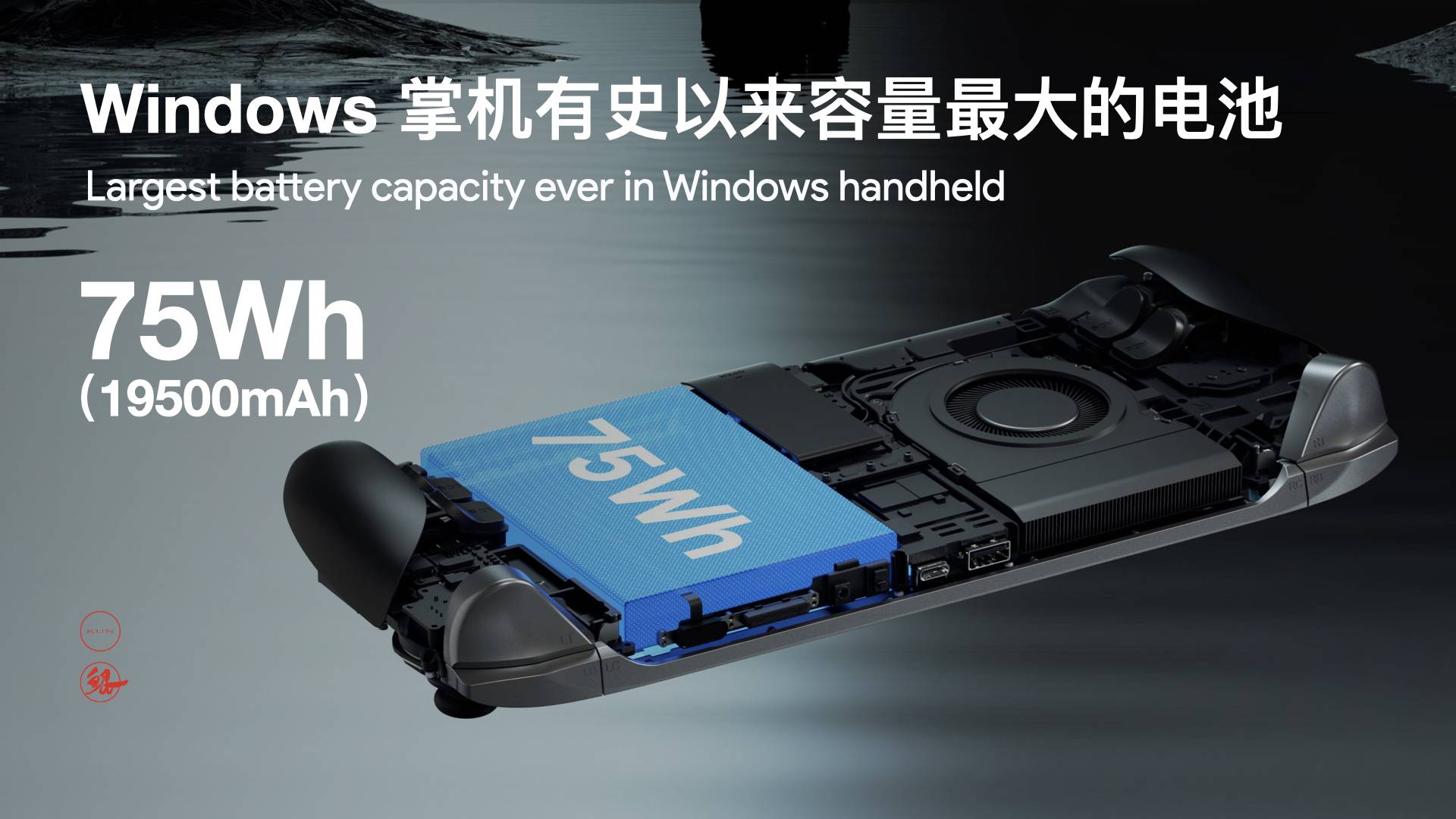 With a battery capacity of up to 75Wh, exceeding that of most laptops, combined with an 8.4-inch screen and the energy-efficient AMD Ryzen™ 7 7840U processor, AYANEO KUN achieves a significant lead in gaming endurance among other Windows handhelds.
In a battery endurance test running "Forza Horizon 5" under a 15W TDP, AYANEO KUN managed to persist for over 3 hours. This remarkable gaming endurance capability is truly astounding for a Windows handheld.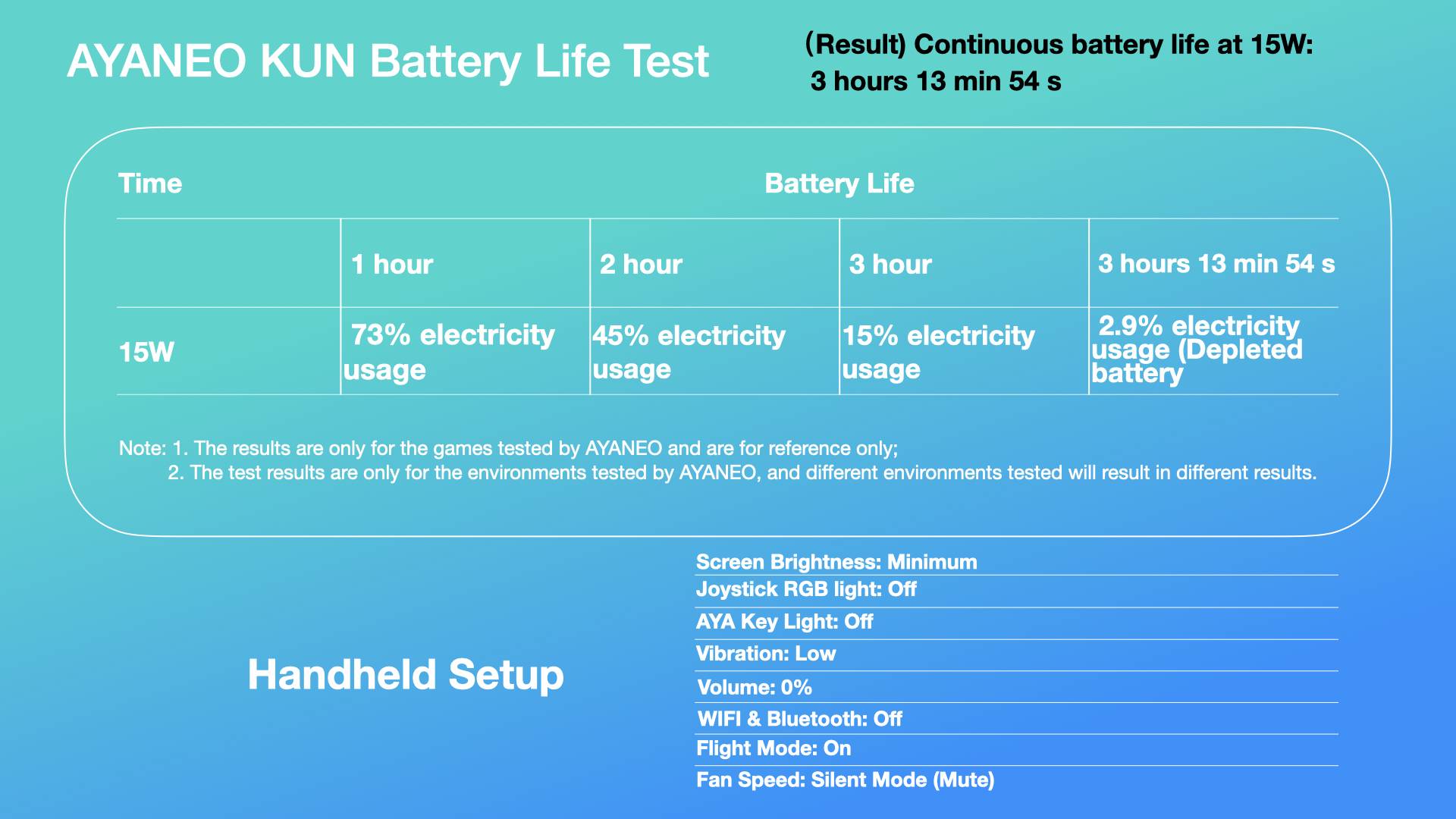 AYANEO KUN unquestionably stands out in terms of performance, cooling, and battery life. However, these aspects are just the standard operations for a high-end, top-tier large-screen handheld. Beyond these, AYANEO KUN also boasts numerous innovative features that set it apart and contribute to its unique status.
"TouchTAPMagic" Dual Intelligent Touchpad
AYANEO KUN is the first Windows handheld to feature dual touchpads. Unlike the Steam Deck, which also incorporates a dual touchpad design, the touchpads on KUN are primarily intended for gaming and are strategically positioned in the central area for enhanced usability.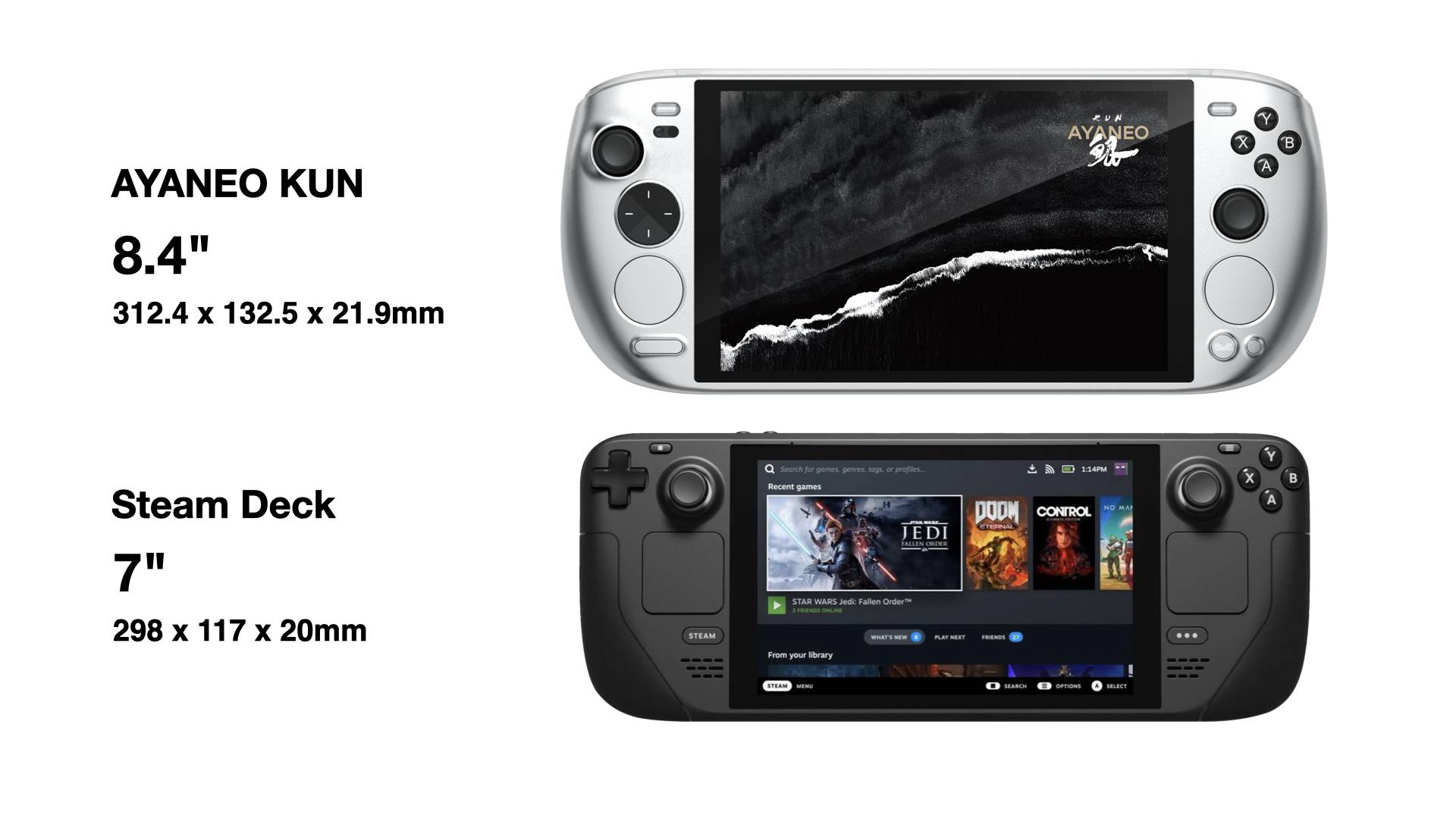 In comparison, we believe that from a gaming perspective, the joysticks and buttons on the controller are more crucial, and thus they are placed in a naturally ergonomic and intuitive position. The touchpads, on the other hand, are designed with the aim of enhancing the overall user experience of the Windows handheld device.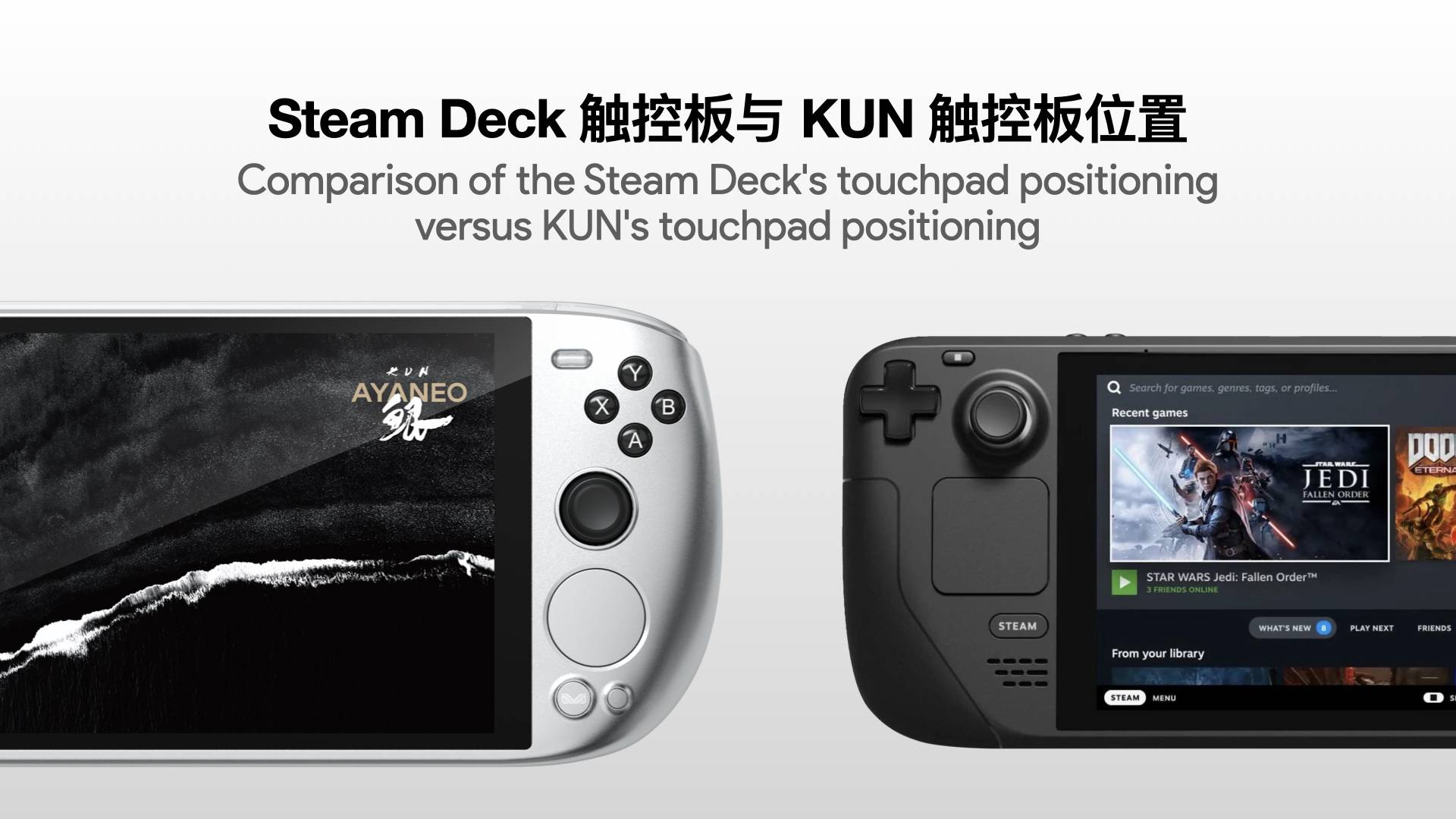 Even so, thanks to our extensive research on interaction and form, when using KUN, the movement of the thumbs from the joysticks to the touchpads feels seamless and comfortable, and there's no added pressure when using the triggers.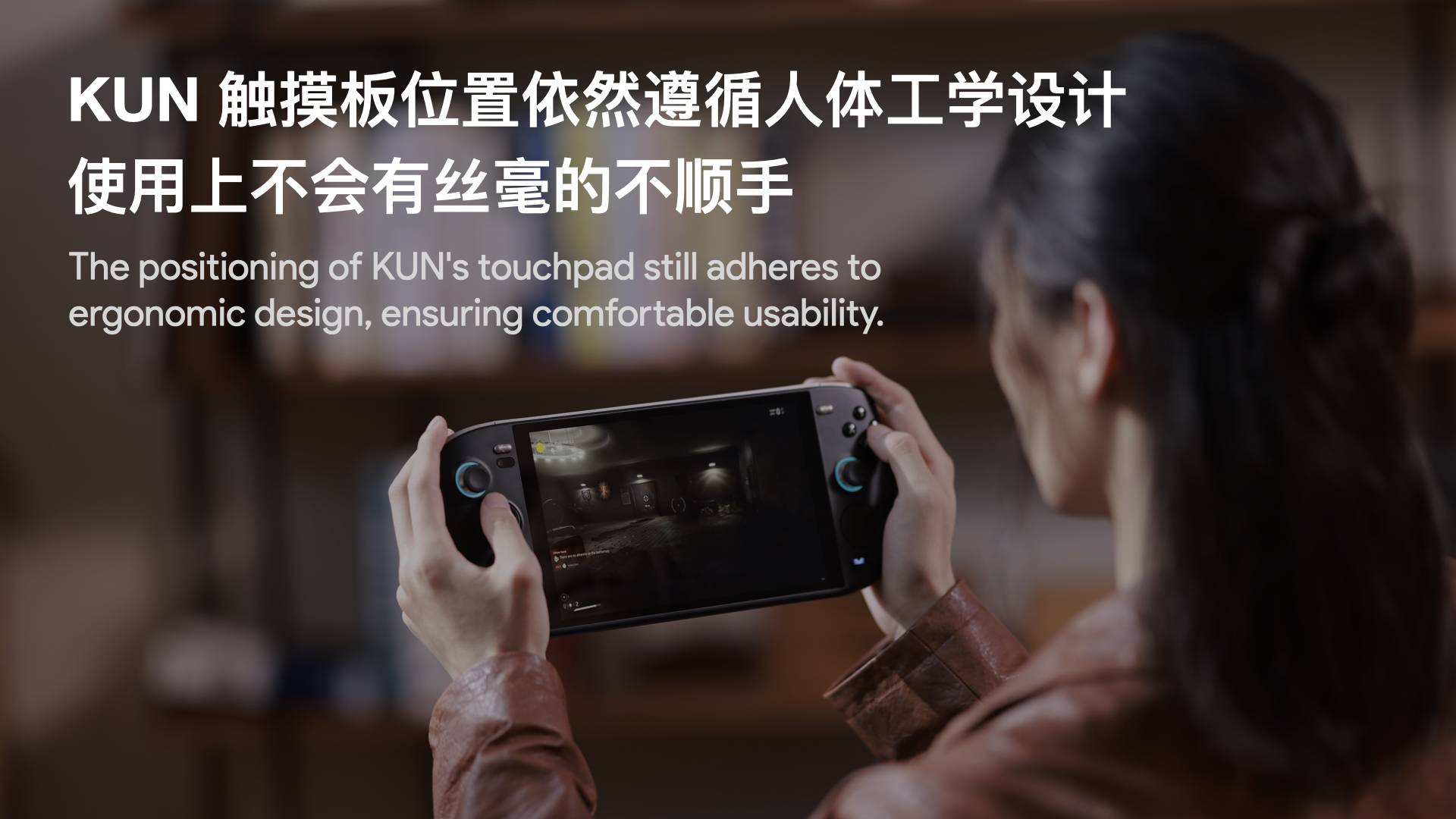 However, Windows was not originally optimized for handheld devices from its inception, and even touch screen compatibility is not always perfect. This often leads to the need for mouse operations. The inclusion of touchpads, along with our extensive optimizations, will provide a convenient experience for using AYANEO KUN within the Windows system.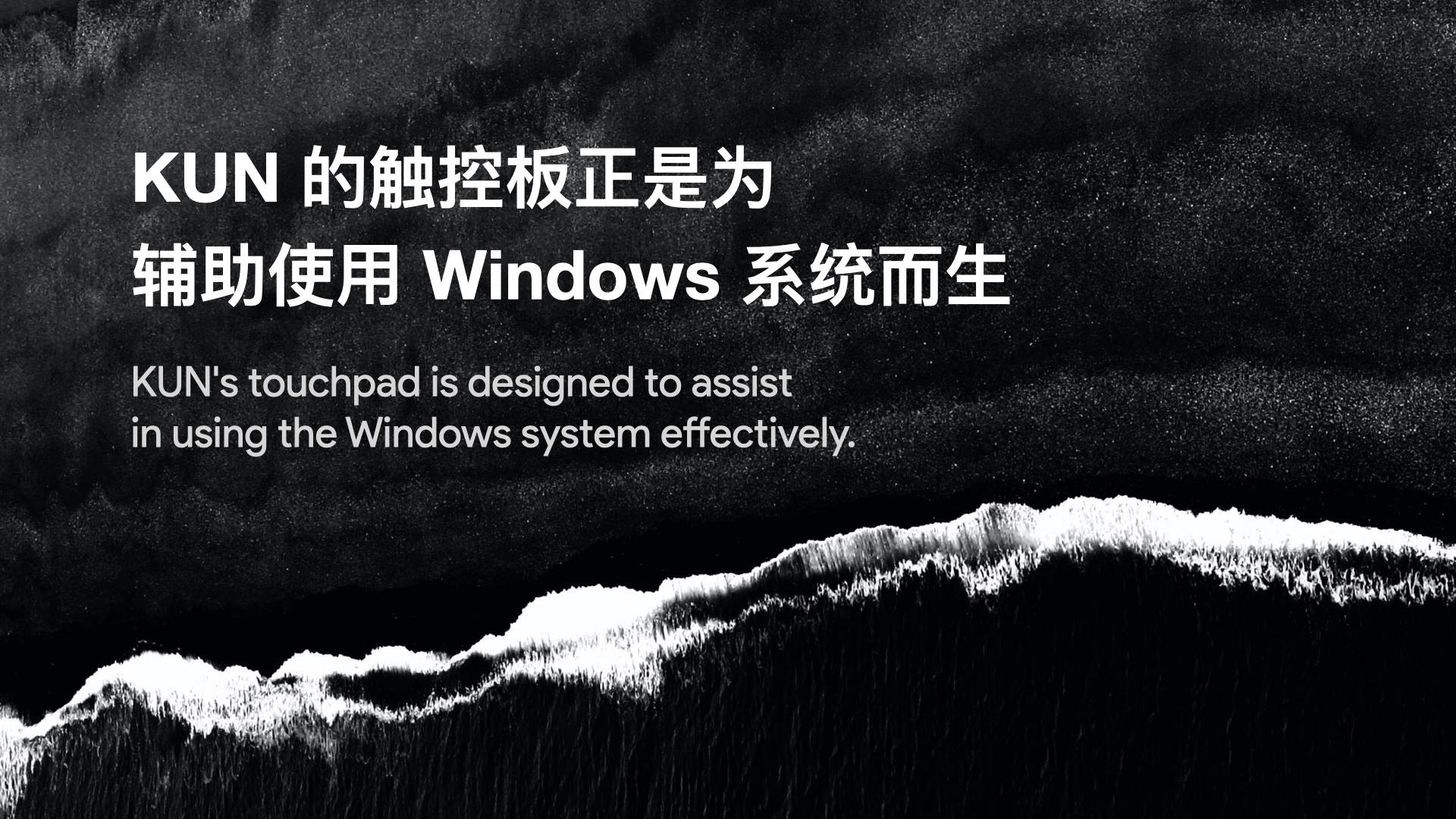 AYANEO KUN's intelligent touchpad, similar to traditional laptop touchpads, supports basic operations such as touchpoint control, single-click selection, and double-click to open. Additionally, the touchpad supports haptic feedback using two HD linear motors on the left and right sides. When sliding your fingers on the touchpad, you'll experience an unprecedented level of delicate touch feedback.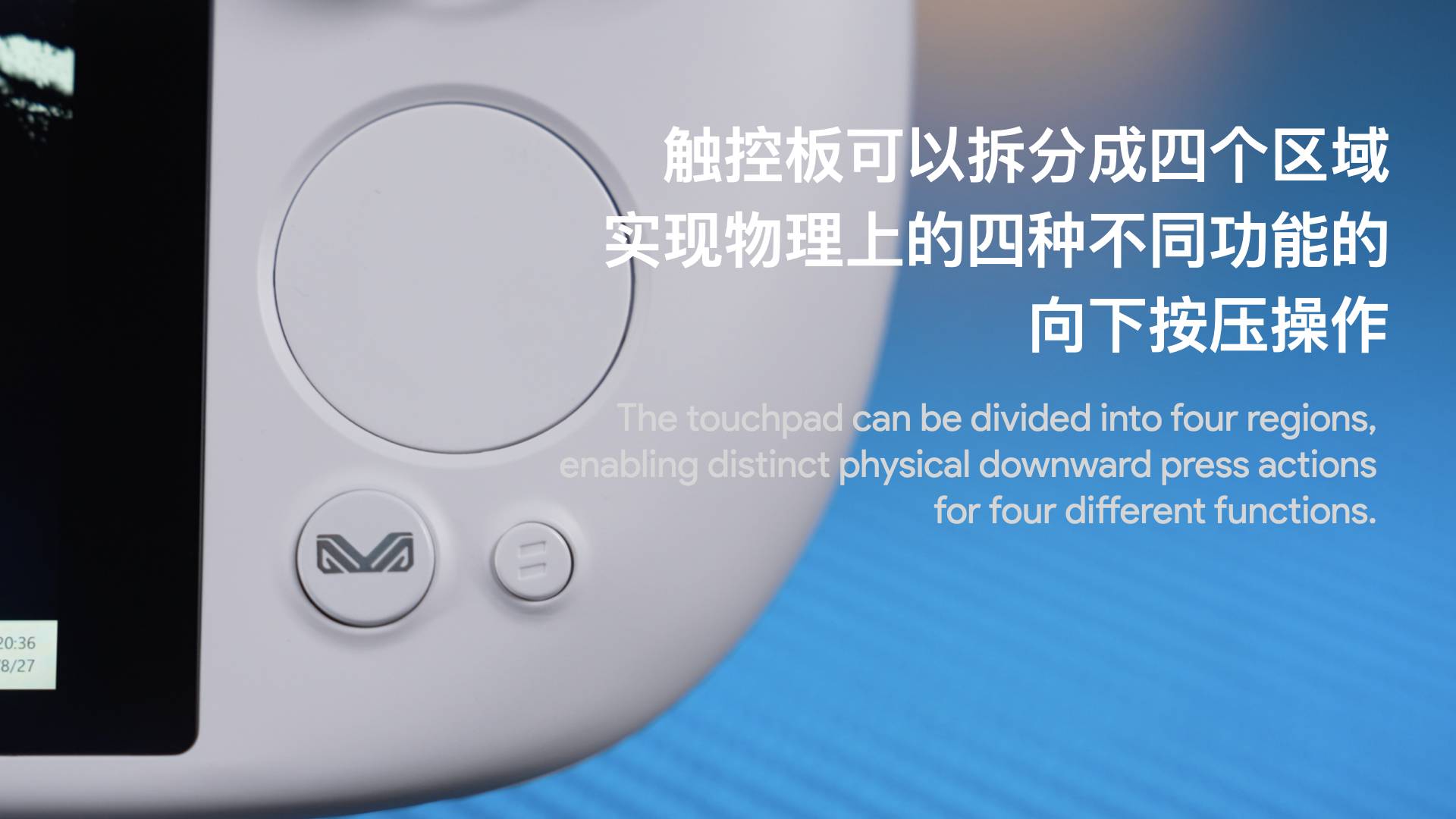 Each of these two touchpads is equipped with four buttons at the top, bottom, left, and right positions, each serving different functions. This allows each touchpad to be divided into four distinct regions, enabling four different types of physical downward pressing actions.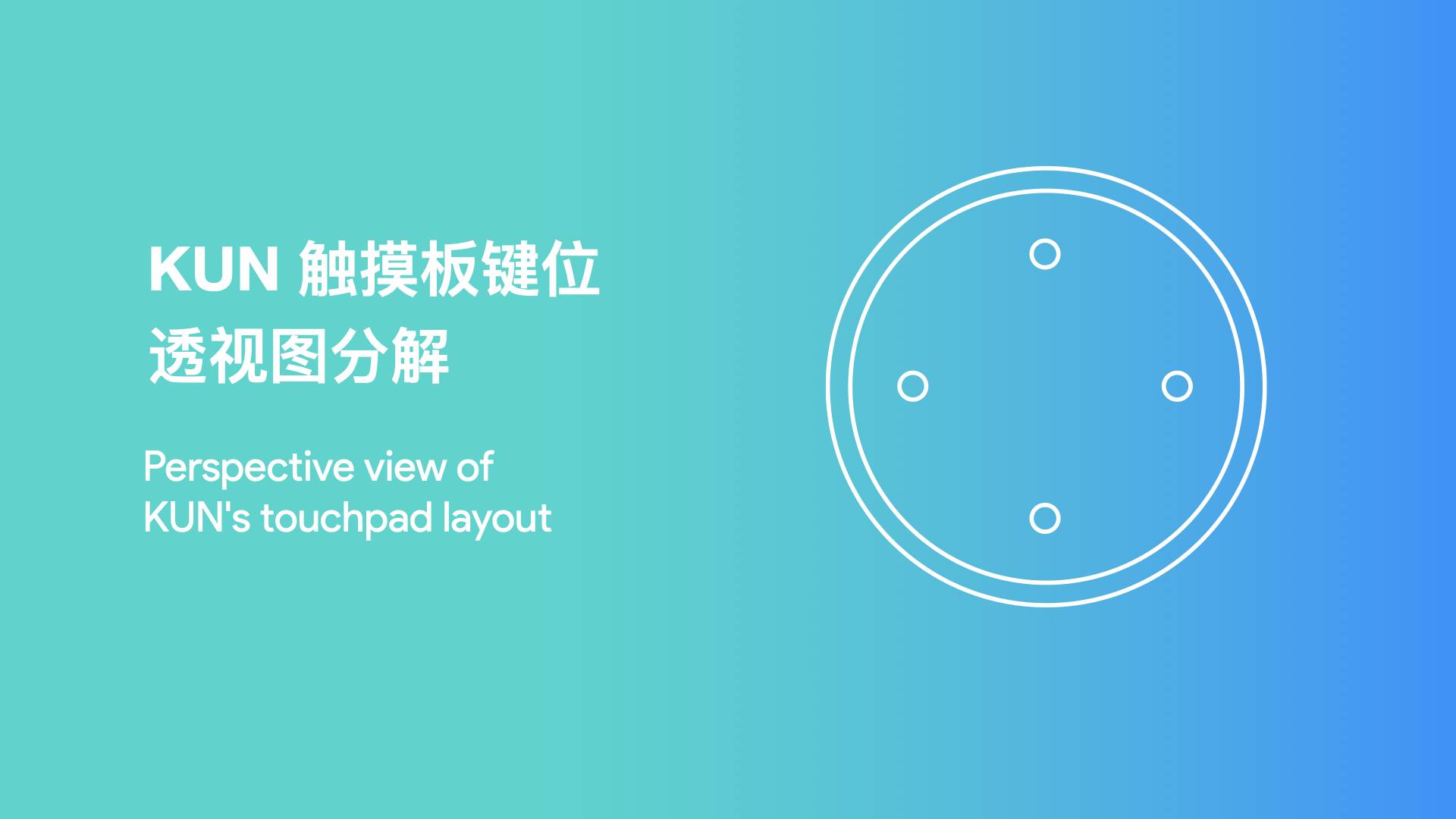 Under the default settings, the right touchpad simulates the mouse cursor, with the top, bottom, left, and right regions corresponding to commonly used Enter, Esc, left-click, and right-click functions. The left touchpad, on the other hand, emulates Windows arrow keys, with the top, bottom, left, and right regions corresponding to the respective directional inputs.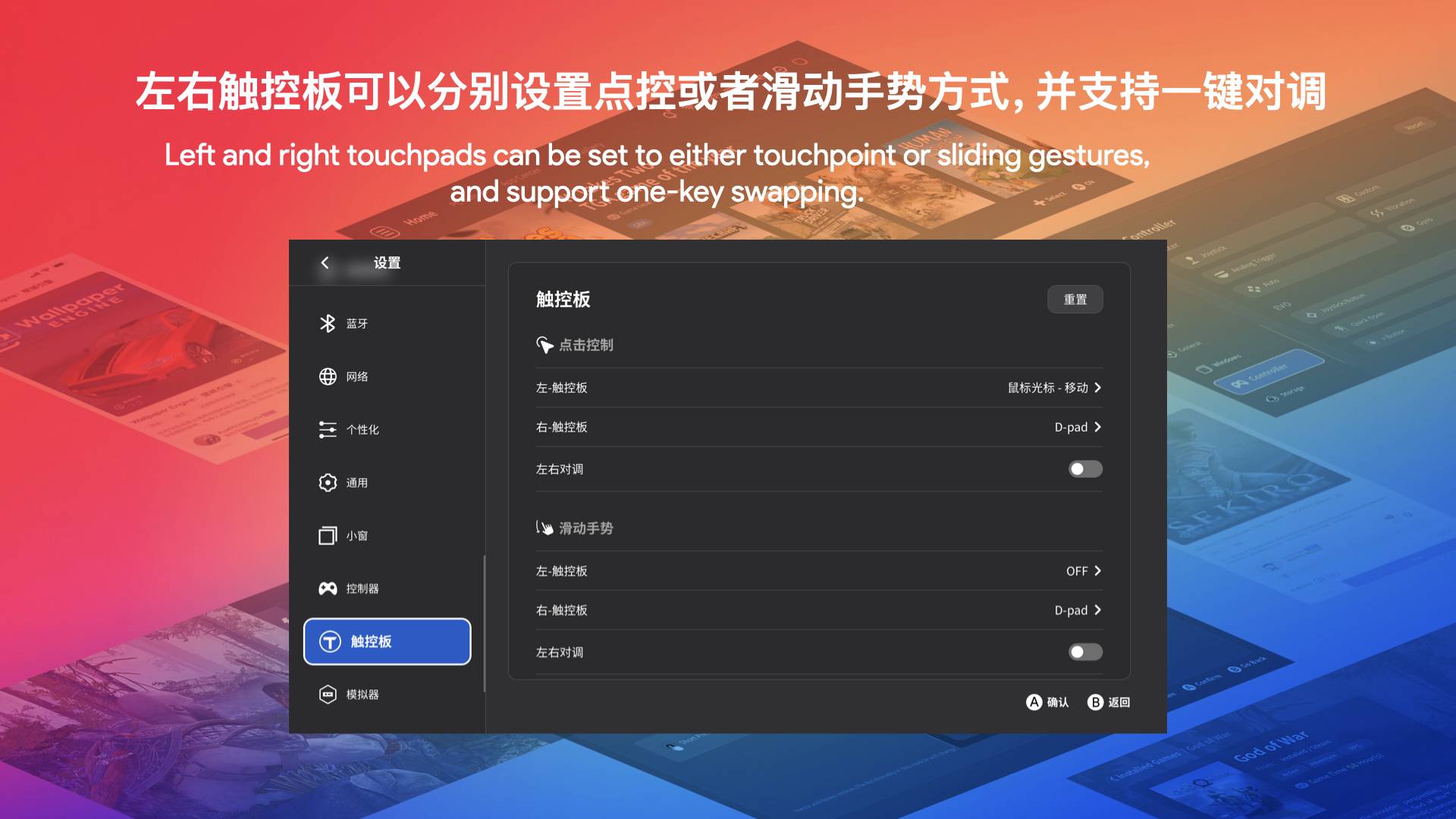 We have also incorporated swipe gestures into the touchpad. When swiping up or down on the left touchpad, you can simulate mouse scrolling, enabling vertical movement. In the future, we will develop more gestures and offer greater customization options for operations.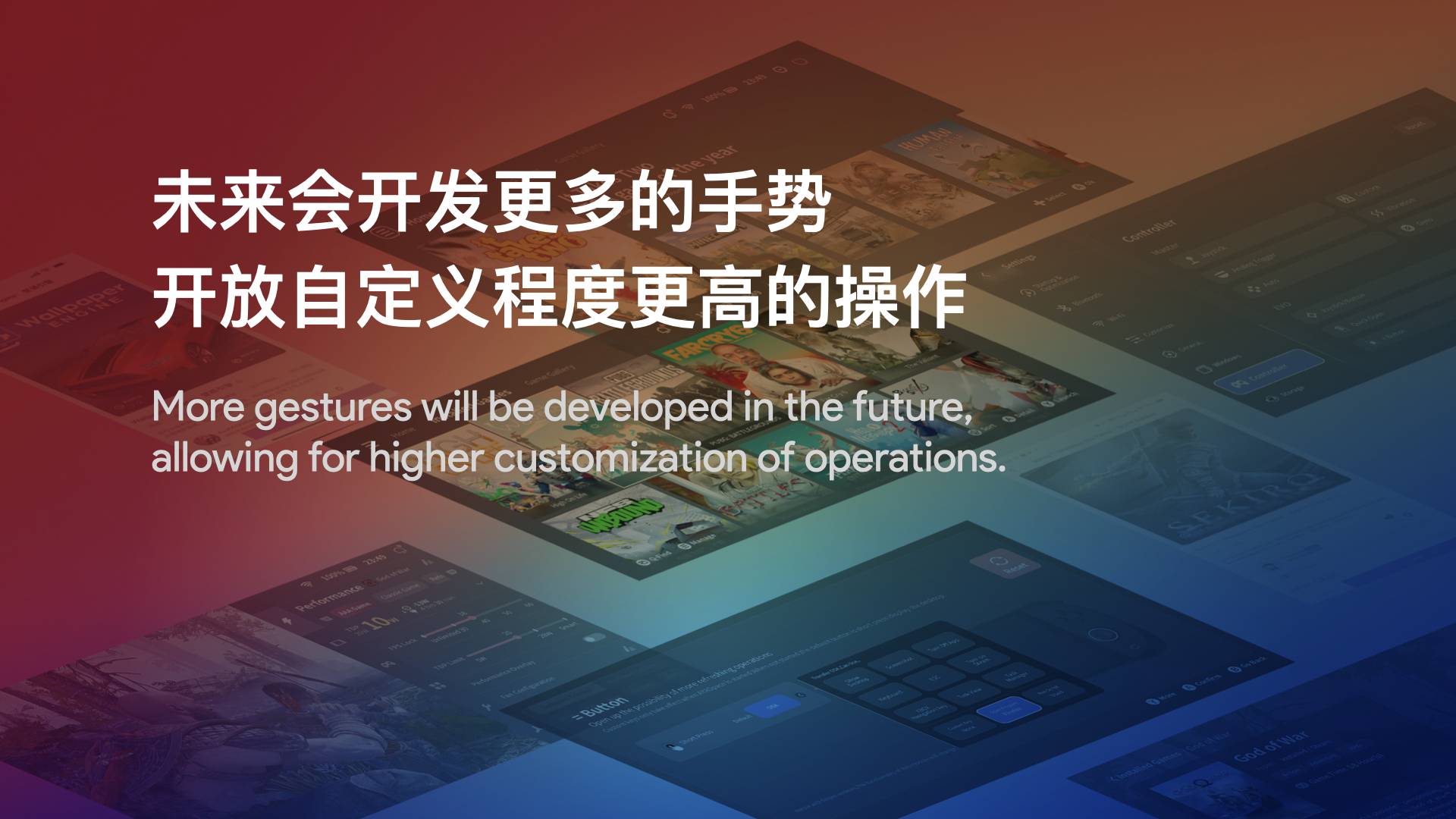 In addition to the functions in the default settings, these two intelligent touchpads also support button mapping functionality. They can map to keyboard keys, mouse functions, and system actions, allowing for mapping any key on the keyboard, as well as setting up custom programs or scripts. AYANEO KUN offers extensive customization options in this regard.
To facilitate quick settings adjustments for players in different scenarios, a dedicated touchpad "T" button is located in the upper right corner of the device. With just one press, users can easily access the touchpad settings.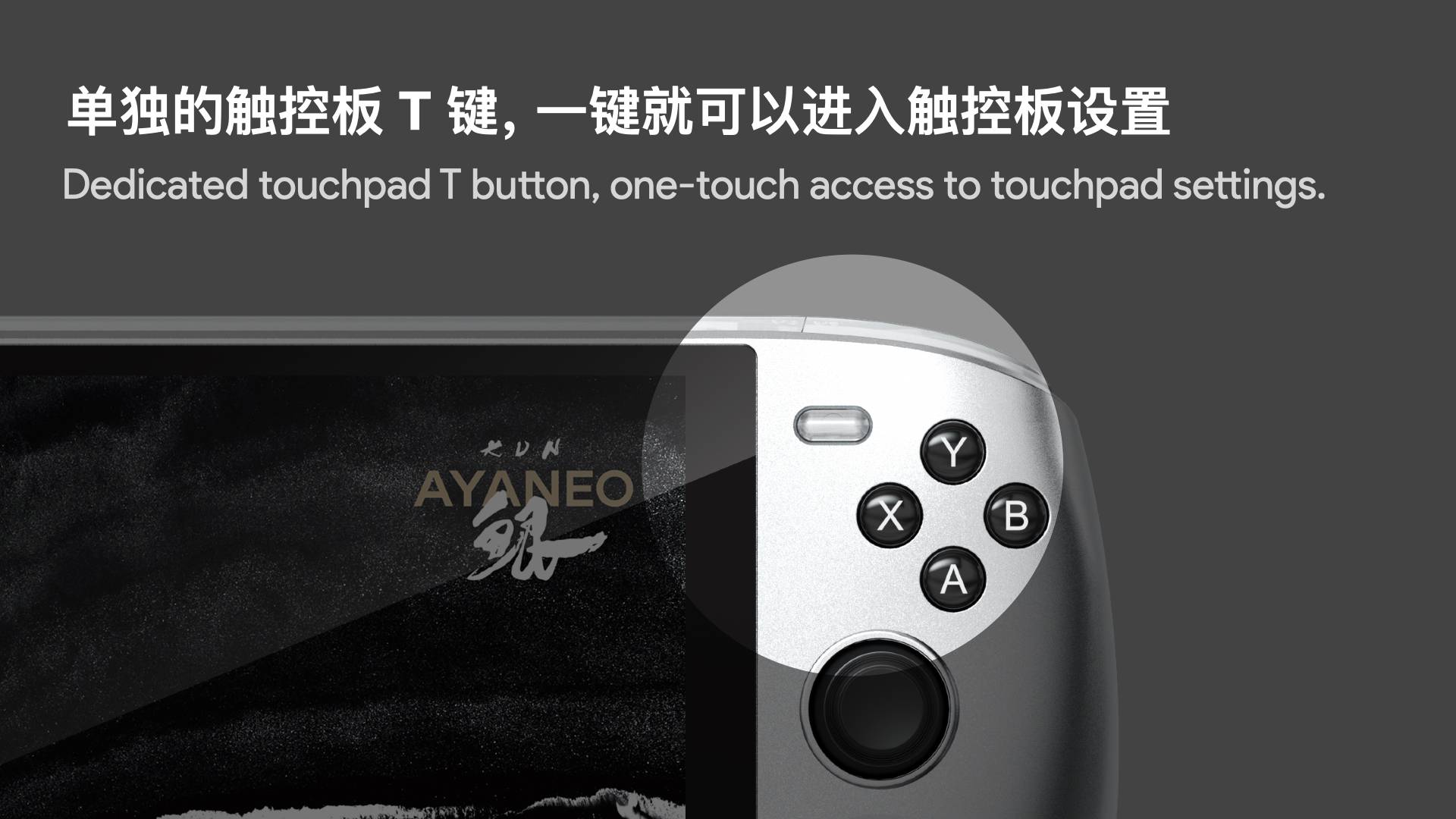 These two intelligent touchpads are designed to enhance the Windows system experience, and we have put in a lot of effort to perfect them. In the end, we have created an exceptional touchpad experience that might even surpass what traditional laptops can offer.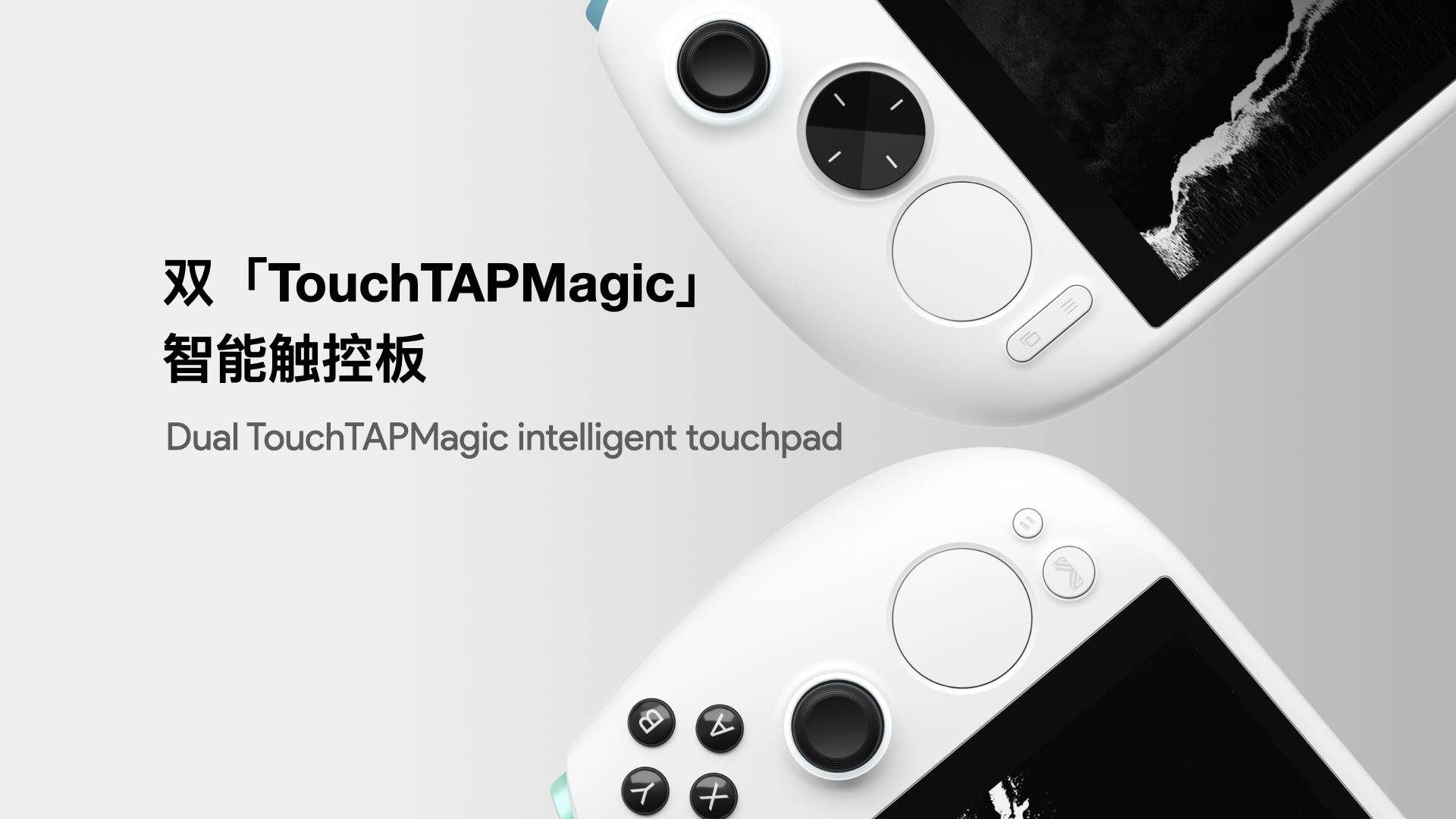 AYANEO KUN is not only the first Windows handheld console equipped with dual intelligent touchpads, but also the first handheld console to completely revolutionize the Windows system usage experience.
The first Windows handheld console with a front-facing camera
AYANEO KUN is the first Windows handheld console to be equipped with a front-facing camera. Paired with the built-in device stand, it can be used for video calls or remote meetings, offering great convenience.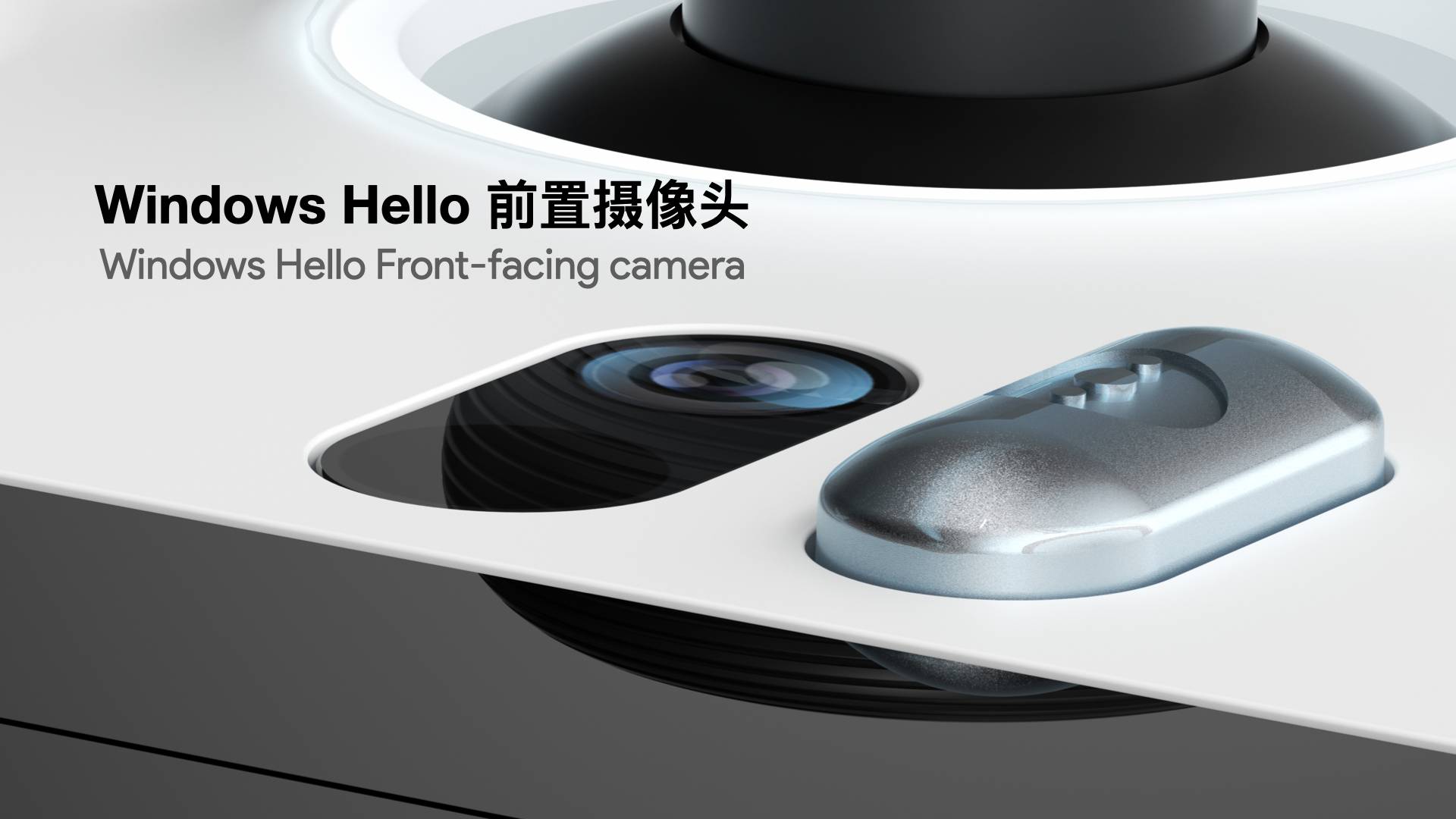 In addition, AYANEO KUN also supports the Windows Hello facial recognition feature, making it the first Windows handheld console to offer this functionality. This allows for more convenient unlocking of the Windows handheld console, giving players the option to choose between fingerprint and facial recognition unlocking methods.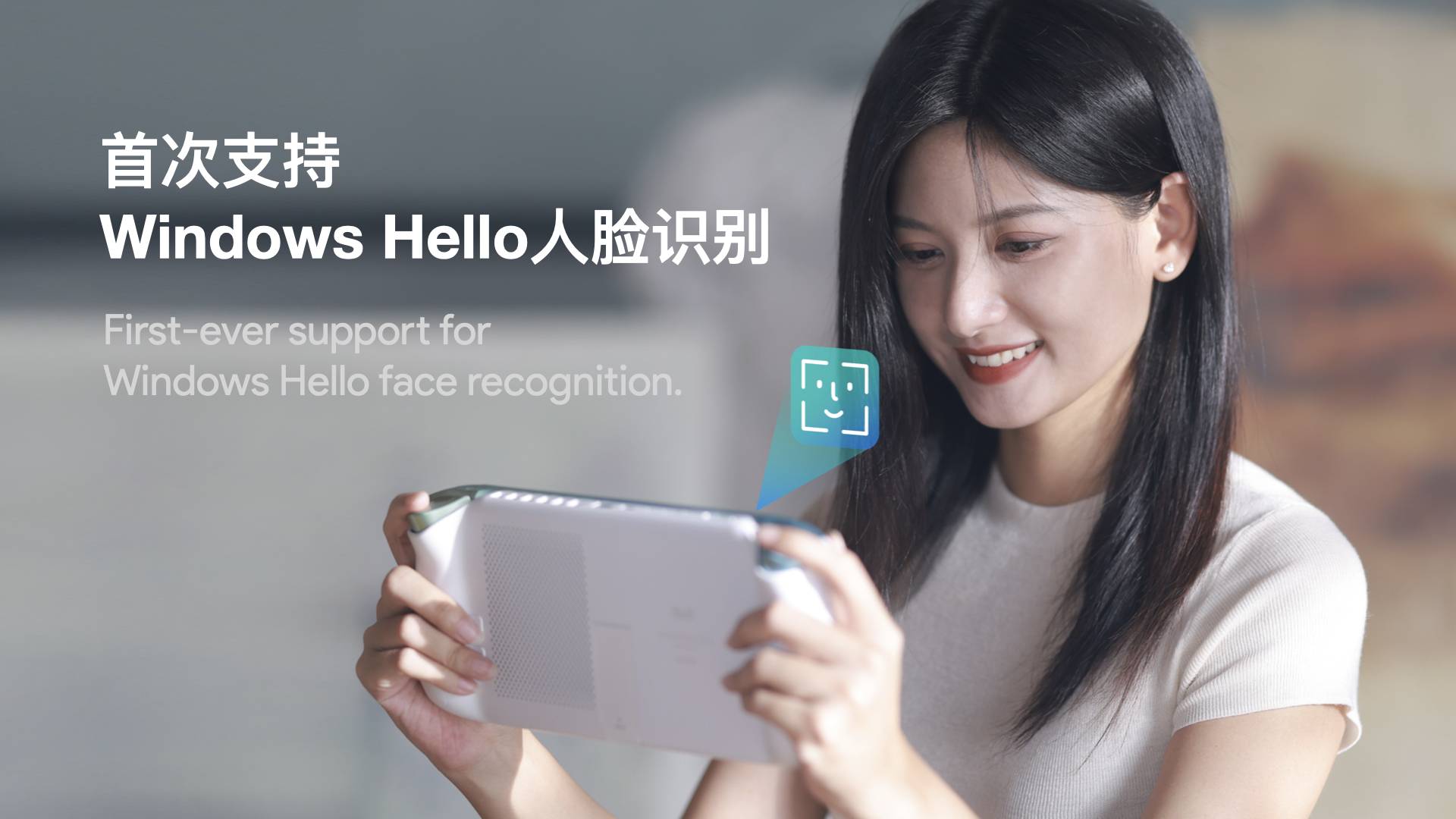 Floating 8-way D-pad
AYANEO KUN is the first AYANEO handheld console to feature a floating 8-way D-pad. This configuration is often seen in many professional gaming controllers and is rarely found in the current Windows handheld console industry.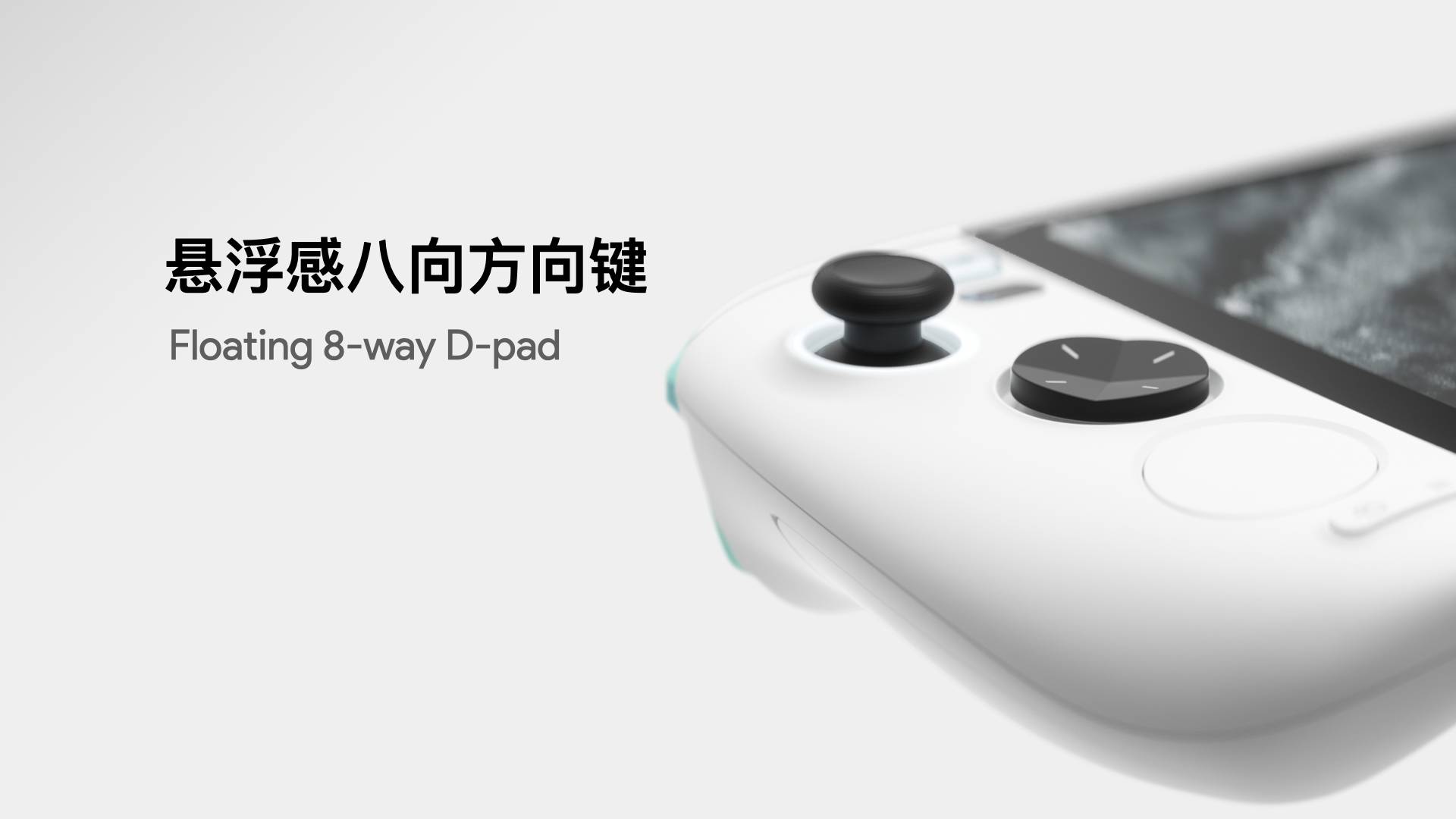 The floating 8-way D-pad features a circular disc design, providing more precise and flexible directional control. Additionally, the key travel for activation is shorter, enhancing responsiveness. Gamers who enjoy fighting games will likely appreciate this design, as it offers improved sensitivity and control.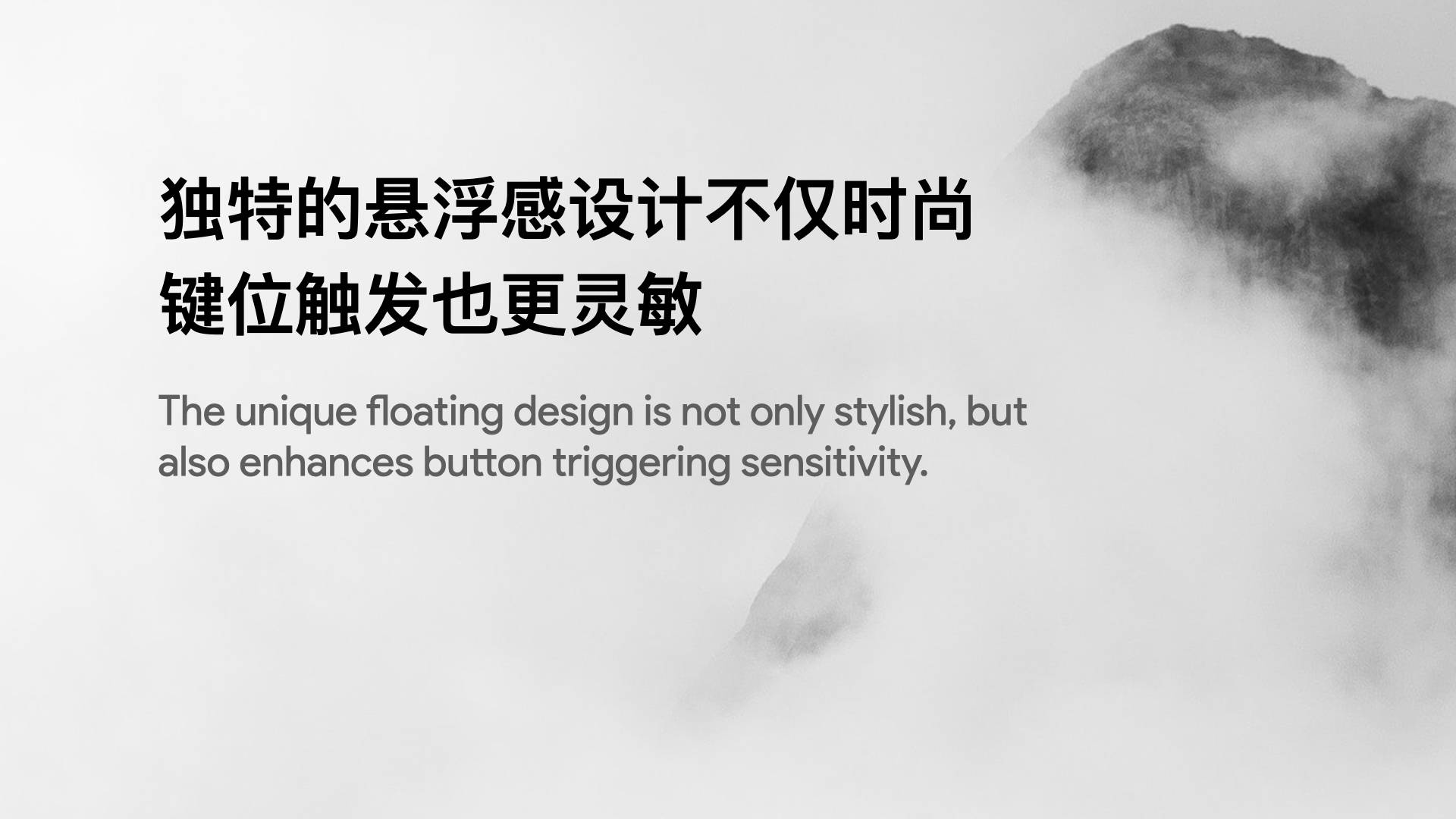 Customizable back buttons
In addition, KUN is also the first AYANEO handheld console to feature customizable back buttons. These four back buttons are distributed in pairs on both sides of the grip positions. The grip design has been optimized to accommodate the addition of the back buttons, making them easily accessible to your fingers during natural grip.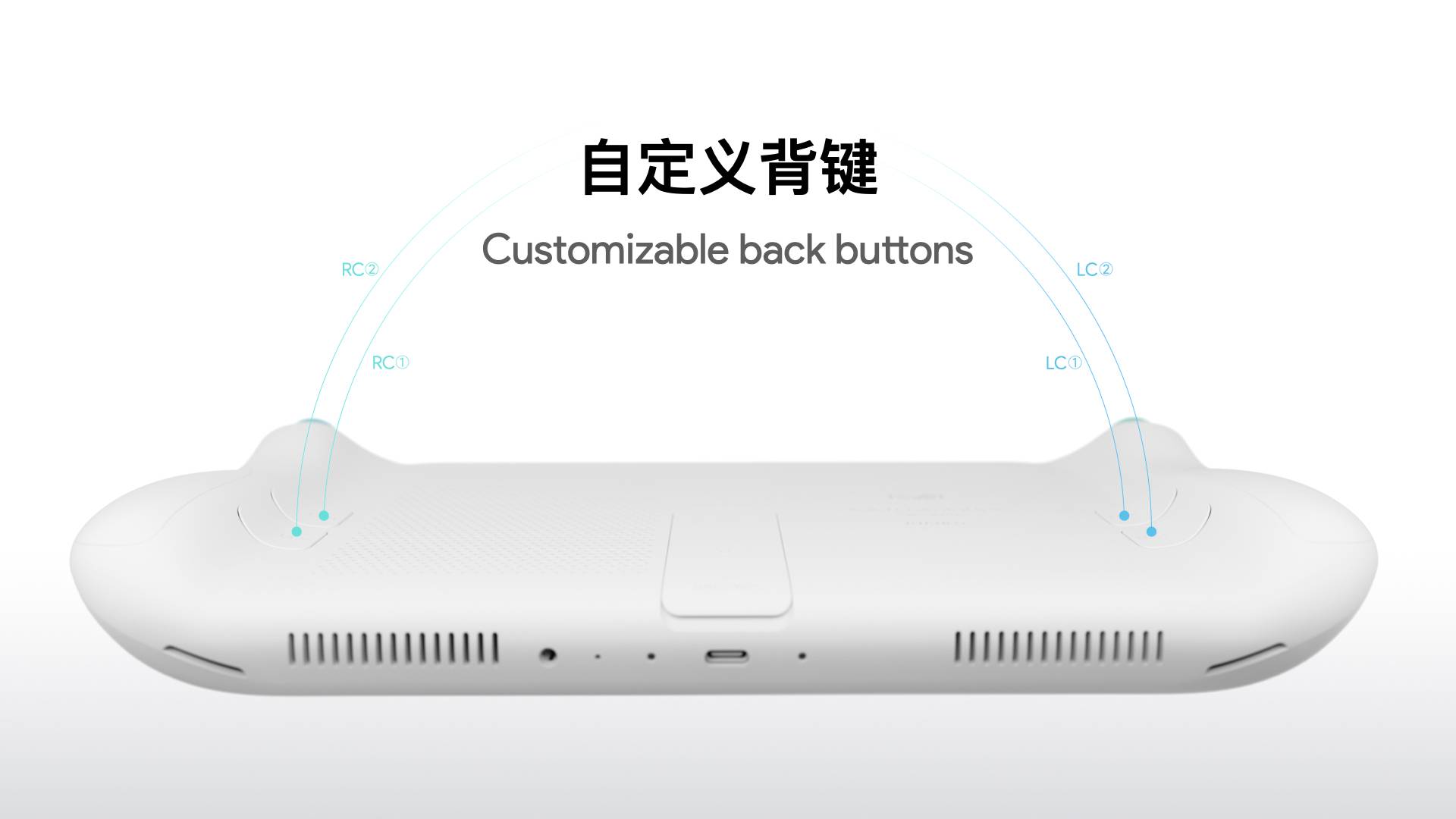 In terms of functionality, these four back buttons can be mapped to various buttons on the controller, such as joysticks, triggers, directional buttons, ABXY buttons, view button, and menu button. This allows for the expansion of exciting gameplay possibilities.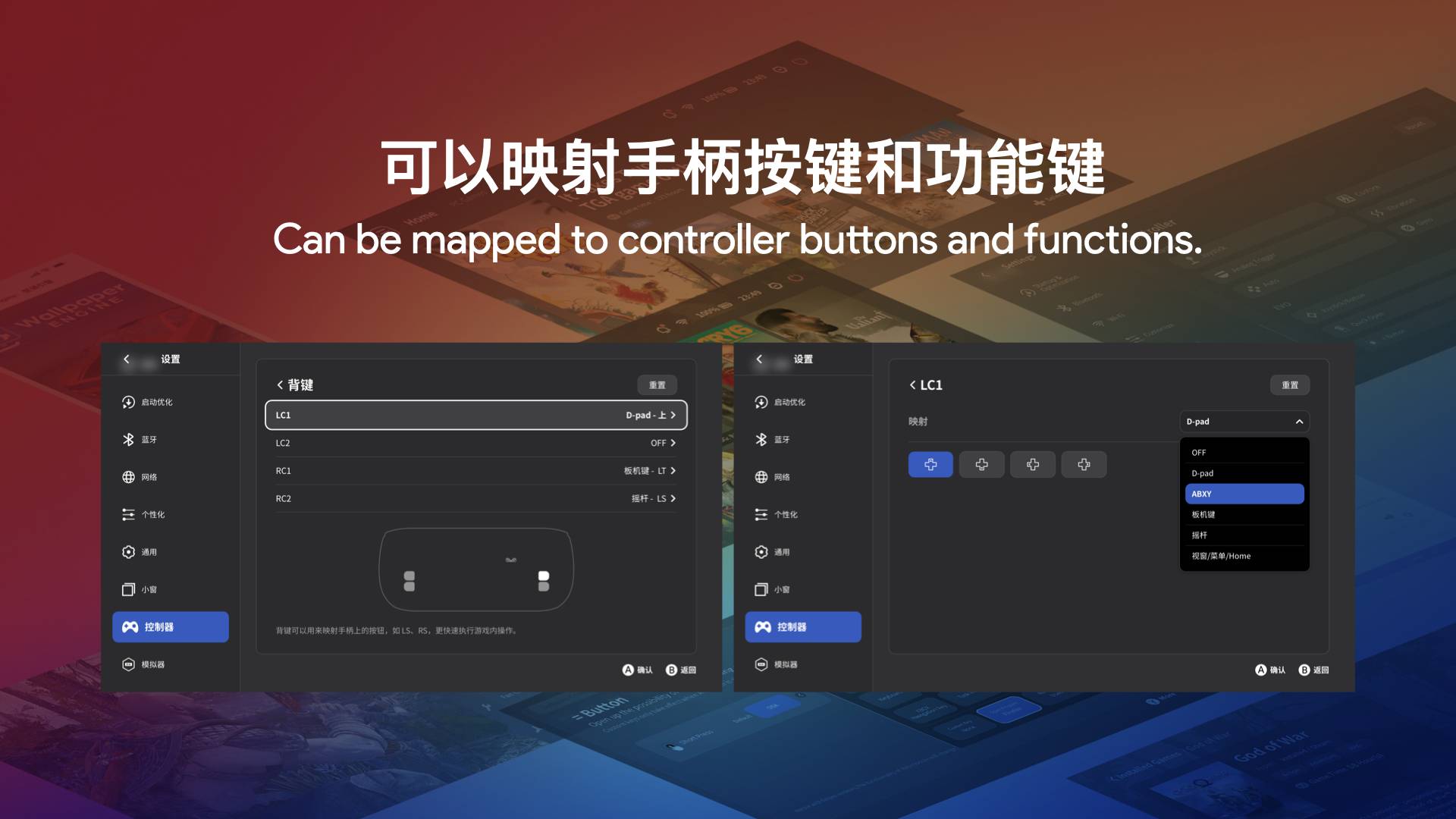 Leading Master control system
Continuing the leading Master control system of AYANEO handhelds, KUN evolves further, aiming to provide the most intuitive and responsive control experience for a large-screen handheld device to date.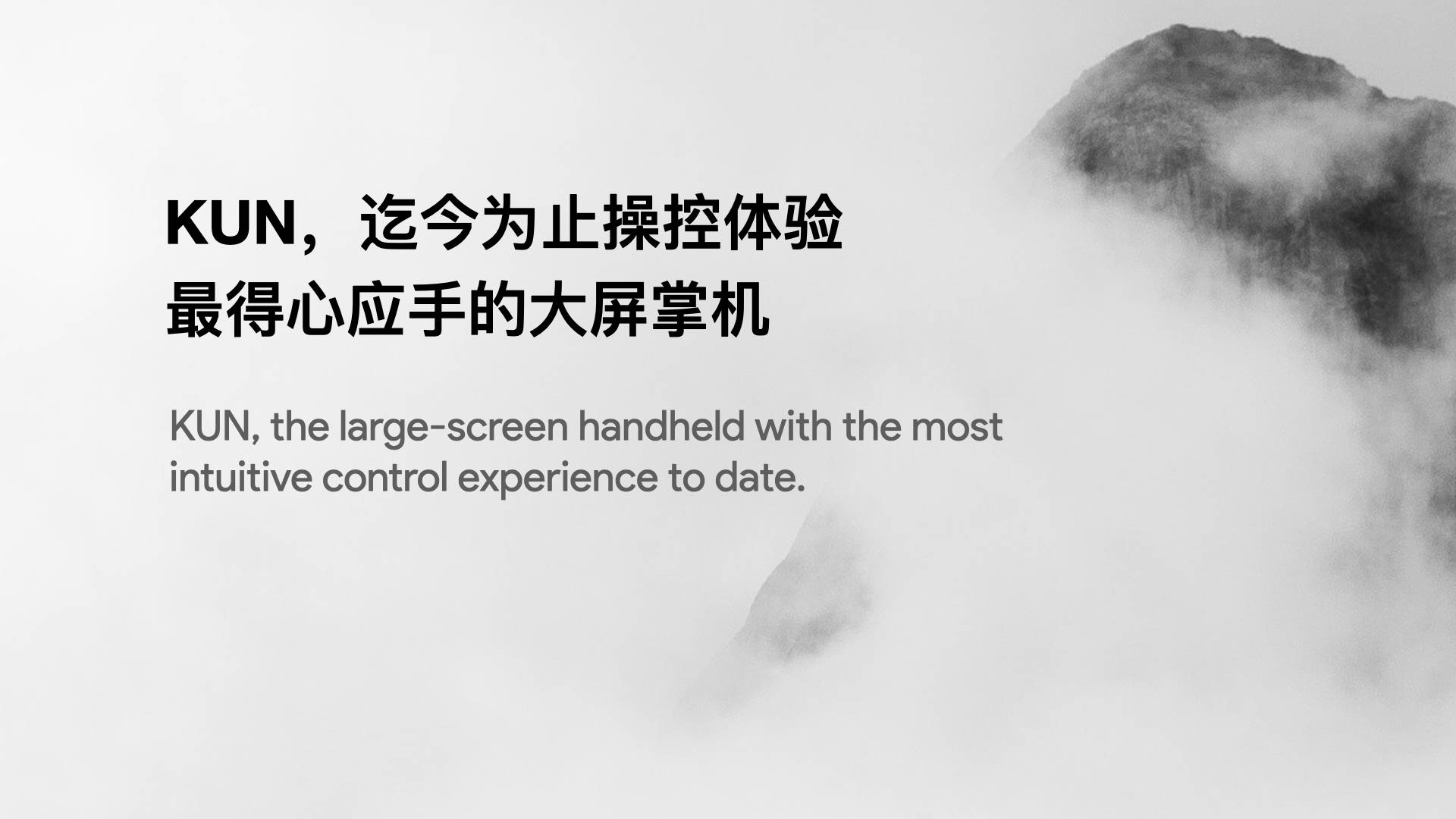 As always, AYANEO KUN features the Master control system, including the comprehensive Master controller with eight functions, as well as the unmatched combination of Hall sensing joysticks and Hall triggers that are difficult for other handhelds to surpass.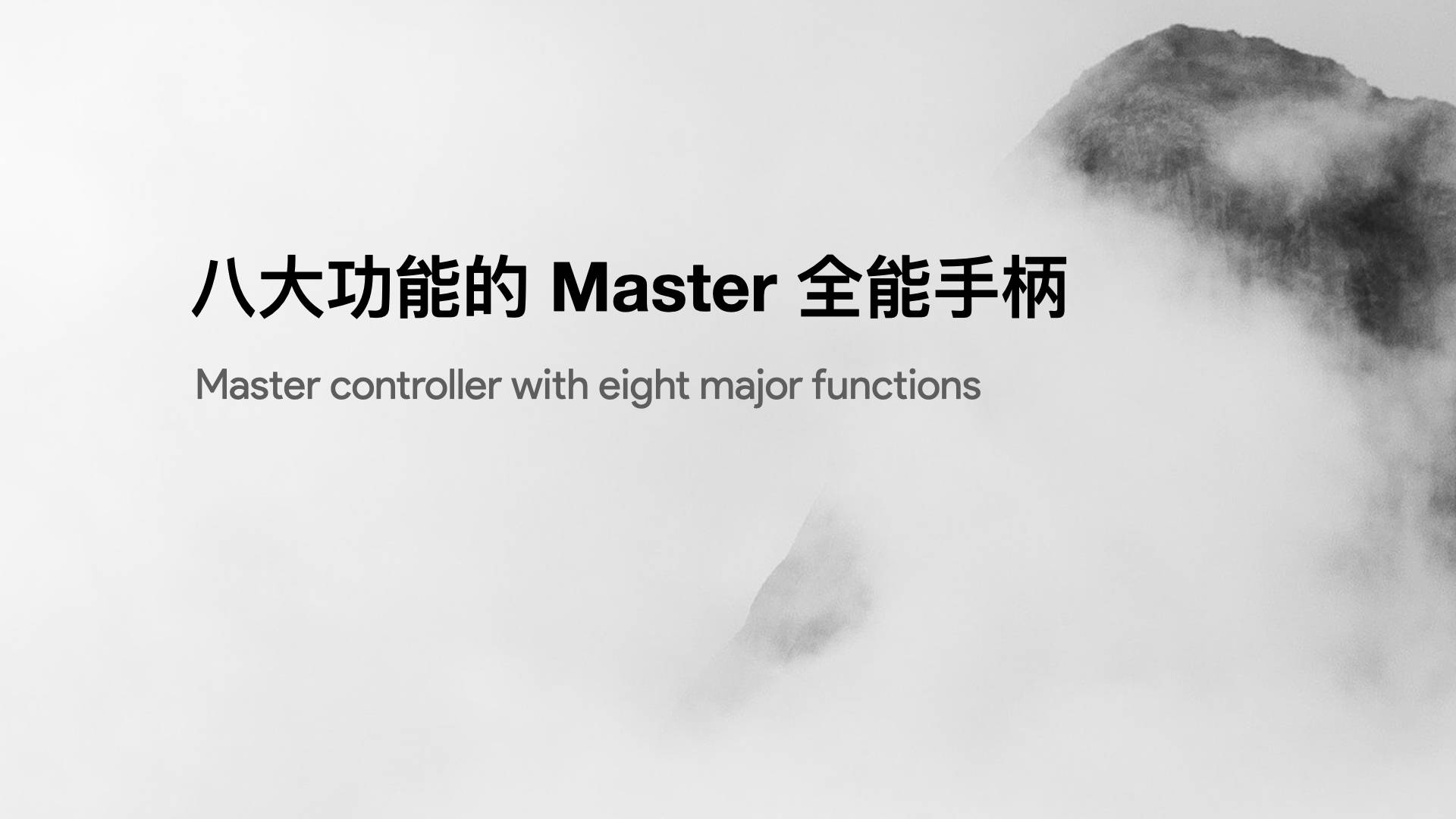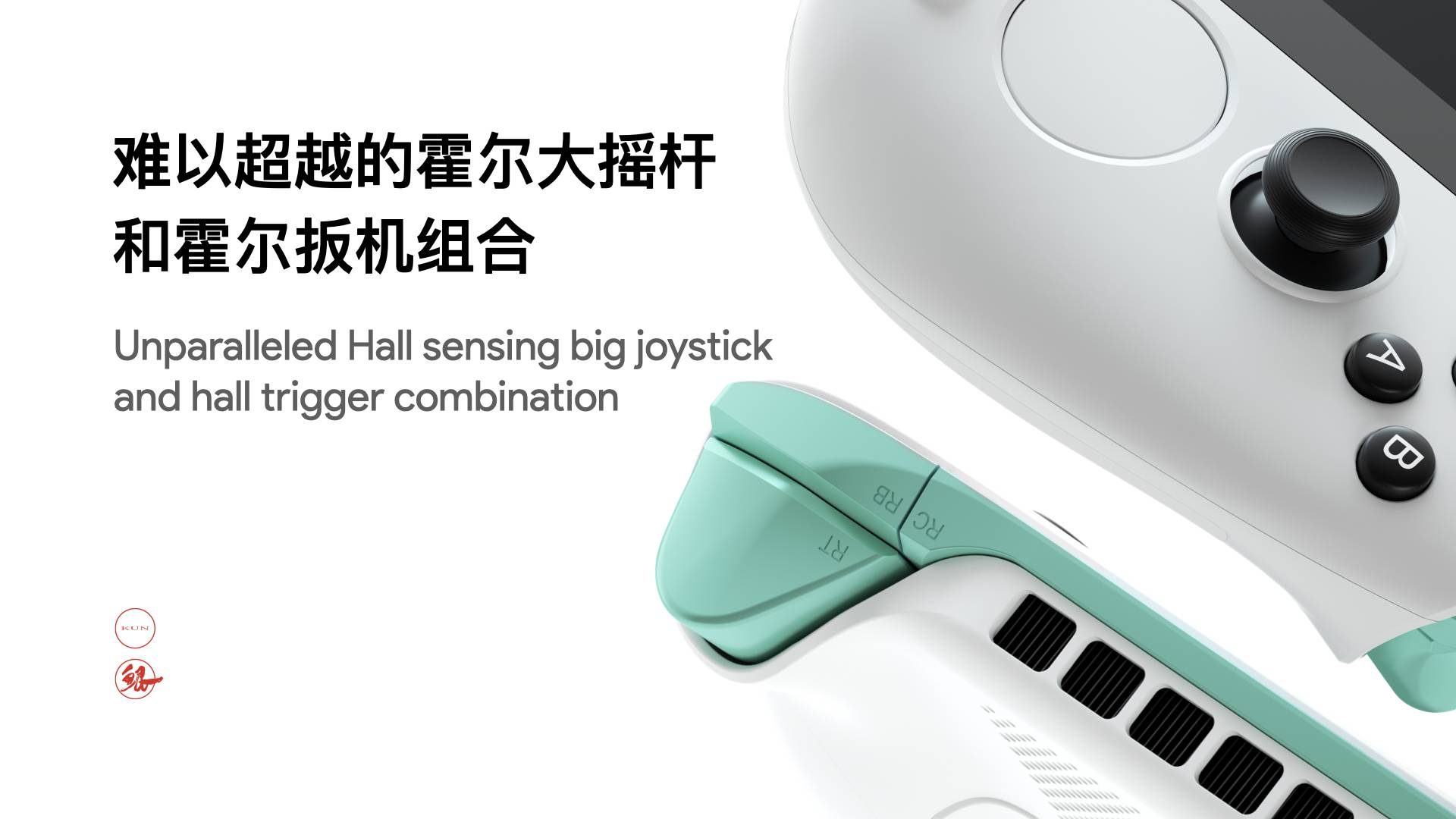 Taking advantage of the large size, KUN is equipped with oversized, curved ABXY buttons that provide a gamepad-like experience. The keys have a shorter travel distance and more responsive triggers, truly matching the tactile feel of professional game controllers.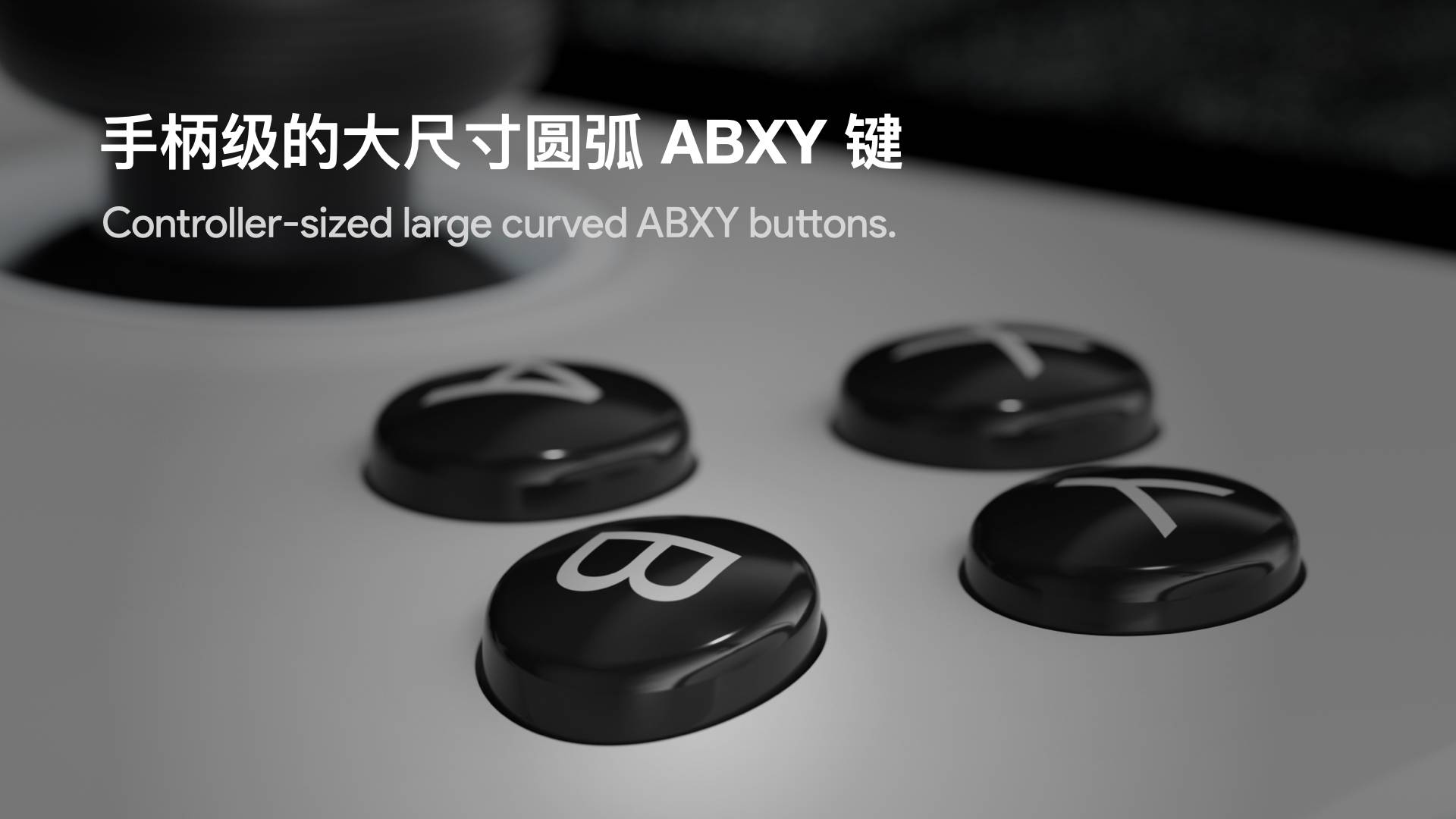 In terms of triggers, the Hall triggers remain, offering a sleek design and a solid tactile feel that closely resembles some professional console controllers. The top LB and RB shoulder buttons also maintain the distinctive feature of AYANEO handhelds, enabling easy triggering from any position.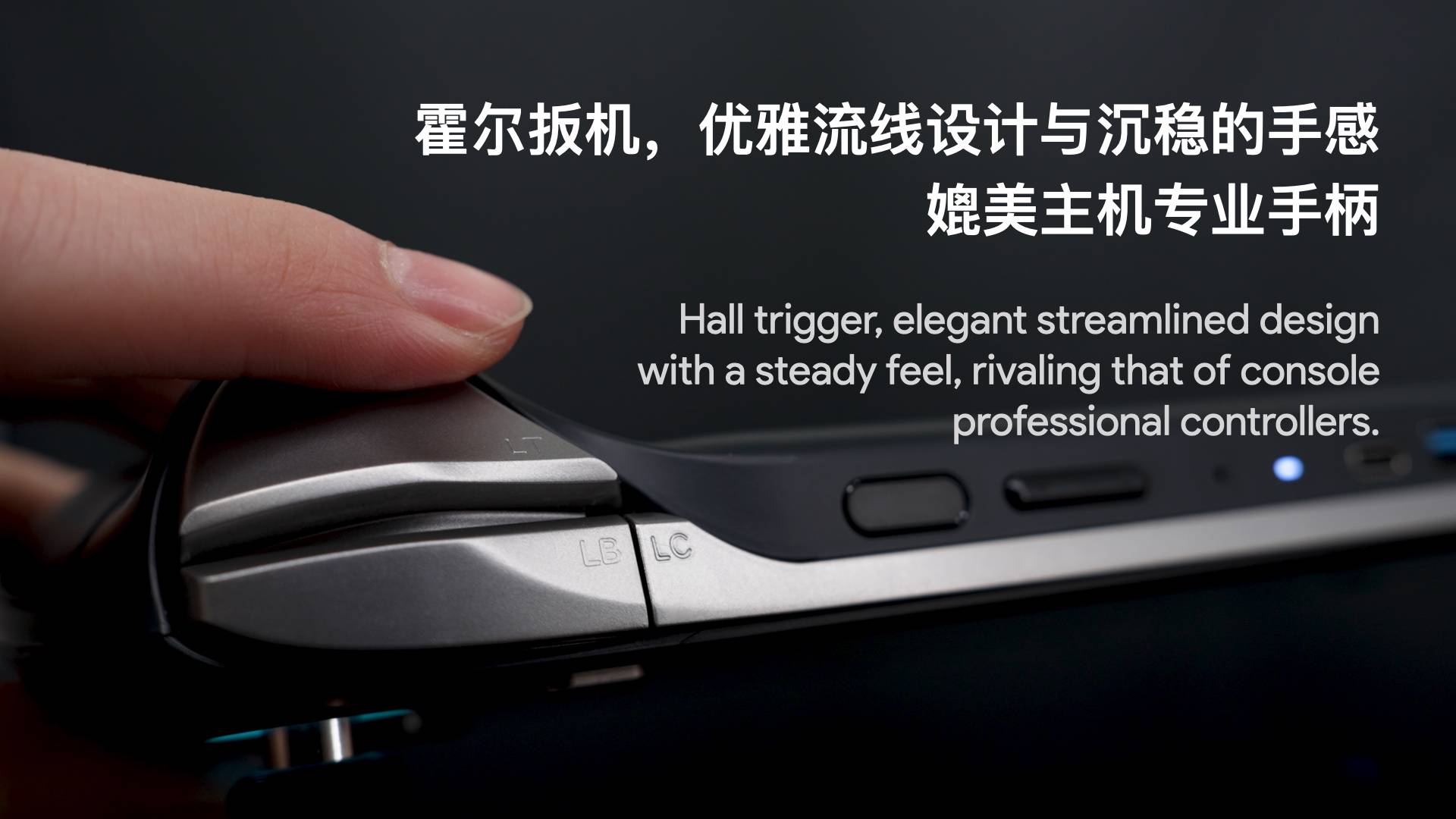 Furthermore, AYANEO KUN still features HD linear motors that allow players to adjust haptic feedback freely, as well as the SoundTAPMagic audio vibration feature. These features will continue to provide players with a multi-scene, multi-dimensional immersive haptic experience, which remains an exclusive offering not available on other Windows handhelds.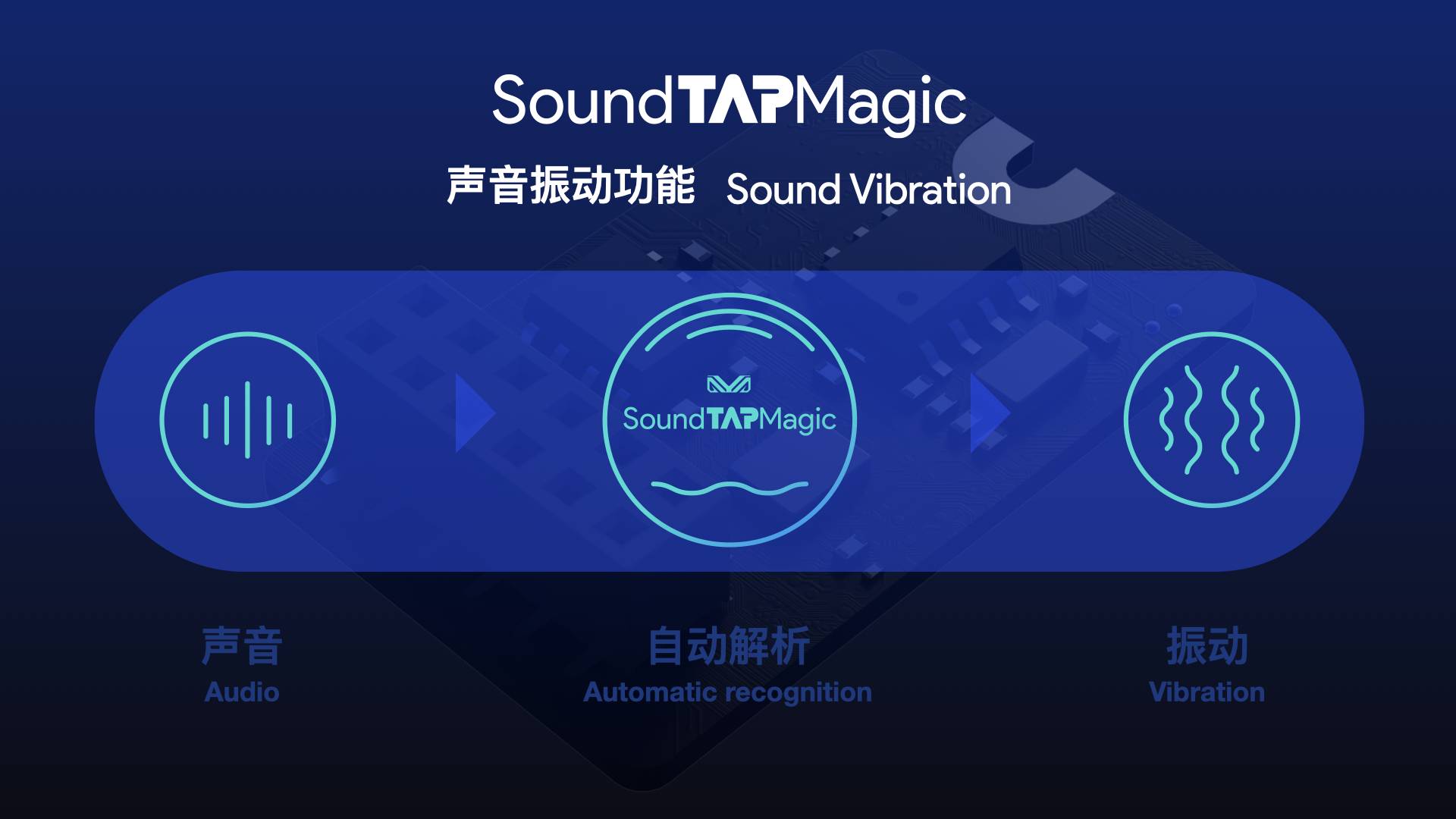 In terms of buttons, KUN is the most button-rich handheld console AYANEO has ever produced. It not only features the traditional four main function buttons found on AYANEO handhelds, but also includes the touchpad button and four rear buttons. Additionally, there's a dedicated Home button located in the upper left corner of the front side of the device.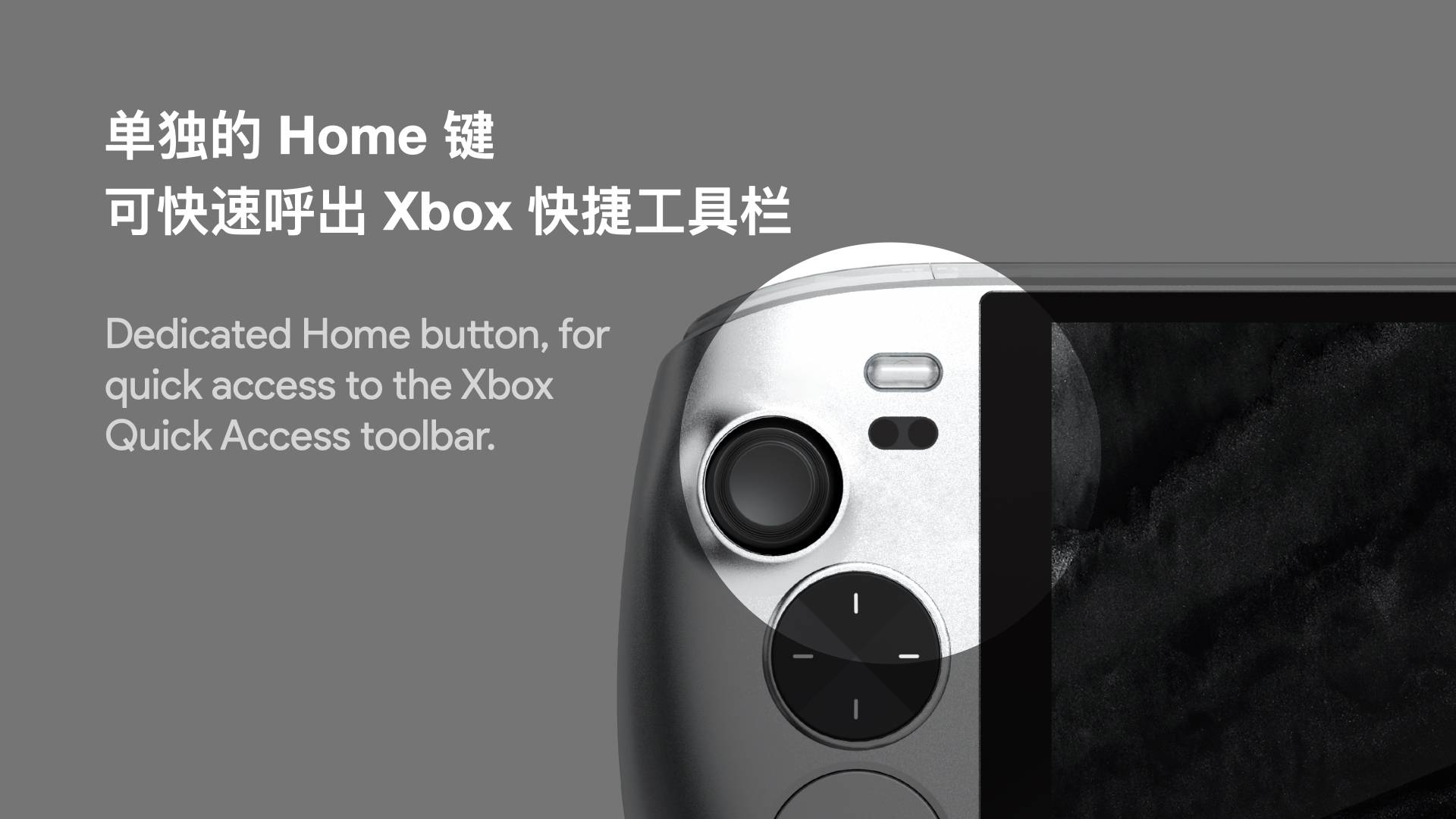 This Home button functions similarly to the commonly used "home" button, and pressing it allows you to quickly bring up the Xbox Quick Access toolbar. From there, you can choose to open Steam or other applications.
On AYANEO KUN, the iconic AYA button features customizable lighting effects for the first time. You can set colors or toggle the lighting effect in AYASpace, creating a harmonious interplay with the RGB lighting on the thumbsticks.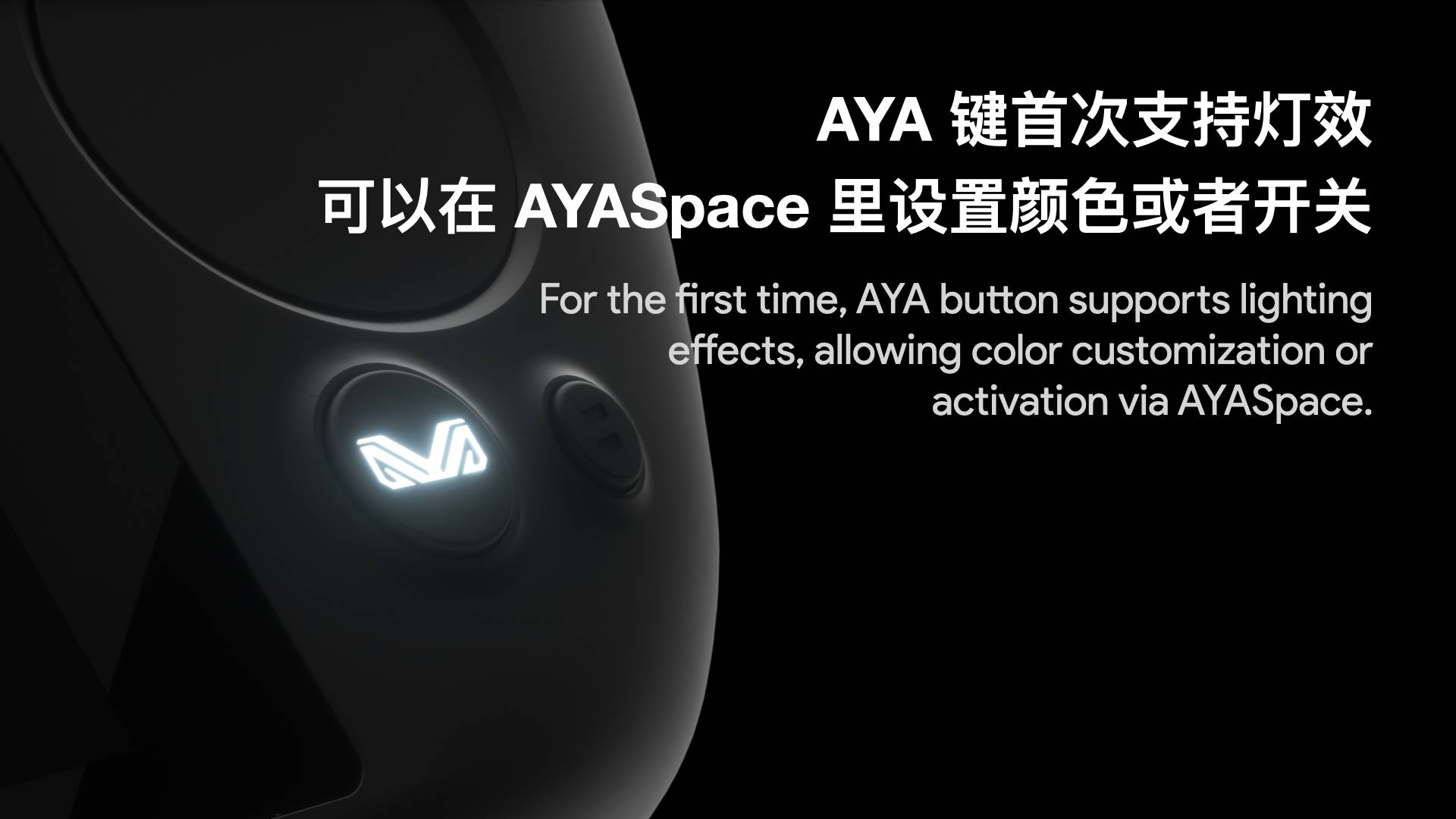 As of now, there is no other Windows handheld device that can achieve the same exceptional tactile experience as the complete control system of AYANEO KUN.
Superior Expandability
AYANEO KUN is equipped with 2 full-featured USB4 Type-C ports, all of which support high-speed data transfer, video output, and fast charging. In addition, it also features a USB-A 3.2 Gen2 port for the first time, providing convenient options for data transfer and external keyboard and mouse connections.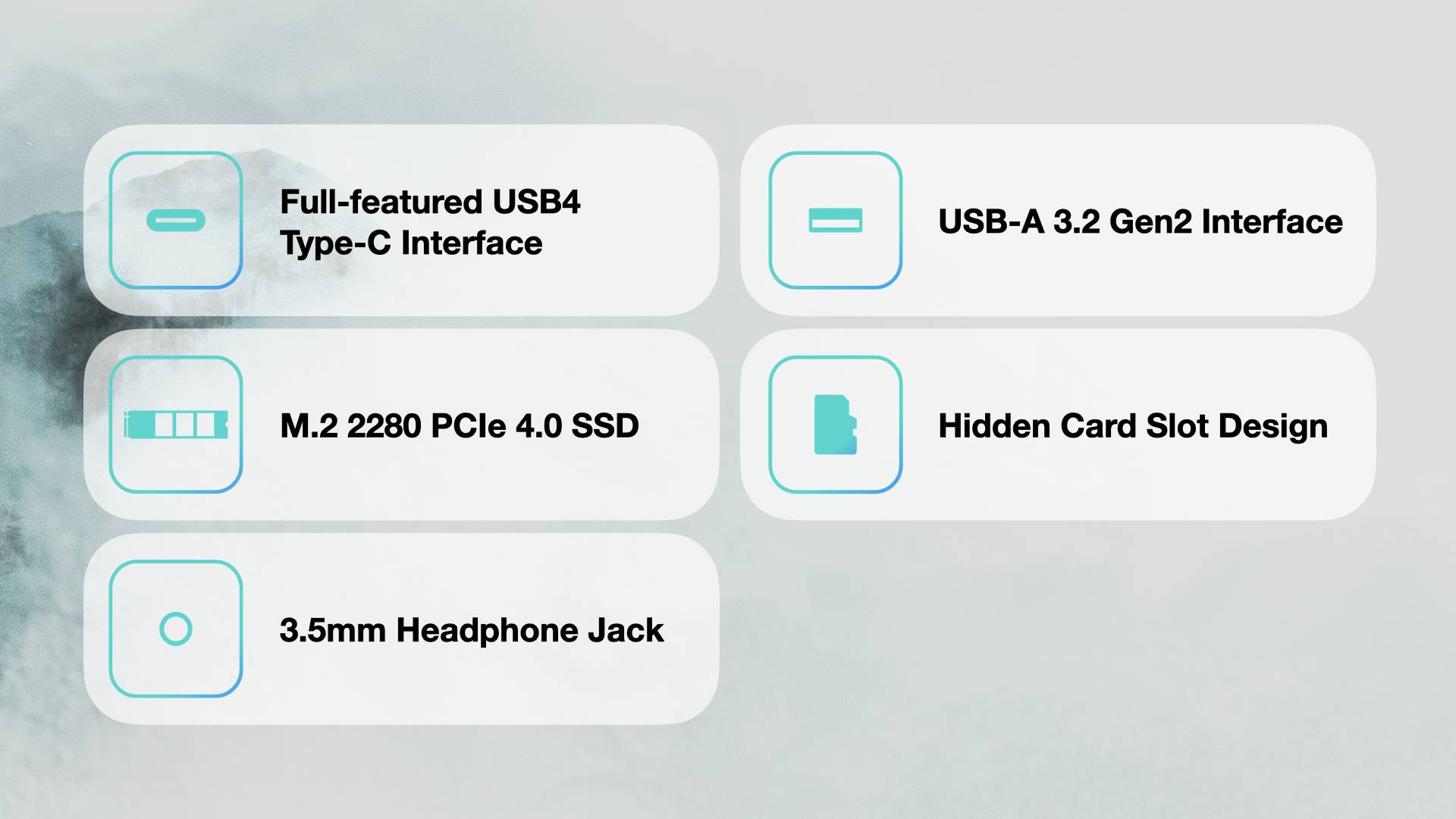 Innovatively, we've designed a hidden TF card slot that supports a transfer speed of up to 300MB/s. It is concealed beneath the device stand, positioned near the edge of the device, and is adequately spaced from the motherboard to ensure no overheating concerns.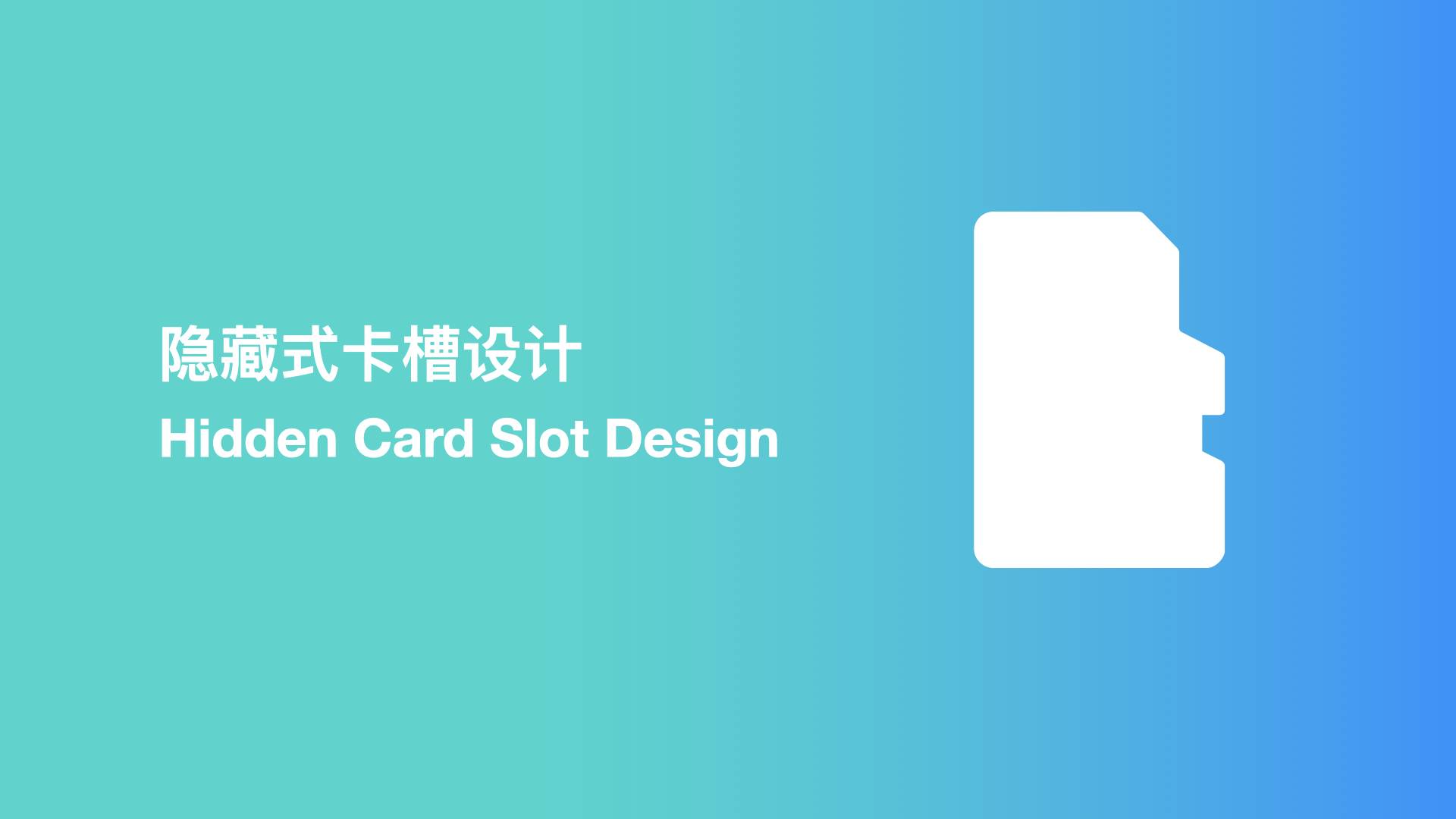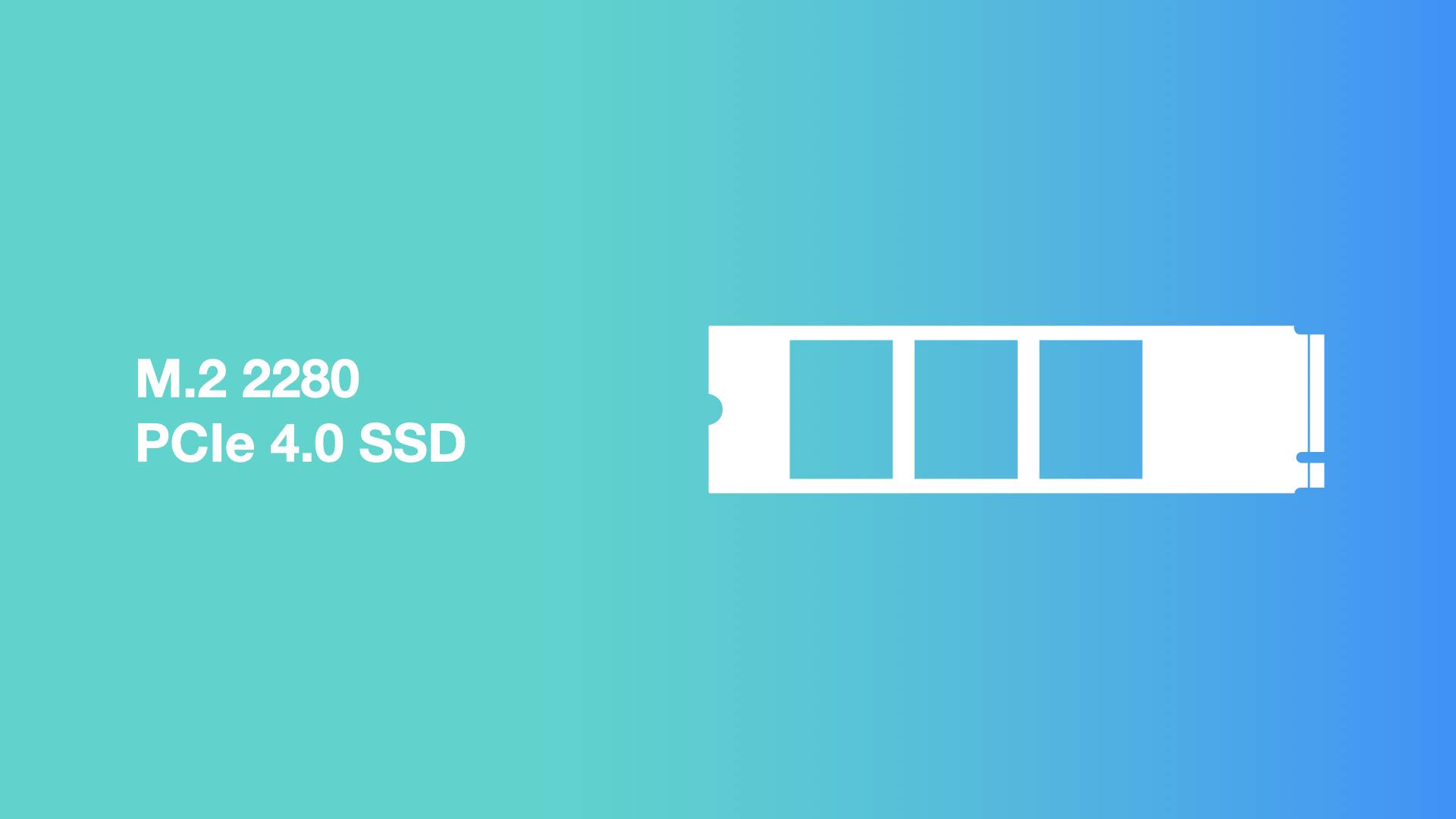 AYANEO KUN also comes standard with an M.2 2280 PCIe 4.0 level SSD slot, supporting up to 8TB of capacity on both sides. This allows players to easily expand their storage, offering a more cost-effective option for personal customization.
AYASpace 2 optimized for large-screen handhelds AYASpace 2, which has been completely reengineered from the inside out, started its open beta testing a while ago. KUN is the second AYANEO handheld device to come pre-installed with AYASpace 2.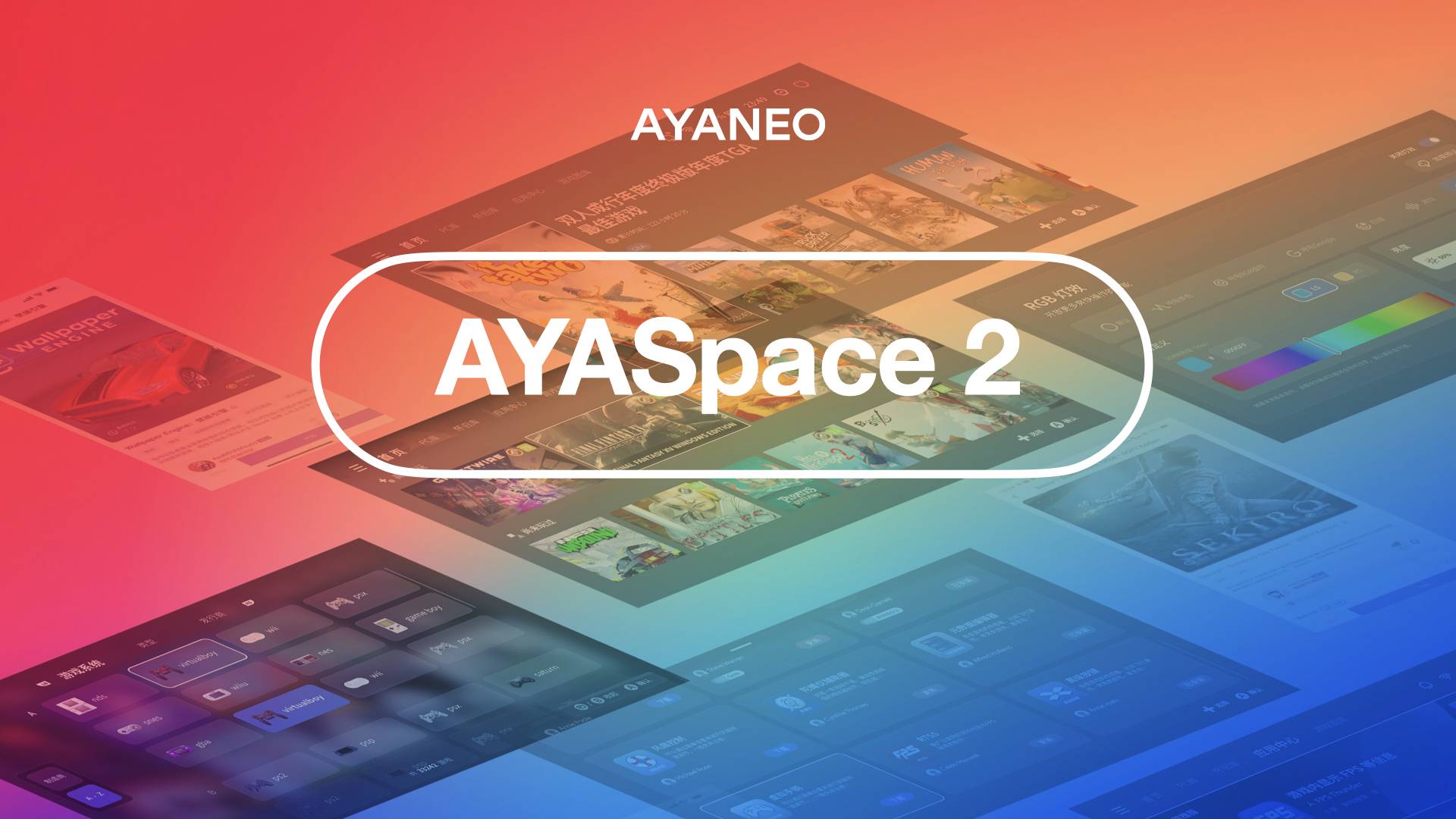 AYASpace 2 has upgraded the underlying architecture, as well as adopted a redesigned UI interface and adapted to a variety of screen resolutions, so you can get a high-definition and non-stretching display effect on KUN's 1600P screen, even if it is connected to an external display device with a higher resolution.
AYASpace 2 offers full compatibility with both touch and controller-based operations, seamlessly transitioning between touchscreen and controller. The revamped Quick Settings 2.0 integrates most frequently used functions and settings, and it can be displayed directly on top of games without forcing users to return to the desktop. The innovative Performance Scene Mode further reduces the learning curve for newcomers.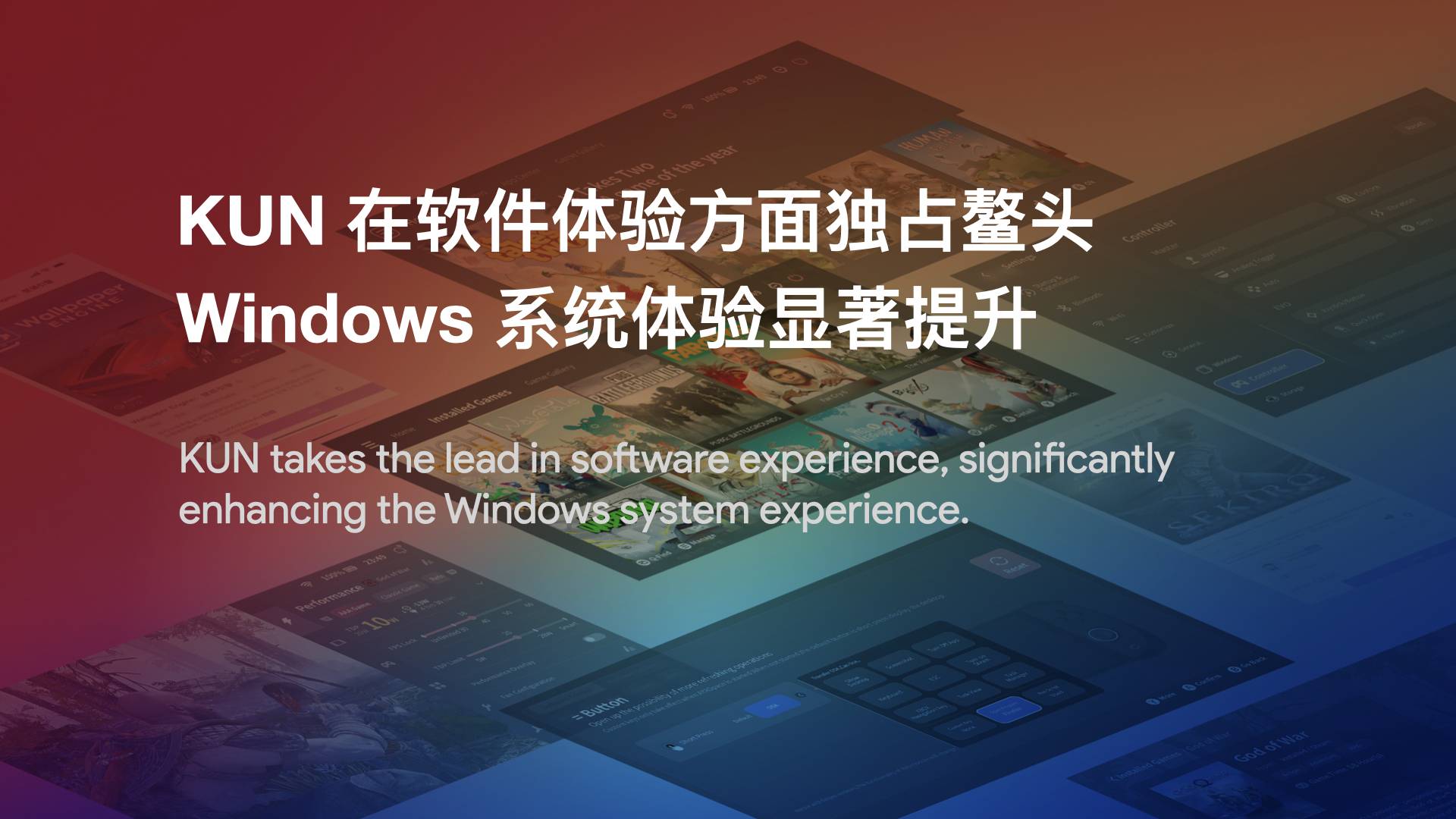 Similarly, the FPS Thunder game overlay tool has also received a complete overhaul. The newly redesigned UI is more visually appealing, providing comprehensive and intuitive information display. Additionally, the tool is now capable of functioning properly with the majority of exclusive full-screen games, and users can freely drag its display position. This enhancement is undoubtedly a perfect match for KUN's expansive 8.4-inch screen.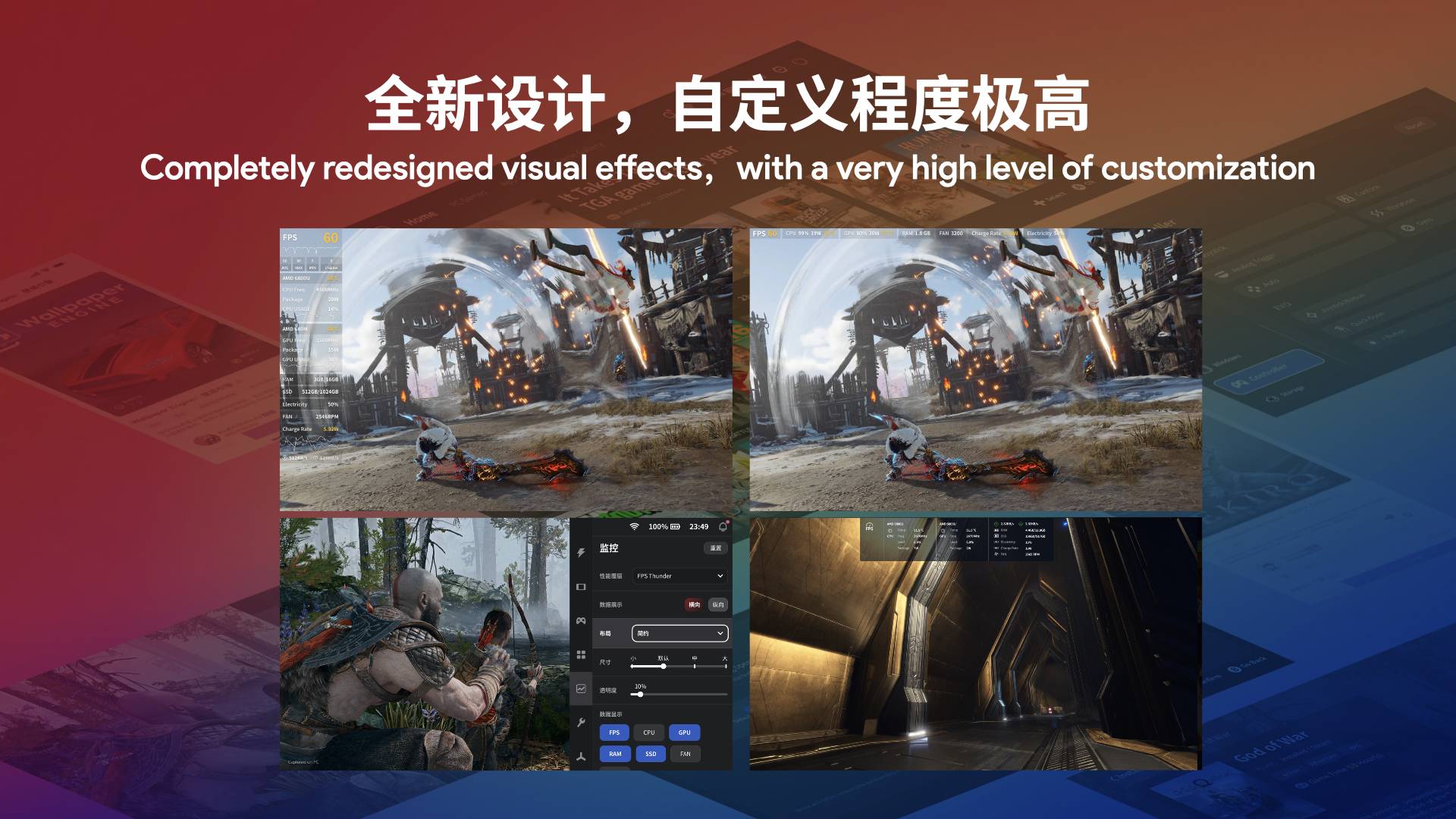 AYASpace 2 has undergone extensive optimizations to enhance the user experience for large screens and Windows system usage. This effort ensures that AYANEO KUN stands at the forefront of software experiences, offering unparalleled benefits in this aspect.
Support 4G network expansion
AYANEO KUN, possibly one of the most powerful Windows handheld devices ever created, is equipped with a 4G network expansion capability on its motherboard. This feature supports a wide range of global 4G network frequencies, enhancing its connectivity options.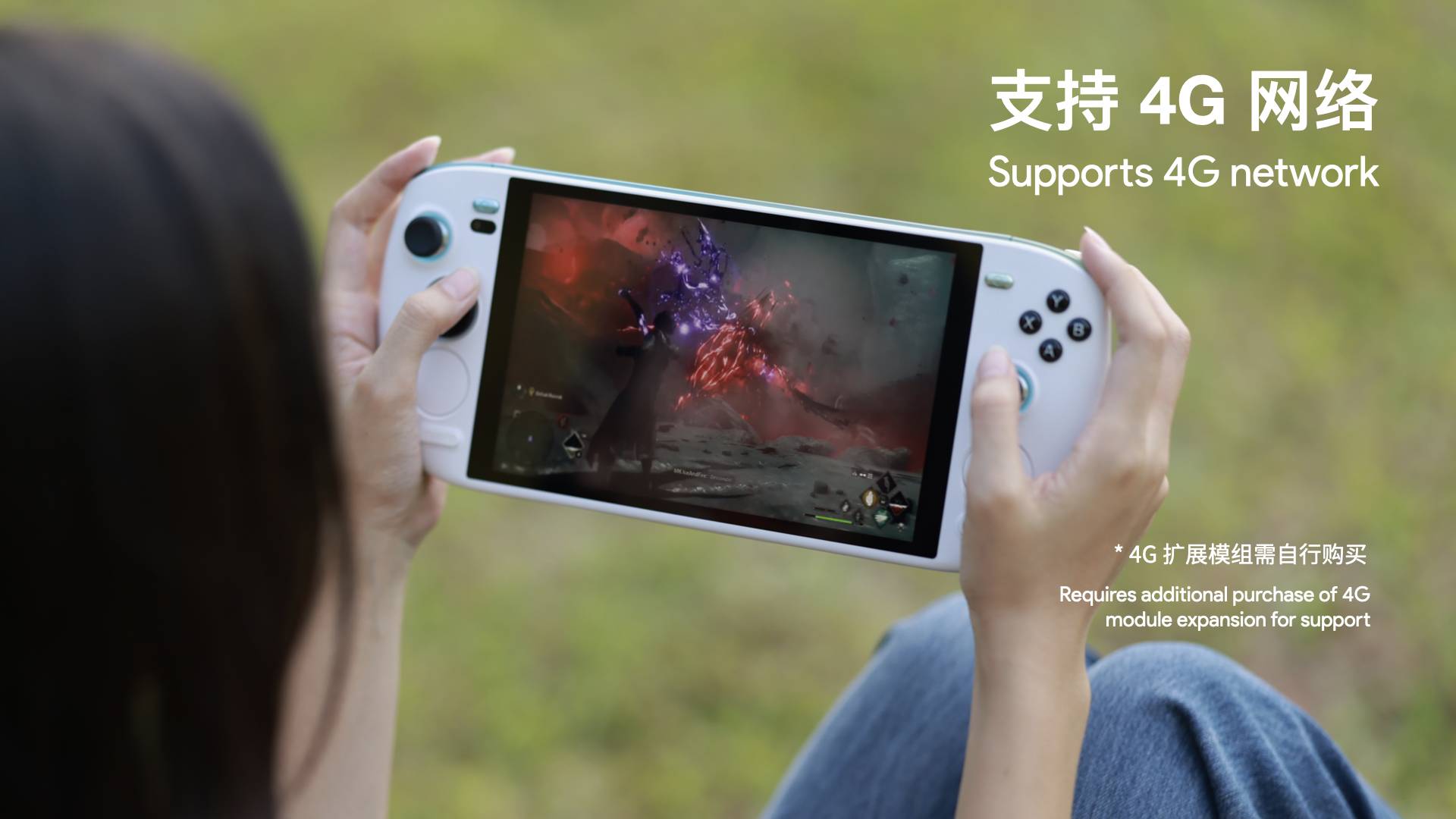 The Nano-SIM card slot is discreetly located beneath the main body support, providing a hidden space for players who require mobile data connectivity. Those interested in mobile data access can purchase additional expansion modules and install them themselves, ensuring the freedom to connect to the gaming world anytime and anywhere.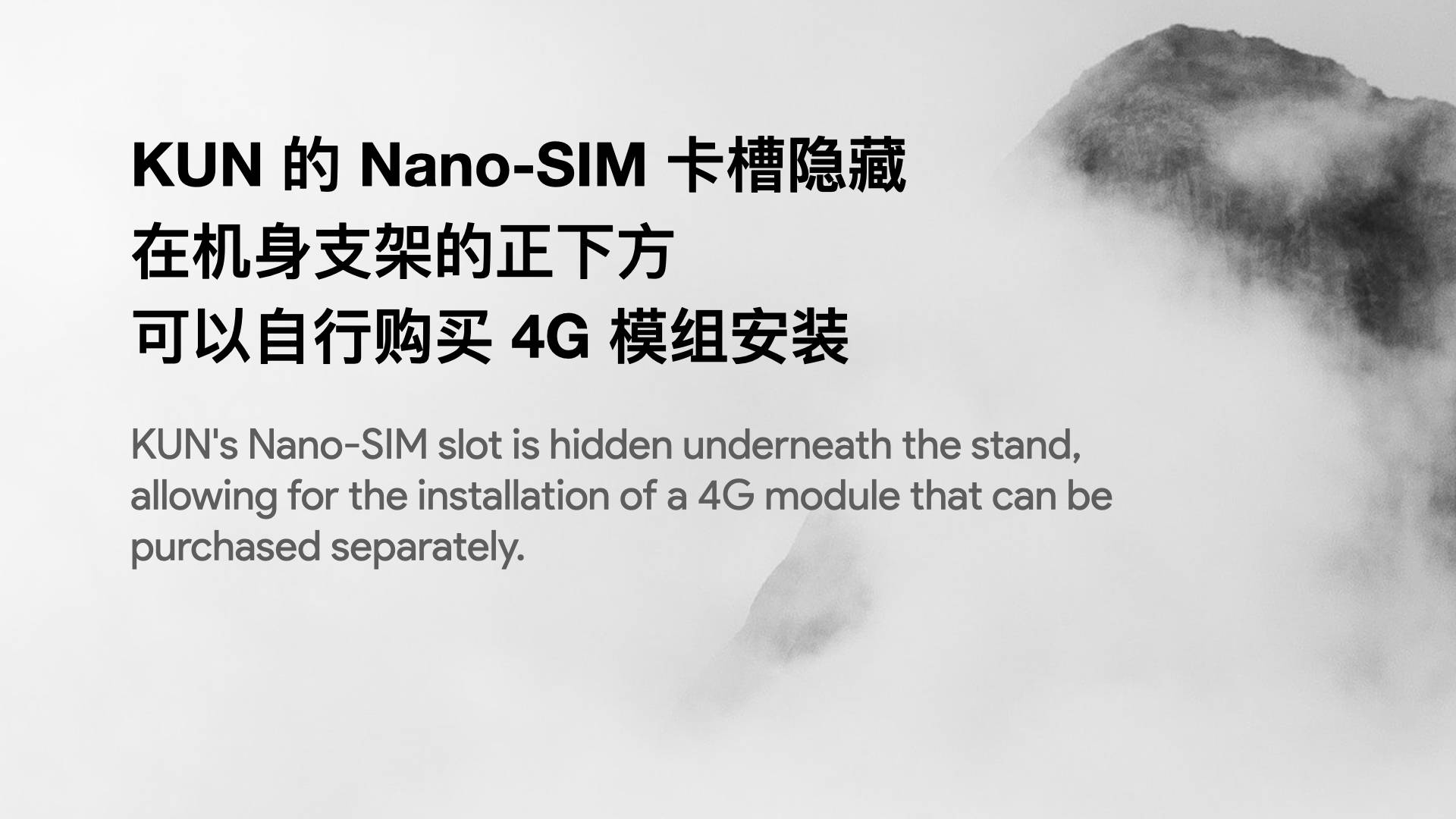 It's important to note that 4G networks inherently generate heat during signal transmission and reception. After installing the 4G module, there might be a slight increase in temperature in the module area.
AYANEO KUN highlights
AYANEO KUN represents not only a high-end large-screen handheld console but also our relentless pursuit of pushing the boundaries of handheld gaming. It breaks away from the traditional definitions of handheld consoles and embodies our dedication to innovative design and exceptional performance.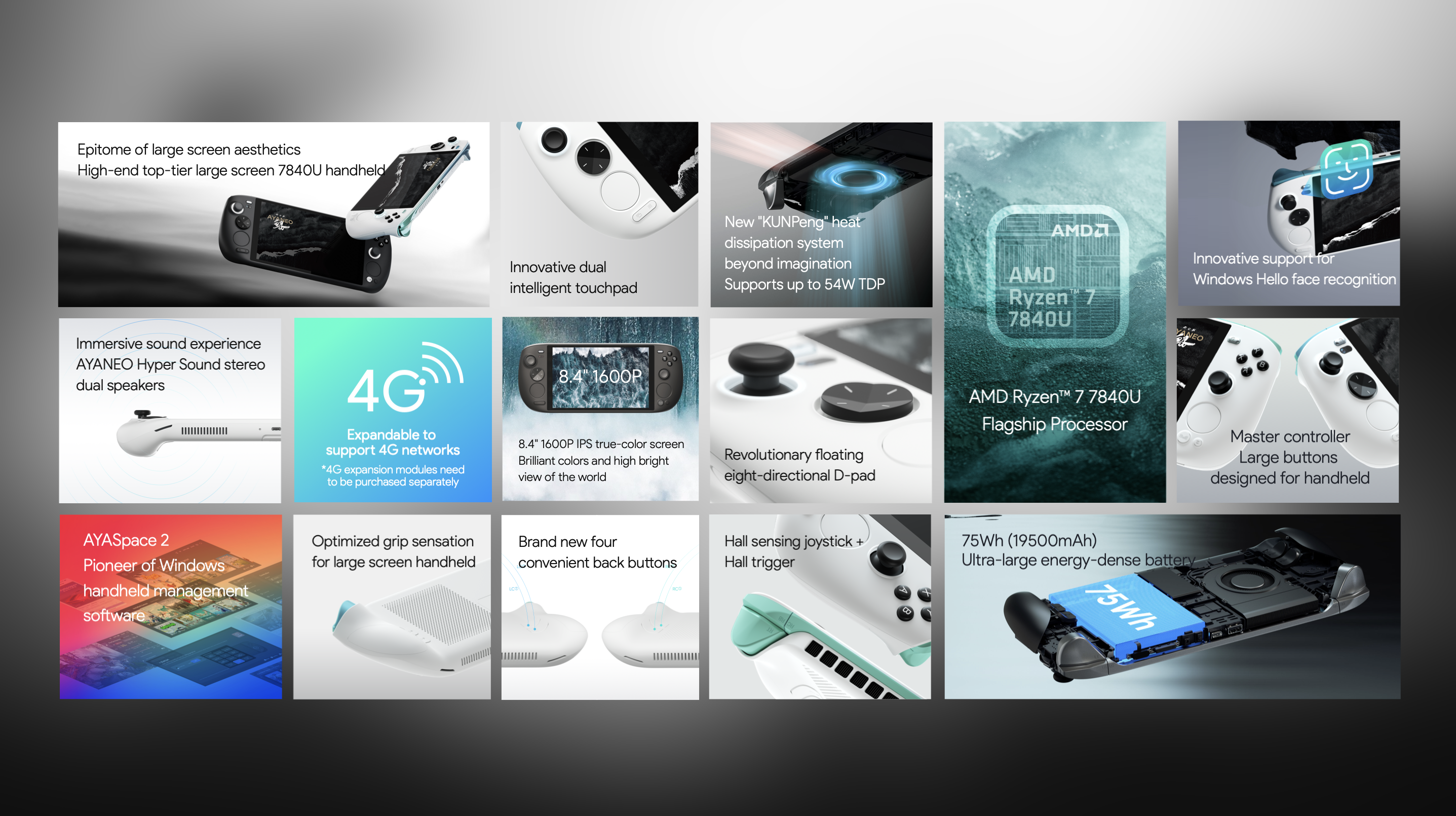 More importantly, AYANEO KUN breaks through the traditional definition of handheld, while at the same time, the core control experience and system experience of a Windows handheld has achieved a full range of leadership, and is still a very pure Windows handheld.
AYANEO KUN configuration and price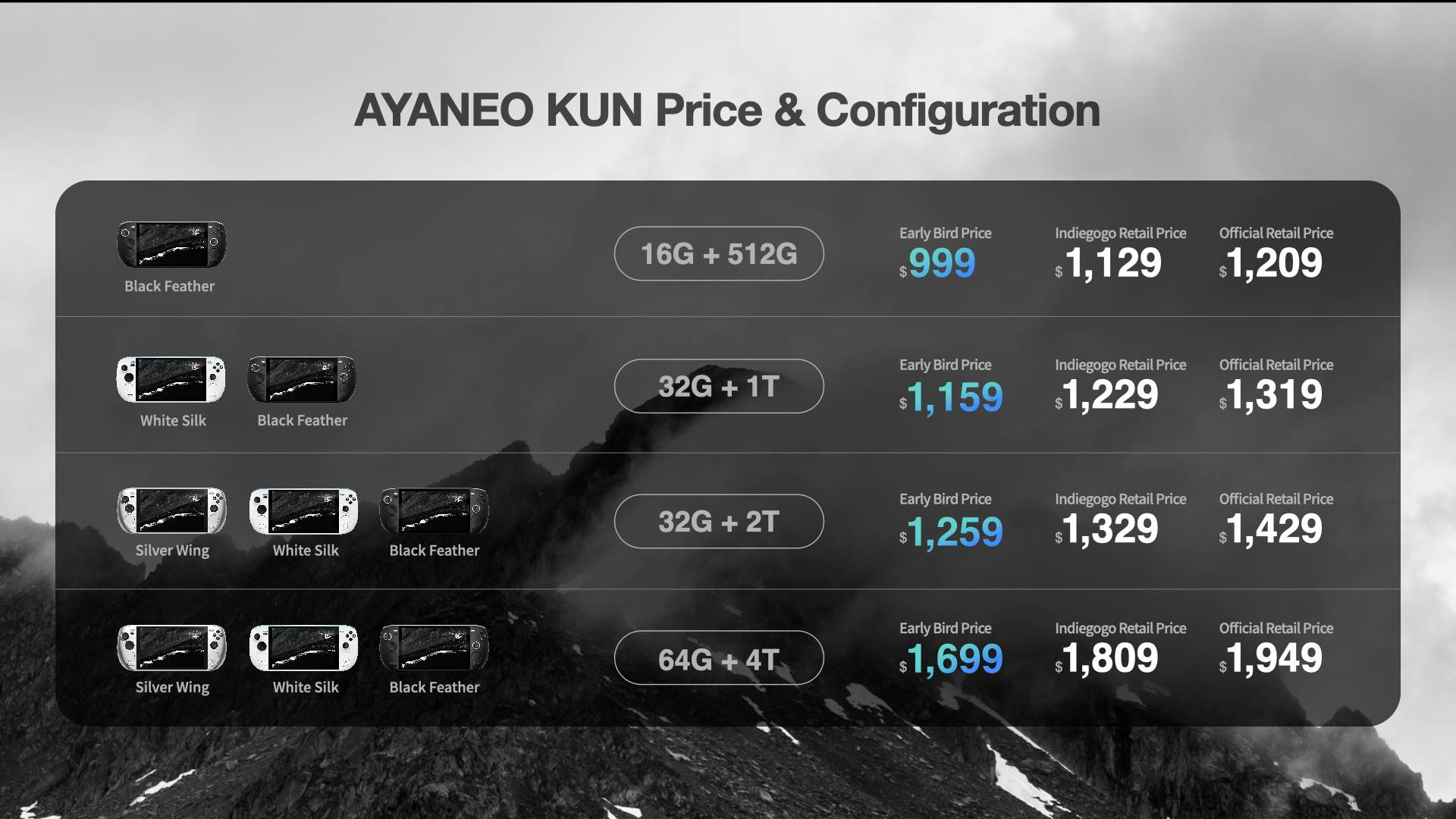 Continuing to explore with multiple lines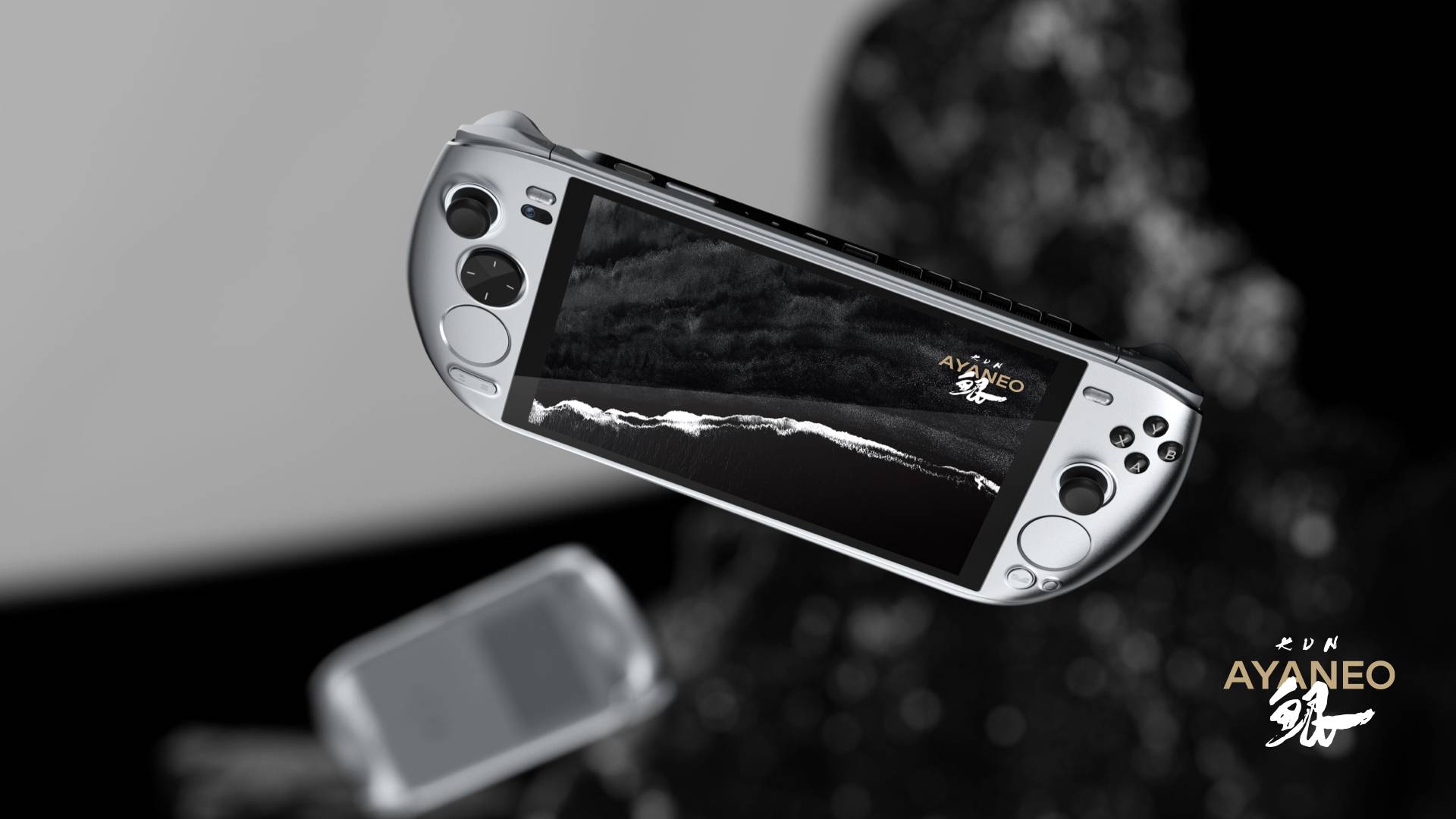 AYANEO KUN is a flagship high-end product that redefines the form and experience of Windows handheld consoles. It marks the completion of AYANEO's product lineup, covering compact, mainstream, and large-screen handheld consoles, catering to the diverse preferences of players for different screen sizes.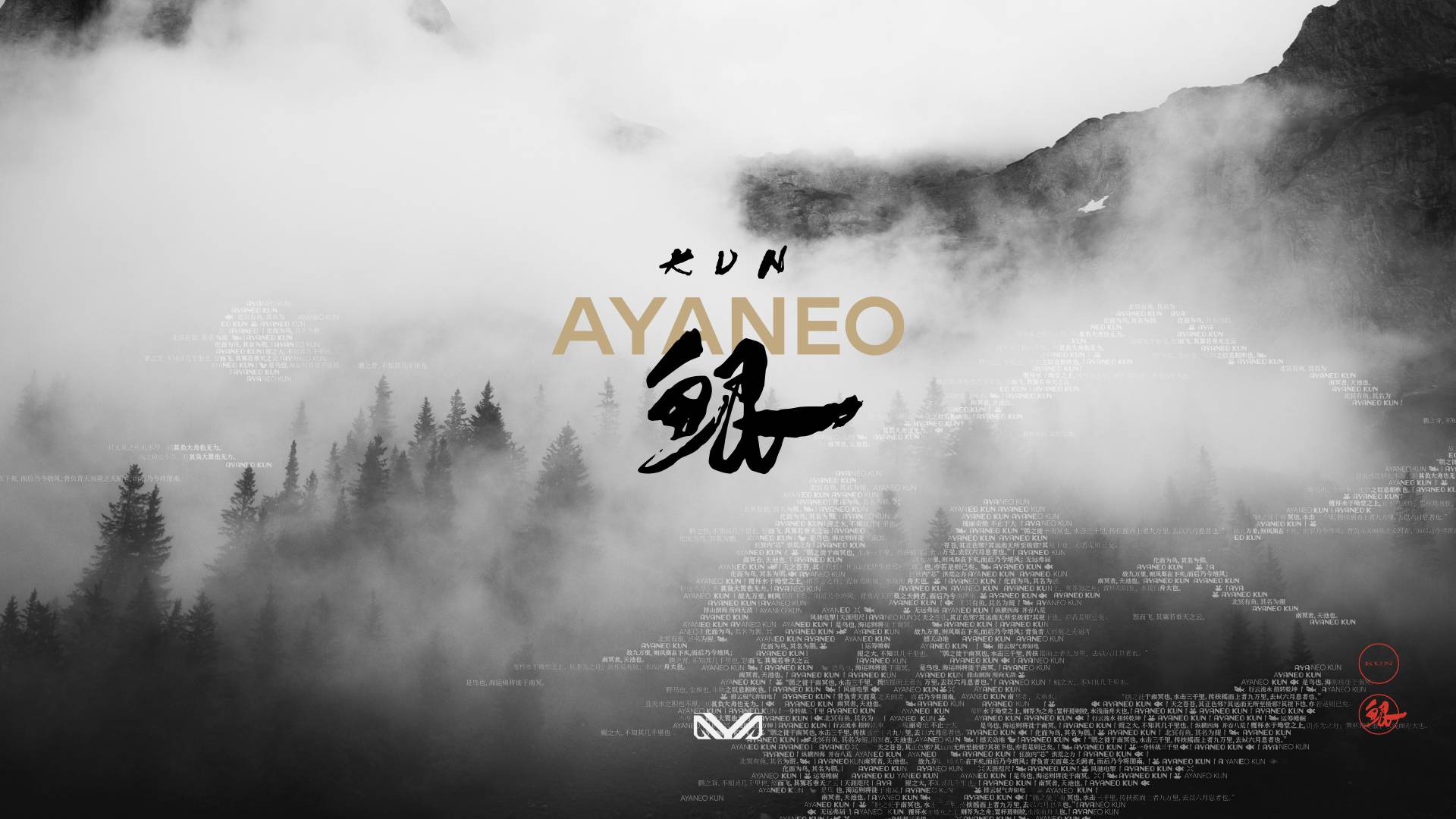 After years of dedicated work in the Windows handheld console industry, we have accumulated rich product experience and profound technical expertise. In the future, we will continue to stride forward in exploration, always adhering to the philosophy of "Real Gamers, Know Gamers", to create products with unique craftsmanship. We are committed to delivering the purest Windows handheld gaming experience to players while also providing high-quality products and services in various categories such as Android handheld consoles. We aim to share the charm of AYANEO's products and culture with an even wider audience of gamers.
IGG Pre-launch: https://www.ayaneo.com/igg/KUN
Discord: https://discord.gg/zPVcBdra7x